Vitafusion MultiVites Gummy Vitamins, 70ct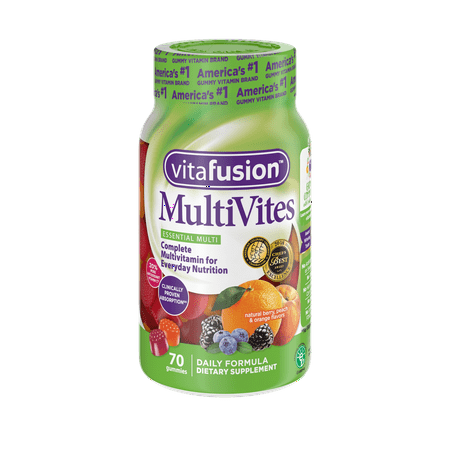 MSRP :

$9.03





Sale :

$4.88

Sold & shipped by Walmart
Product Description

Additional Information

Reviews
Product Description
These Vitafusion Gummies Dietary Multi Vites for Adults deliver essential vitamins and minerals in a fun gummy form. The 70 nutritious supplements come in delicious berry, peach, and orange flavors. Winner of the 2010 Chefs' Best Certified Award, these Vitafusion gummy vitamins are suitable for adults 18 and up. Two of these Vitafusion Gummies Dietary Multi Vites for Adults have the same nutritional value as one cup of broccoli, one tangerine and 3 ounces of salmon. Gummy Vitamins for Adults, in a 70ct bottle, provide 200 percent the daily recommended allowance of Vitamin D, plus Omega-3s.
Additional Information
Natural berry, peach and orange flavors
Clinically Proven Absorption [4]
Each serving provides: Antioxidant Vitamins C & E and an excellent source of vitamins B12, B6, Folic Acid and Pantothenic Acid
Contains NO high-fructose corn syrup, NO artificial sweeteners, NO gluten, NO dairy and NO synthetic (FD&C) dyes
Recipient of the 2018 ChefsBest Excellence Award. The ChefsBest Excellence Award is awarded to brands that surpass quality standards established by independent professional chefs.
Reviews
product2review
Better off with a Gummy LifeSaver
These do not taste like a vitamin at all. Any vitamin has a vitamin taste even a chewable. This is like candy. It does not contain any iron or calcium either. A lifesaver gummy will cost less than these and you can eat all you want. I recommend a Gummy Lifesaver and another type of Vitamin; one with a hint that there is a vitamin in it. I only gave it 3 stars because it tastes like a good gummy.
no2cents
Taste great. Must take 2 per day
I bought this multi vitamin because I don't like taking pills. I figured I would be more inclined to eat gummies than swallow a pill. I was right. These taste pretty good. My husband, who hates taking pills but loves candy, has also voluntarily started taking these as well because they are so good. I was disappointed when I read the instructions telling me to take 2 a day. I had hoped that 70 would last me a couple months. So that's a pretty big factor when you're looking at other vitamins and comparing it to price value. I do like gummy vitamins and plan to either continue to buy these, or to try others in the future, rather than taking a pill.
luingreenfield
Good Alternative
I had a difficult time swallowing regular vitamins and so I wasn't taking any. These are more like a candy treat and I have no problem taking them. The problem could be taking too many! However, I did notice that a store brand I had used previously had a higher percentage of some of the vitamins. This brand only has 50% of the daily allowance of Vitamin A. I will continue to buy gummies but will shop around for a brand that has more vitamins in it.
Vitadeb
Good Alternative
These are awesome!! In taking these I get my vitamin needs met plus my sweet tooth satisfied, therefor, I'm getting "two birds" with one stone... without all the "bad" calories.... LOVE THEM!! As a matter of fact, I love the whole line.. so does my husband!!
Beaudiford
Still tasty after brushing teeth!
I was really impressed with these vitamins. I cannot take a regular multivitamin because they make me nausious. For some reason, the gummy vites don't. I have tried several different types and they all tasted fine. Unfortunately I typically brush my teeth first thing in the morning, which makes all the other ones taste kind of like orange juice after brushing teeth. For what ever reason, these still taste fine! Might not be a big deal to most people, but for me it makes taking my multi vitamin that much easier. Oh yes, and they are priced really well! :)