L'il Critters by Vitafusion Omega-3, 32 Mg DHA, 60 Ct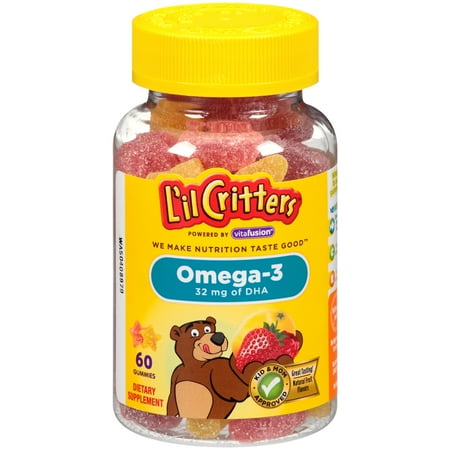 MSRP :

$7.94





Sale :

$7

Sold & shipped by Walmart
Product Description

Additional Information

Reviews
Product Description
These L'il Critters Omega-3 Gummy Fish are a convenient and delicious way to supplement a kid's diet. They are made with all natural colors and flavors. These omega-3 fish are fun-shaped gummies that come in a convenient 60-count.

Additional Information

L'il Critters Omega-3 Gummy Fish, 60-Count:
Omega-3 dietary supplement in a 60-count
All natural colors and flavors
Reviews
MommaWaldrop
Great product at a great price!
I love this product and so do my children! They have never not wanted to take this vitamin! It has a good amount of DHA, Omega 3 as well as other vitamins, and I have no complaints about this product as a parent! PARENT APPROVED :)
ProfessionalMomma
great price, no fishy taste
My boys and I take this daily. My 3 year old is VERY picky, but has no problem eating these. (the sugary outer coating weirded him out at first, but after a few tries he doesn't mind) I have never detected anything "fishy" in the taste or smell, and I have bought quite a few bottles in the last year. Walmart is also the best value I've been able to find. Will continue to buy.
tbrown525
YESSSSS, THESE ARE A KEEPER!
I'd recently purchased another brand of an Omega-3 DHA supplement for my 7 year old daughter and they did not win either of us over. While there was one attribute that stood out to me, which was that they provided more DHA from one Gummi vs 2 L'il Critters gummies, I know that my child couldn't have cared less. So needless to say, my daughter and I both were won over by the taste and the consistency. The little one especially loves the sweet coating and the flavors are an added bonus. I love that they have no high fructose corn syrup or synthetic dyes. They're also gluten free and although neither of us are sensitive to gluten, it is good to have the option available. My first thought when comparing the two different brands was that the L'il Critters would have exponentially more sugar and I could not have been any more wrong. The other brand were plain gummies, no variety of flavora, and no sweet coating but had the exact same amount of sugars in one gummy as L'il Critters had in two gummies. WINNING!!!! [This review was collected as part of a promotion.]
Tolovesomuch1
LOVE these vitamins!!
First....this review is not part of a promotion, I'm a mom who actually buys this product as my son loves these vitamins! My son is a very picky eater and I love that this vitamin has Omegas in it. Thankfully my son loves gummies and sour candy, this could be a problem if yours doesn't....but they are not eye watering face clenching sour!! They are pretty tasty and have no weird after taste. I've been giving these to my son since he was two and he is now 6 and still wants his vitamins every day. Great product!!!
mvwan
Highly impressed!
I have been giving these gummies to my 4 years old son for almost 15 days as suggested (2 gummies each day) and I am so impressed with the results. There is amazing improvement in his memory. I have been struggling teaching my son his number book and letters for a while but in just a week, he learnt what I have been trying to teach him for past 4 months. First I thought, it is just coincidence but my next experiment confirmed that there is significant improvement in his memory all of a sudden. I showed him the logos of different brands of cars and then asked him to recognize the cars by the logos. I am so surprised, he could recognize more than 15 brands which is definitely not a very easy thing to remember. I want to give the whole credit to these gummies since nothing has changed in his life-style and routine except for taking these gummies. The best part is, my son loved the taste of these gummies too and always ready for his daily dose without any fuss. [This review was collected as part of a promotion.]