L'il Critters Gummy Vites Complete Multivitamin , Fruit, 70 Ct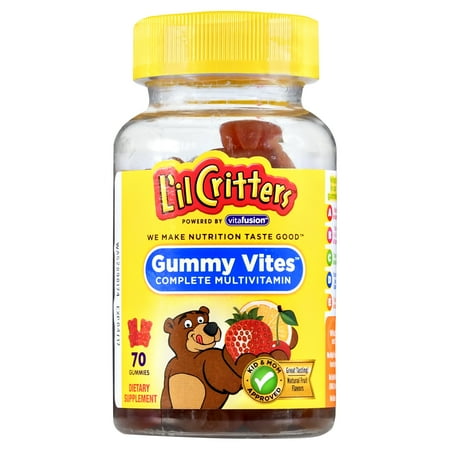 MSRP :

$7.68





Sale :

$3.98

Sold & shipped by Walmart
Product Description

Additional Information

Reviews
Product Description
Give kids the nutrition they need with the L'il Critters Gummy Vites Multivitamin Formula. Each easy-chew serving contains vitamins A, B-6, B-12, C, D, E and more. These natural L'il Critters gummy bears come in a convenient 70 pack.
Additional Information
Gummy Vites, Gummy Bears
Dietary Supplement. American Culinary ChefsBest: 2012 Best Taste Award. The ChefsBest Award for Best Taste is awarded to the brand rated highest overall among leading brands by independent professional chefs. Naturally sourced colors & flavors. Vitamin A: eye support. Vitamin B-6 & B-12: cell support. Vitamin C: antioxidant. Vitamin D3: bone support. Vitamin E: antioxidant. Choline. Naturally sourced cherry, strawberry, tropical punch, orange, lemon and white grape flavors. Contains no gluten (wheat), milk, eggs, peanuts, or soy. nnpvitamins.com. (These statements have not been evaluated by the Food and Drug Administration. This product is not intended to diagnose, treat, cure or prevent any disease).
Reviews
ashley lauren
Happy my kids are excited to take their vitamins
My 2 and 3 year old girls have been taking these for a little over a week, and they love them. They literally remind me to give them their vitamins every morning and I've actually had to discipline my 3 year old for climbing on the counter and grabbing the bottle! I like the fact they taste like fruit snacks (mommy's ate them too), but most importantly that they taste good to my kids and they're good for them. I checked the ingredient list before I gave them to my kids, because we don't give our kids anything with harmful dyes. They also don't have any high fructose corn syrup in them which is an added benefit. The price is good (although I'm currently trying them for free for my review) but I truly would buy these in the future. They're made in the U.S. and I currently already enjoy other vitamins this company produces. Pretty happy with these and glad we were given the opportunity to try them. [This review was collected as part of a promotion.]
Hallie
Tastes great, like candy, but it's a vitamin!
I told everyone there about Smiley360 and the mission I am on, getting a free sample of L'il Critters Gummy Vites. It is great that there is a vitamin that seems like candy, but it is healthy so kids are willing to take them, and will even ask for them. They have great flavors (though they tasted similar when I tested them for myself and I could not tell them apart), keeping all the tasty ones and not adding ones that always get skipped. You know how there is always that one color that gets picked over and left at the bottom? Not in this bottle. They all are good. One gummy for 2-3 yr olds and 4 gummies for 4+ makes the bottle last 1-2 months for 1 child. The colors and flavors are naturally sourced too, making it even better! Definitely something my friends and family will be checking out for their own kids. I received a free product for the purpose of my review. Opinions are 100% my own. [This review was collected as part of a promotion.]
AliciaMaria1982
Your kiddos will love L'il critters Gummy votes!
*I received a bottle of the L'il Critters Gummy Vites-Complete MultiVitamin for #Free for testing purposes. My opinions are unbiased and of my own... I have a 3 year old, 9 year old & 15 year old. I've been looking for a complete multi vitamin that I could give to all 3 of them instead of having to buy several different types for their ages. I was excited to learn that the L'il Critters can be given to children 2+ which is a huge relief and money saver for sure!! All 3 of my kiddos have been taking them for around 10 days now. All 3 of them absolutely love all the different flavor gummys that come in the bottle and definitely love that they ate gummys and not chewables!! After the giving it to them the first few days, they now ask me for them every morning if I haven't gotten them out for them yet!! Ive definitely found my new favorite as well as my kiddos favorite vitamins!! I highly recommend these vitamins [This review was collected as part of a promotion.]
Jilleveryboysgf
Great Taste!!
My boys REALLY love these vitamins that we tried and I am soooo very glad that we did because it was THE best idea ever! The flavors are great they said that they really do like ALL of them, which is shocking because usually you get a flavor that they don't like and it is ALWAYS resting in the bottom of the vitamin jar of vitamins, you know what I mean other Moms, Right?! You know That gross flavor that is always left over and no one will eat, well this Lil Critters DOESN'T have any, they are ALL YUMMY!!! My kids would come TO ME ASKING if it was time to take the vitamins yet!! So we have found our new FAMILY vitamins!! These little gummy bears are going to make us ALL healthy!! [This review was collected as part of a promotion.]
Neen_215
Kid & Parent Approved!
When i first received my Free L'il Critters™ Gummy Vites™ from Smiley360 , i was a bit skeptical because i didn't think my son would be open to giving them a try. But when he seen the packaging, he took FULL interest. Now every morning he wakes up, comes downstairs & brushes his teeth then asks for his 2 GummyVites, before breakfast ! I'm so thankful because getting him to take any kind of vitamin has been a huge struggle for hus father and I. But thankfully, he really looks forward to taking them every morning. I can finally worry less, because I know he's getting the vitamins he needs. Nomore chasing him around the house trying to get him to take chalky vitamins because #GummyVites taste fruity just like a regular gummy bear or fruit snack would and are jam packed with vitamins A through E & best of all, NO chalky aftertaste or bitter mediciney flavor! We love all the different assortments and flavors, but Cherry & White Grape are our top 2 favs ! They came in a 70 count bottle with a vibrant yellow child-proof lid & fun characters on the front label. I would definitely recommend to others & continue to purchase for my children. I'D give 10 stars if I could! I recieved this complimentary product in return for my honest feedback. All opinions in this review are 100% my own. [This review was collected as part of a promotion.]