Refurbished Sony CFD-S70 - Boombox - 3.4 Watt - black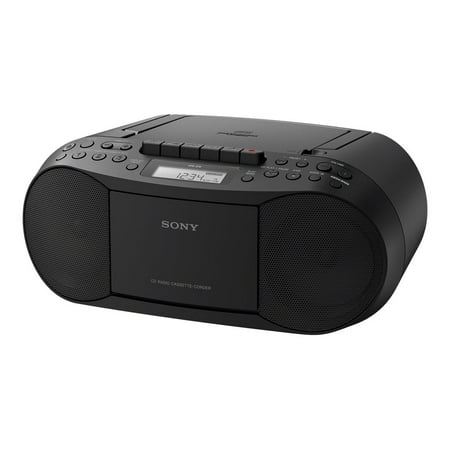 MSRP :

$59.99





Sale :

$59.99

Sold & shipped by Walmart
Product Description

Additional Information

Reviews
Product Description
Enjoy full-function, portable audio at home or on the go with the easy-to-use Sony CFD-S70 Boombox 3.4 Watt. It comes with MEGA BASS technology for extended bass response so that you can enjoy your favorite tunes in clear and booming sound. This black boombox gives you your choice of CD, cassette, MP3 and FM/AM radio playback. You can also connect your favorite MP3 player or mobile device by using the aux audio input port. This Sony CFD-S70 Boombox 3.4 Watt lets you enjoy a wide range of music just about anywhere. It can be powered either by AC power (cord included) or by six C-size batteries. It delivers up to 19 hours of battery life so that you can keep the fun going.
Additional Information

Sony CFD-S70 Boombox 3.4 Watt, Black:
Enjoy full-function stereo sound
Playback CDs, CD-R/RW and MP3 CDs with shuffle and program functions
Built-in cassette tape deck with recording function
FM/AM tuner with digital tuning and 30 station presets
AC and battery power options with up to 19 hours of battery life
Aux audio input lets you connect digital music players
MEGA BASS bass boost circuitry enhances low-frequency bass performance at the touch of a button
AC power cord included
Portable audio boombox offers RMS audio output
Reviews
skywind
Super great boombox
I love this boombox from Sony. Plays cassettes, CDs, and audio in, audio out for speakers, radio, radio presets, its very compact and has great sound. Can be plugged into the wall or used with batteries. I use it with batteries. It uses six "C" type batteries.
Lorinzo
Good Volume.
I purchased this one month ago during a road trip and used the cd player for a couple days. The volume could be heard well over road noise. I would have preferred knobs to turn instead of buttons to push, because the buttons are low/flat next to the body of the player and requires more pressure from my fingers. The most annoying aspect was that it didn't save the place on the cd where it left off when I stopped the car and had to unplug the machine from my car. The cd player I had connected to my TV could do this with cds and dvds and they are almost the same price as this player. Trying to find the spot where I left off took more time and it was aggravating to find it every time I stopped the car. I give it a 1 for convenience and a 5 for sound quality in my use of hearing the audio books clearly. I didn't play music cds and that's an entirely different quality of sound to rate. I didn't use the radio or the tape player either.
Appreciatetruereviews
Do not buy a Sony CD/cassette/radio player
I had this player for 6 months. The sound even with boost base is unclear and poor. I used the cd player maybe 30 times. Despite being well cared for, it just stopped reading the CDs like many others have reported. I truly believe that many of the five-star reviews are false. I tried to at least exchange it since I knew return was not an option. I spoke to a Walmart employee who was at least sympathetic to the fact that I had wasted $60.00. She commented that maybe they shouldn't carry the product if there was a known defect. True. My plan is to minimize my dollars spent at Walmart for now.
No good
Inferior product
Inferiour product. CD player stopped working after 5 month.
Kauaian46
Started out great
But within 90 days, the cassette portion - the main reason I bought it - failed. It supposedly only reads Type 1 recording tape, but tapes I played successfully before suddenly became muddled and distorted. Cleaning the innards didn't alleviate the problem. Next step: Try the discussion Boards