Sportsman 4000W Dual-Fuel Generator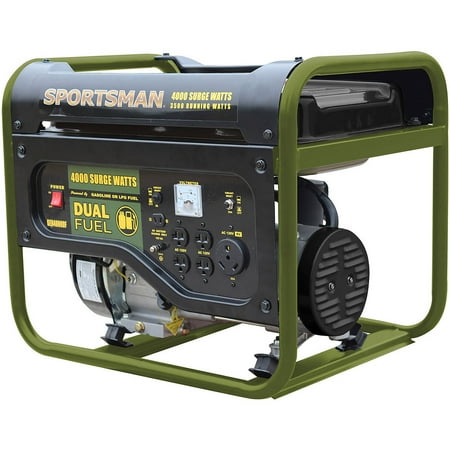 MSRP :

$599





Sale :

$359

Sold & shipped by Walmart
Product Description

Additional Information

Reviews
Product Description
Great for running the RV while out on the road, or for keeping essential appliances going during a power outage, the Sportsman Series 4000-Watt Dual-Fuel Generator has the power and flexibility to handle the task. This generator runs on either unleaded gasoline or propane gas, so you can use whichever fuel is more easily available or affordable at the moment. With the Sportsman Series Dual-Fuel Generator, you get the long-lasting, clean-burning advantage of propane gas, plus the familiar and easy-to-find benefits of unleaded gasoline.
Additional Information
Reviews
Steve
wired wrong
This generator has reverse polarity. I found out after using my G-N bonding plug to eliminate the "no ground" fault with my Progressive EMS50X. Then the reverse polarity showed up and I found the gold lines hooked to the silver neutrals and it ends up wrong on the 30 amp rv plug. A simple 180* rotation of the rv plug lets you hook the wires correctly and also lets you plug in an rv cable a lot easier than having the bar in the way. I sent emails to the manufacturer and they did reply but nobody seemed to care. Buyer beware if you have sensitive electronics in your rv
TimW
Great Product for the Price
I am extremely pleased with my purchase of the Sportsman Sandstorm 4000. Started right up on the 2nd pull. It runs my 5th wheel with no problems. I would recommend this to anyone looking for a generator. VERY AWESOME it runs on propane or gas.
lee1105
Like The Dual Fuel
I was pleased the unit arrived a day early and FedX must of handled it with kid gloves as no damage to shipping box, likewise no damage to MFG box. The unit had heavy form fitting Styrofoam so unit could not move around, must of read older reviews. Bought 10W30 added 18.5 oz checked dipstick measured 1/2 above min. will top off after next use. Hooked up 30# RV propane bottle only minor problem was some burs in the brass generator connector, so had trouble hooking hose to gen. Got brass wire battery terminal brush out of my tool kit and cleaned up brass fitting, hand tightened no further problem. Turned on propane tank, closed choke, started second pull, adjusted choke till running smooth 30 seconds, ran for 5 min, shut down by closing bottle shut off power when stopped. Restarted at 5th wheel 1/2 choke 1st pull, ran 13,500 A/C unit :30 min started cooling camper, fits on furniture dolly for ease of moving around, far more quiet than old set, just a hum inside w/windows closed and what a good price.
MamaBahama
Awesome for the money
I ran it for a week straight with hardly any problems. The only issue is that it would shut itself off from lack of oil. I didn't know it would burn oil....so in the middle of the night it died and i couldnt figure out why...till i checked the oil and filled it... started right up. The other problem (which is most likely my own fault) was that it would sputter and stall from being over filled with gas? I'm not sure really.... theres a fuel vapor recovery or vent hose on top of the gas tank that i think is sucking up gas and stalling the engine. I ran a 55" tv, xbox one, sound bsr with sub and 4 satellite speakers, a freezer and refrigerator, and 3 LED lights AND a box fan.... no problems. its a little loud...if you set up a WELL VENTILATED dog house for it...it knocks down the volume by at least half. Consult youtube for doghouse instructions. The one i did was literally just 4 scrap peices of plywood.
CLepidus
Excellent Deal
Purchased a new travel trailer last spring and needed a new generator to go with it. So far I have only ran it on gasoline rather than propane but I am more than happy. I can run both my AC and microwave at the same time although I only did it as a test. My 6 year old son can start the machine in two pulls even when it was only 22 degrees in the mountains. There is a burn in period I read about someplace for the generator. I actually ran mine for about 10 hours and changed the oil before putting it under load. This is not a quiet machine but I don't camp in campgrounds so it is not a problem for me. For the price, I do not think you will find a better machine. I purchased the 4 year plan just in case because even after $40.00 for the warranty it was still a better price than any of the competitors.