Pro-Series 6' Multipurpose Scaffolding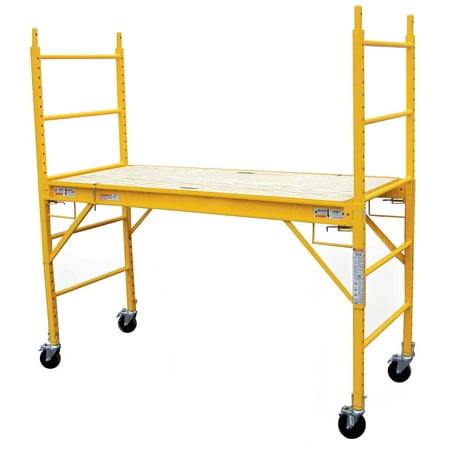 MSRP :

$192.32





Sale :

$149.99

Sold & shipped by Walmart
Product Description

Additional Information

Reviews
Product Description
Access light fixtures and hard-to-reach places on a construction project with the Pro-Series 6' Multipurpose Scaffolding. It features steel construction with a powder-coated finish for extra protection and weather resistance. Easily move from room to room, for painting, patching, wallpapering and hanging drywall with four five-inch swivel locking casters. With a width of only 29 inches, this scaffold fits through standard doorways. This unit can be double stacked (with additional support and guard rail, both sold separately). It can also be combined with additional components to stack the units higher and create a customized interior scaffold system that meets the requirements of your particular job. Meets OSHA and ANSI scaffolding regulations.
Additional Information
The wooden deck and steel frame has a capacity of up to 1,000 lbs. It can be used both indoors and out to meet your construction needs. This Pro Series 6' Multipurpose Scaffolding makes dealing with high ceilings easier.
Pro-Series 6' Multipurpose Scaffolding:
6' multi-purpose scaffolding
5" locking swivel casters
For interior or exterior use
6' scaffolding has an all-steel construction
1/2" thick wooden deck with steel frame
1,000-lb capacity
29" wide
Fits through standard doorways
Durable, powder-coated paint finish in yellow
Meets OSHA and ANSI scaffolding regulations
Reviews
tcgoldwinger
Crazy Good!
I wasn't sure what to expect with such a great price; however, my expectations have been far exceeded. I wish I had purchase this scaffold long ago. I have been rebuilding my boat using a ladder. This this is strongly built, smartly built and incredibly easy to use. It doesn't take two people for anything you need to do with it. I have assembled it, moved it in rock gravel, adjusted it to fit many heights and it has made my work so much easier and a heck of a lot safer!
Jeff
Great buy
This scaffold was very sturdy, the wheels are very sturdy, just a high quality item especially for the price
Alwaysbuyquality
Very nice affordable scaffolding for home use
First off, what made me buy it was the great price at the time ($149 i see it's gone up in price a bit). It arrived quickly was easy to put up, which i did by myself. The top of the braces attach to the "legs" but there is an extra hole in the brace that corresponds to a hole in the leg and i bought extra pins (sorry can't remember the official name at this time) to made me feel just a bit better about the support (i think the support was fine but since the holes were there i purchased pins similar to the ones used to attach the legs). The wheels lock and i set them at outward angles to provide a little more support, certainly you might want the side braces if you decide to add another section. It would have been nice if the guard rail scaffolding was cheaper so i could have bought that for additional safety but for home use that was a bit much. I did take some electrical conduit and zip tie it to one side from top leg rail to top leg rail to give me something to let me know i was close to the edge on that one side. Overall for the jobs i have planned (cleaning carport ceiling, painting and likely eventually painting the trim around the house again) this will be very helpful. Now i plan to only use the one scaffolding and will not add a set on top, the one set is sturdy, doesn't shake and is easy enough to get on and off it even for an old guy. Glad i bought it.
faith
Great scaffold, for around-the-home use
Essentially identical to products offered at other big box stores, Amazon, and Harbor Freight as well. Was tough to find much of a discount anywhere. The idea to check with Walmart was an afterthought. But to my amazement, there was the scaffold on-line for $40 less (20%) than the competition, and free delivery to home. The package is large and very heavy - comes in a single box - no way could I cart one of these home in my vehicle. You don't have to be a rocket scientist to figure out that this is a heck of a deal. The package arrived promptly. Just what I wanted - absolutely no complaints about the product. Amazon, you've got some competition now. And I will be checking Walmart on-line regularly from here on - apparently Walmart on-line has a vast array of products you wouldn't expect to find in their store nearby. Thanks, Walmart.
TimG
Pro Series Scaffolding - Five Star
Easy to set up. Quality workmanship. Recommend delivery to home.