Sunbeam Electric Heated Fleece Throw Blanket, 60-Inch by 50-Inch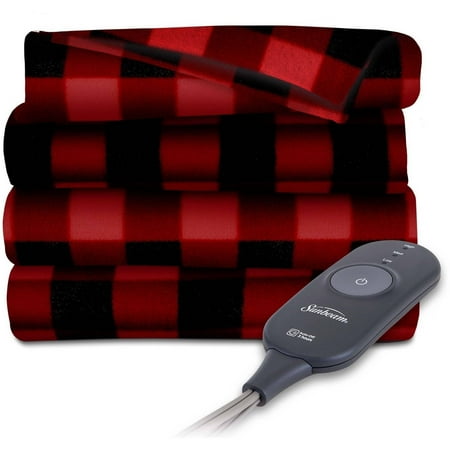 Sale :

$39.99

Sold & shipped by Walmart
Product Description

Additional Information

Reviews
Product Description
Curl up and relax in head-to-toe warmth with this Sunbeam Electric Heated Fleece Throw Blanket. Crafted from fleece, this luxurious heated blanket offers the warmth and softness you need to fend off winter chills. Featuring 3 heat settings and an easy-to-use controller, it delivers consistent heat that you can adjust to your preferences. The blanket's exclusive wiring system uses thin, flexible wires that help ensure superior heat distribution while remaining virtually undetectable. A convenient 3-hour auto-shutoff provides peace of mind. Measuring 50 by 60 inches, this self-heating fleece blanket is large enough to use as a personal throw or wrap, and it's machine washable and dryer safe.
Additional Information
Heated electric blanket crafted from soft, warm fleece
Heated blanket features an exclusive wiring system that uses thinner, more flexible wires to ensure superior heat distribution, without adding excess rigidity
Intuitive controller with 3 settings allows you to easily adjust heat intensity
3-hour auto shutoff for peace of mind
Machine washable and dryer safe for easy care; soft, 100% polyester
5-year limited warranty
Reviews
abearwhocares
Control gets very hot--cover does not.
Just received recently-- so still deciding but-- I got the beige color- fleece is thin but adequate if it continues to work [ read other reviews on that issue.] Issue #1 - throw ''says'' 3 heat levels -- mine seems to have only 1. = mildly warm-- but all over warm-- not just on spots so far. Issue #2 - the control lights up as 3 heat settings progress-- but limited heat- HOWEVER the control gets and stays --very-- warm. cord is about 6 feet long ! Issue #3 -- supposed to auto cut off at 3 hours-- mine does random auto cut offs from 1 to 2 hours max...not 3 yet. Issue #4 1 year warranty [ only 90 days to return to Walmart= SAVE THE RECEIPT] warranty requires you to pay shipping to a factory and wait for their decision-- which could take how long???/// I'm hopeful it will give me at least 1 winter season of use-- the next 6-7 months. I would not wash this throw-- looks too delicate to handle even a mild cycle and I assume the internal wiring won't work afterwards. The wiring is noticeable but not bad. Thicker fleece would hide that feel but at $19.96 [ 10-2016] you get this now a days. BTW it uses 115 watts at 110volts and lists MANY use restrictions in fine print of the '' limited'' warranty. Made in China FOR - ''JCS''=JARDEN CONSUMER SOLUTIONS but sold as Sunbeam/ Holmes Choice.....hmmmm. no warranty address given you must call 1-800-892-7684 for directions[ and then you arrange and pay shipping to them.] return shipping/ fees back to you? unknown. call. I'll give it a try but no recommendation now.
Throw
Warm&Affordable
An affordable throw for TV watching in a chilly loft! Myself the dog and cat all cozy up and watch tv under the throw! See photo. I am very careful to unplug when I am done, it does have a three hour timer I believe. It is pretty simple-plug, remote , throw. 19.95 Minimal quality, serves its purpose. I bought it as the most reasonably priced with a brand name.
sagittariusfeline
Warm&Affordable
the heat quality of the blanket and it keeps me safe from cold diseases.
Kpowell1986
decent
Bought this as a blankie for my shivering chihuahuas to lay on. They both really like it although to me it doesn't seem to get as warm as it should, even on high heat. Other reviews say control gets hot but mine is staying cool. It does seem to be warmer in some spots than others but for $20 it's a good buy. I may even get another for myself as the doggies have already claimed this one.
JRTStarlight
Control too close to the foot end - harder to use.
Assuming it works (many reviews suggest many units just don't, or quit soon) the basic design is stupid. The control is 2 feet away from the bottom of the blanket, where it can't easily be reached, unless you reverse it and put the foot end near your head instead, but then that hard plastic clip is uncomfortably in your face. And even then, it's hard to not get entangled in the cords. To prevent that, the only way would be to both make the cord longer, and the control leg of the cord closer to the top, or, better, a separate control cord. One 6 foot power cord with the control 2 feet from the plug end is just too difficult to use easily. Even if it cost more, make the cord longer and the control easier to use. Otherwise, I'd keep looking for a better option if I were you.