Sunbeam Warm Mist Humidifier, SWM6000-BWM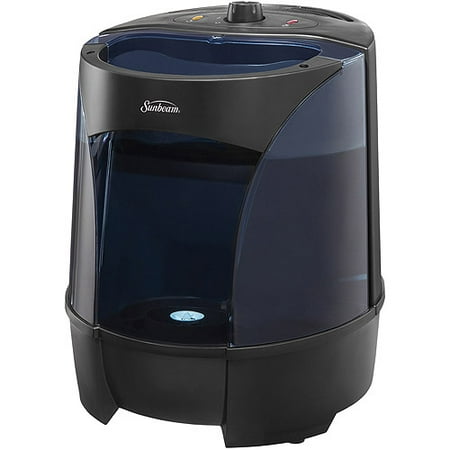 MSRP :

$30





Sale :

$26.42

Sold & shipped by Walmart
Product Description

Additional Information

Reviews
Product Description
The Sunbeam Warm Mist Humidifier provides comforting relief so that one can rest peacefully overnight. It adds moisture to the air and helps alleviate dry winter cough and cold symptoms. This Sunbeam filter-free humidifier is designed for quiet operation to disperse a warm, visible mist. It includes a medicine tray for aromatherapy and/or healing vapors. It is designed to help soothe dryness of the throat, sinuses and irritating cough and cold symptoms. It is simple to use; a knob on the top turns it on. This black humidifier is treated with antimicrobial properties to help protect against bacterial growth and also eliminate odors. With a sleek, compact design, it can look nice almost anywhere you place it in your home. Let this Sunbeam Warm Mist Humidifier help you rest and sleep comfortably in dry, heated indoor environments during the winter season.
Additional Information
Sunbeam Warm Mist Humidifier, SWM6000-BWM:
Great for small rooms
Helps alleviate dry air discomforts
Up to 24-hour run time per tank filling with auto shut-off
Removable tank for easy filling and cleaning
0.9-gal tank capacity
Medicine tray
2 speed settings
Sunbeam filter-free humidifier
Antimicrobial-treated
1-year limited warranty
Dimensions: 10.04"L x 10.04"W x 12.8"H
Model# SWM6000-BWM-115
Reviews
ltaylor84
Great Humidifier
I bought this because we have forced air in the home we just bought, and it dries out my sinuses. This thing is great, runs for about 8 hours without needing refilled, and does the job.
Sirius1953
Loud Humidifier
The warm mist humidifier is nice looking, easy to use just fill the tank with water and replace. Need to wait a few minutes for the water to enter the heating chamber. One it is ready to be turned on it will take about 10 minutes for it to boil the water. Unlike the cool mist humidifier I have which shoots out visible mist, this warm mist does not. To me the warm mist humidifier is very loud as it boils the water and it seems like the water from the water tank doesn't keep feeding water into the heater chamber, so all night long I can hear glop, glop, glop, as the water in the water chamber is making bubbles as it is trying to feed water to the heater chamber, then you can hear the boiling of the water. I guess you get what you pay for. I really could get the same or better results using a hot plate and tea kettle to heat water which would have visible steam
BoysToys00
DOES THE JOB, DECENT PRODUCT
I like that this humidifier is easy to use and started right up. (I have used others where you have to use salt to get the steam) It works fine, although the medicine cup is virtually nonexistant. I bought a menthol product to add to the medicine cup, and it calls for 1tbsp per gallon, however the medicine cup on the humidifier literally only fits a few drops of liquid.
Sevin
LOUD!
Despite the stylish black design, hi/low settings and auto shut-off, cannot recommend this item. Have previously owned 5 humidifiers and this one is the noisiest by far. The others were actually quiet, but this Sunbeam is a boiling, bubbling, spatting, pop pop POPPING cauldron of noise.
SusieQ
For 20 bucks, yeah.
Okay, so, on high, it goes through the water pretty quick - about 8 hours, so it lasts the night. Yes, it does make some gurgling noise, but nothing I can't ignore and sleep through. The design of it is fantastic! Super easy to use. The tank fits in my bathroom sink and faucet for easy refills. It's got an easy to carry handle. It sits on the floor and I'm not worried about it tipping over. It even shuts itself off when it's time for a refill. For a bedroom, I do recommend it. It's a good product. I'm even considering getting another one.