Sunbeam Cool Mist Humidifier, 1 Gal. (SCM1100-NWM)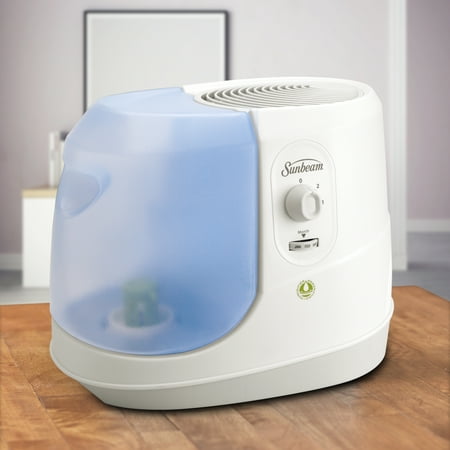 MSRP :

$29.99





Sale :

$24.44

Sold & shipped by Walmart
Product Description

Additional Information

Reviews
Product Description
Improve indoor air quality in any room with the Sunbeam 1 Gal Cool Mist Humidifier. This powerful, easily portable device helps protect you from the effects of damaging, dry air. Its compact size and one gallon capacity makes the humidifier especially The tank cap is designed with an aromatherapy tablet holder, so you can infuse rooms as desired with rich scents while you add moisture to your immediate environment. The antimicrobial humidifier features a triple layer filter. The filter is enhanced with Arm and Hammer Baking Soda, antimicrobial treatment and carbon X. These features eliminate impurities and reduce odor for fresher air. The Sunbeam cool mist humidifier is treated with antimicrobial properties to help protect against bacterial growth. Maintenance is always simple with its removable tank for refilling and cleaning. The device also has a filter reminder dial and two speed setting for ease of operation, up to a 24-hour run time per tank and an auto shut-off option.
Additional Information
The room humidifier provides maximum comfort and a healthy environment
Triple-layer filter is enhanced with Arm & Hammer Baking Soda
Filter check monitor
Hassle-free maintenance
The Sunbeam humidifier is easy to carry and fill
Use in any room
Ideal for all seasons
24-hour cycle before tank filling
Oral compartment for adding aromatherapy tablets
Reviews
MrSmokeyJoe
Exceeds Expectations!
It was time to replace my bedroom humidifier that was over 15 years old and no one made the wick filters to fit it any longer. Living in the Midwest just 4 miles from Lake Michigan the winters can get very snowy, cold and dry. I have had sinus problems almost all my life and have to have a good working humidifier in my bedroom and also the house. I had reservations about this Sunbeam Cool Mist since the price was so low but am sure glad I took the chance! This little baby puts out over 3/4 of a tank a day now in October on the low setting, I believe the tank is 1 gallon. One feature it has that I didn't realize at the time of purchase is a small wheel type dial under the speed control setting that allows you to "dial" in the month your in. I'm still not sure if that is for water flow or just a "gadget" that may or may not change the way it works but have it set now on "Oct" and its working great. There are 2 speed setting on this unit and it uses a oval type wick filter (see which I purchased below). This makes all the difference in the world to me when I sleep and especially when I wake up, no more sinus pain :)! Do yourself a favor and order some extra filters at the same time you order your humidifier, the filters I ordered where from here at Walmart item - Sunbeam SF212PDQT2-WM Humidifier Filter, 2pk and be set for the entire season. Oh and by the way they do sell some type of "scent tablet" that you can put in the humidifier I guess for aroma therapy if you are so inclined, I just put a $1 twist open room freshener on top of the unit and it works great that way lol.
Anonymous003
Black mold
I bought this item at a Walmart store I have been using the humidifier for 4 weeks. It does not release a mist at all. I know that the filter is supposed to turn orange/ish when is time to change it. However, this morning I woke up with a bloody nose so decided to check the filter. To my surprise I saw black mold. I am attaching a picture. Do not buy this item. I will be trying to return this.
Nitpicker3
Small, Quiet, Awkward, Time-Waster
Although this humidifier is quiet, it had to have a smaller motor and fan blades to achieve quietness. That's the reason one gallon of water will last 24 hours. It does not achieve the same level of humidity as the older, larger Sunbeam humidifier we have in the bedroom. So far, the fan doesn't rattle like the other old one it replaced. The handles are formed into the translucent tank, making it awkward to handle. A handle on top might have worked better--like the older, larger units. The fill cap is large and difficult to seat properly to screw it back on the tank. The instructions have information about some kind of tablet to put into a cage on the bottom of the fill cap, but that information was not in the description of the unit on Walmart's website. The box included no tablet sample. I think the tablets have to be ordered directly from Sunbeam. Finally, the instructions call for completely emptying and cleaning this unit daily, a time-consuming chore I would reserve for my enemies if I had some.
JNDAR001
Nice Unit
I have owned a lot of humdifiers and so far this model has been excellent. I feel these type of units are the way to go. Low cost - easy to clean - filters easy to find - discard when the unit gets filthy at the end of a couple seasons. Easy to clean beigng number 1. I ran it on 1 and water lasted 24 hrs. I like that water gets cycled through quickly. Filling water is a snap and easier than cleaning. Plastic container is softer than traditional models but its not a problem for me. Time will tell. I feel whilet running on setting 1, the unit is quiter than others I have owned and much quiter than the small Honeywell I just got on a deal, almost a twin to the Sunbeam. Instructions say remove water if not using for a couple of days and I believe this is good advice. All these units require attention and cleaning but this unit excels in simplicity of design to make these chores easier.
NewMexicoWildRose
Must Buy
I purchased 3 of these Cool Mist Humidifiers this past spring. Set up was pretty self explanatory. I keep 2 of them running 24/7 on low, they are in the bedrooms, the 3rd one is in the living room and we use it when the air is starting to feel dry. I had started off using purified water, but at about a gallon a day in each one... the cost to run became too much, so I started using our well water. The filter seems to collect the hard water deposits and the dust, which is very good. There are also NO water droplet stains on my nearby furniture or the table that the humidifiers sit on. It just puts out nice cool air, but you can feel the difference when they are not running as to when they are running. I am so happy I made this purchase and would purchase again and recommend this item.