Fresh Results, Ultimate Clumping Cat Litter, 10-Pounds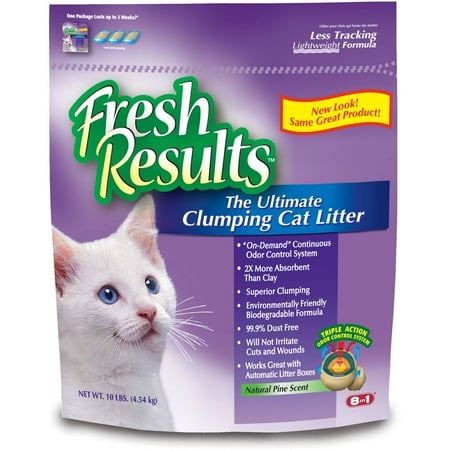 MSRP :

$12.27





Sale :

$22.65

Sold & shipped by VirVentures
Product Description

Additional Information

Reviews
Product Description
Make a more friendly environment for your cat when you use 8 in 1 Pet Products Fresh Results Cat Litter. It is designed to make the litter box a more adaptable plAce for your pet. The scented cat litter lasts up to three weeks and has a triple-action odor control system. It has a natural pine scent.
Additional Information
Reviews
Sammiesmommy
Bring it back!!!?
@TiaMia 1134, I completely agree!! I have used this litter for years & Love it! It is dust free. As I also am particular about keeping a clean house,I & Have my own cleaning business. I am very sensitive to smell, & other "scented" litters are SO perfumy, they give me a headache! I can only imagine how it must be to a small kitty. I also went to buy more last week, & it was gone! Not even it's shelf tag was there. It was a good seller, as it was out of stock a few times, so WHY get rid of it?! I went ahead and bought the corn litter that took it's place, since it didn't say it had a scent, even though it was almost $2.00 a bag more! It is so perfumy! That is why I don't buy the Armor & Hamor corn litter. Too scenty!! Why do you do this Walmart??!!! PLEASE bring it back! It is obviously being demanded by loyal customers!!
Krissii
Corncob clumping cat litter
Awesome product. The Walmart in my city (67401) used to carry this same product, which was very popular, by the way. For some reason unknown to me, the Walmart in my city, much to my disappointment, discontinued stocking this popular product. I can order two bags for site-to-store delivery of this product or I can drive 30 miles to another Walmart store in another town to buy this product. My city's Walmart store serves an area of approximately 80,000 people (50,000 live within the city limits) and they cannot or will not continye to stock this particular corncob clumping cat litter. VERY UNHAPPY WITH THIS WALMART STORE (67401).
Woobie101
There isn't any cat litter better then this one ..
You can stop looking because this is a far superior cat litter then any other on the market today. Forget crystals, paper or wheat this is what you've been looking for, and it won't harm your precious cats either. Now if WalMart could keep it on the shelves long enough for me to buy a couple of bags at a time I would be a very happy person indeed.
TiaMia1134
Me-OWWW! Bring Back Fresh Results!
My 2 sweet kitty-girls have used various litters over the past 11 years, but Fresh Results is the ABSOLUTE BEST LITTER I have ever tried - and I have had cats for 35 years. My cats both LOVE Fresh Results. One of my cats has asthma. as do I, and Fresh Results leaves NO DUST. It also has a light, fluffy texture (perhaps 8-in-1 incorporate baking soda into the litter mix to give it that loose, fluffy texture?). The soft texture is very gentle on my older kitties' paws and it never sticks or gums up on the bottom of the litter box. The clumps are easily scoop-able and flushable without any plumbing problems. Fresh Results also has a very light, fresh, clean scent - to me, it smells like cedar. I had used Blue's walnut litter for 2 years but the sharp granules hurt my feet if I stepped on them (and I'm sure my cats' feet!), and I also found it to be VERY high dust. Brown walnut dust-coated baseboards, bathroom walls and seemed to stay in the air. I keep a very clean home and coming home after a long work day to daily vacuuming, cleaning/wiping up of brown walnut dust coating baseboards, floors, and walls was exhausting. It was a daily chore. My cat with asthma, and I, were both bothered by the irritating walnut dust so I had to find an alternative. That's when I stumbled upon Fresh Results at my local Atlanta-Perimeter Walmart a year or so ago. I liked that it was a natural corncob product, no clay, no chemicals, and the bags were very light for me to carry as I live on a 4th floor with no elevator. Fresh Results has NO DUST, it's clean to use and the clumps are flushable. Both my cats love it, and there is very little litter scatter to clean up - a few quick sweeps with a handheld dust brush/pan (and I have dark hardwood floors throughout). It has a light fresh scent - no heavy chemical odors. It's the healthiest, cleanest cat litter I've come across in over 30 years. It sold out quickly on weekends at my local Walmart so I would buy 2 bags at a time mid-week. Then, 2 weeks ago, Fresh Results suddenly disappeared off the shelves - not sold out, the store stopped carrying it! I spoke to a store manager yesterday who confirmed it. WHY pull such a popular product from your shelves? They are now selling a LitterMaid corncob litter as a Fresh Results substitute with a sticker touting "Same Great Value as Fresh Results with Premium Performance." I bought it yesterday and I can tell you it is NOT a "value" if it does NOT perform comparable to its predecessor. The LitterMaid corncob product Walmart is now selling is darker (is it as good/healthy as Fresh Results?) and a completely different texture (not light and fluffy like Fresh Results). It also has a strong chemical scent. It is not a comparable replacement for Fresh Results whatsoever (you can fool some of the people some of the time...). Fresh Results was a perfect litter - so why replace it?? WALMART, please listen to your cat loving customers and BRING BACK FRESH RESULTS!
13Penguin13
GREAT for Multiple Cats
I have 3 cats and this works great! Clumps & holds for easy removal and my cats love it too. I will no longer buy the cheap stuff every week......a bag lasts me 2 to 3 weeks!