Morning Glory Cluster Stuff Polyester Fiber 11.25 LB Box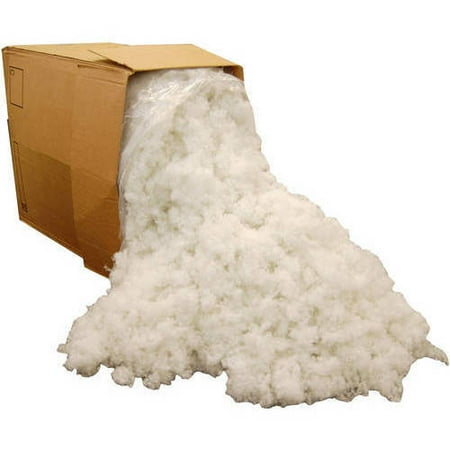 MSRP :

$42.97





Sale :

$32.99

Sold & shipped by Walmart
Product Description

Additional Information

Reviews
Product Description
These tiny clusters of slick pure polyester fibers will not clump or bunch.
Additional Information
Make your own decorative pillows and stuffed toys with the Morning Glory Cluster Stuff Polyester Fiberfill. This item is made of lightweight material that will never clump or bunch. This pillow fiberfill can be used to add new life and firmness to old cushions, pillows, and comforters. It can also be used to refurbish old sofa cushions to give your furniture a fresh new look. The slick fiber clusters can be stuffed loose or tight. The Morning Glory fiberfill is hypoallergenic and machine washable for added convenience and easy care.
Reviews
cowings2
Only kind I use!
This is the best for stuffing pillows and stuffed animals. No clumping and not bulky!! This is the only thing I buy for my business and home use.
deejay
Love, love, love Cluster Stuff
I am not a big crafter so my use of this product is limited, however, it's the best for stuffing pillows. So easy to work with as the material is like little fluff balls rather than the standard sheet batting. You can use as much or as little as needed and it's easy to readjust. I actually use it to make my own bed pillows by stuffing it in zipperd microfiber pillow covers and everyone gets exactly the pillow they want! No more expensive pillows for us!!
Fluffy
Amazingness
Make the fluffiest pillow! It's the only one my kids want to use on their projects
CodyCampers
CLUMP FREE TOYS :)
I've been buying the morning glory cluster stuff by the lb (5 at a time) in the store and saw this 11.25 lb and thought why not? I make lots of amigurumi's (stuffed crochet toys). Average 2-3 toys per lb and make generally 2-3 a week. Have used lots of other brands and find that they clump up with time whereas I have not seen this using MG cluster stuff. I do find that the bulk pack looks & feels more cotton(y) and less nylon looking. Almost more of a "dry" feeling and less shine to it. 3 individually seamed pillow like containers per box (think like a king sized pillow, if not larger) not all loose in box and will keep better being sealed until needed. I have enough of the nice zippered 1 lb bags that I will fill and keep smaller amounts with my projects. Purchased on sale and it was under $2.25 a lb instead of $5 a lb for the single lb bag in the store - which they have not had for a few months now
shopatwalmartalways
The good stuff
This stuff, like its name implies, is small clusters of stuffing. Fiberfill and other stuffings are usually one large blob that you pull apart to stuff things with. That usually leaves me with lumps in my projects. After washing those lumps get more and more defined and sooner than I would like, the project looks old. The cluster stuff is much better at preventing this, the fibers are already separated into uniformly sized chunks. After washing the smaller chunks do not become as matted and my projects maintain their fluffiness and shape much better. This particular item was a bulk amount (11.25 lbs). There was a lot more stuffing than I was expecting. I usually buy the 1 lb bags but I wanted to stock up a little more and get a better price. When the item came in and I picked it up, I had to remove the bags from inside the box to fit it in my car. I was able to check to make sure it was the right stuffing before leaving. It came in three very large sewn-shut pillows.