RL Flo-Master 1-Gallon Sprayer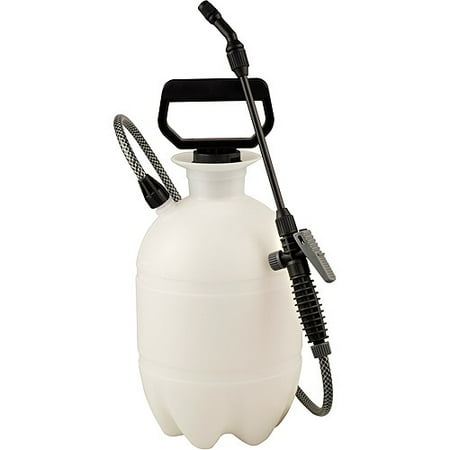 MSRP :

$8.37





Sale :

$5

Sold & shipped by Walmart
Product Description

Additional Information

Reviews
Product Description
This RL Flo-Master is designed to help in dispensing pesticides, as well as bug and weed repellent. It features a poly wand with an adjustable nozzle that allows for precision in applications. With a reinforced hose, this 1-Gallon Sprayer is a high-efficiency, low-effort pump. This Flo-Master Sprayer comes with a translucent poly tank that allows you to view the liquid level at all times. It also features a pump handle that allows for easy snap-in storage of a flow control wand for one-handed spraying. This unit is easy to assemble and requires no tools.
Additional Information

RL Flo-Master 1-Gallon Sprayer:
Easy to assemble; no tools required
Poly wand with adjustable nozzle for precision application
Reinforced hose for durability
Multi-purpose sprayer with a high-efficiency, low-effort pump
Pump handle allows for easy snap-in storage of flow control wand for 1-handed spraying
Translucent poly tank for easy viewing of liquid level
6.75" x 6.75" x 15.75" when assembled
Reviews
ArtChee
NOT a good buy
Had purchased this item for my summer home a few years ago. Only used it a few times. This summer when I got it ready to use, there was a bad leak in the flow control that could not be fixed. Unit did not hold up very long. So... bought a NEW one. Assembly was a problem with the new unit. Instructions say, "insert the pink siphon tube approximately 1/2" into the pink hose insert..." On the new unit there was NOTHING pink. The provided siphon tube was too long. It hit the bottom of the tank, and would not insert far enough into the tank to screw the hose nut onto the "tank nipple". First thought was to cut the end off the tube, but was concerned that may cause problems as it SHOULD have been supplied at the correct length. Finally, I resorted to pulling the "pink siphon tube" off of the old unit, and followed the "new" instructions to successfully assemble the unit. Don't think I shall purchase another such unit when this one develops a leak after a couple of uses.
Mimi
Works fine
This is my first sprayer so I read the included instructions carefully to avoid spraying myself with chemicals. The hose came pre-assembled so it was easy to connect it to the tank. The long tube stumped me a little, but then I realized it was meant to curve inside the tank. The manual seems to cover all Flo-Master Funnel Top Sprayers so I skipped the assembly part to go straight to the operating instructions. Unlocking the pump handle was a bit difficult to do without accidentally loosening the pump assembly from the tank. I decided the best and safest way was to unlock the pump handle from the pump assembly first, then I screwed the pump assembly back into the tank slowly and surely without locking the pump handle. Then I pumped and locked it in before spraying. I also tested releasing the pressure by turning the tank upside down and spraying until no more air pressure. Not sure how long it will last, but for $5 I should probably buy more as reserves.
SomeChick111
Great value!
I bought this sprayer online and had it shipped to store. It cost a whole $9 and arrived at the store for pick-up in about a week. This inexpensive gallon sprayer is powerful and doesn't need to be constantly pumped like other non-battery powered pump sprayers. Make sure to follow manufacturer directions on how to clear pressure before opening the sprayer. I forgot it needed to be turned upside down while doing this. So leaving the sprayer upright to clear it will give the impression it's cleared but when the top is loosened and then flies off halfway across the room it will be obvious that it is not, lol. No harm, no foul in this case. But I figured it would be helpful to let others know why it's important to follow the instructions on this as well.
Shadowz85
More than what you pay for!
I needed a sprayer and was worried that buying a 1-Gallon sprayer at this price point would get me some cheap product that I wouldn't get any use out of. Sure enough, when I put it together (very simple), it didn't work. I kept pumping and no pressure was building up. So I called the customer service. The tech asked if I would try taking the hose off and then putting it on. I thought "How silly, it's just a poorly designed product" but that's exactly what it needed. User error! Then I wanted a digital copy of the warranty. Yes, I am trying to reduce clutter. So I emailed support. Sure enough, they came through for me. All for a five dollar product. I'm a happy customer. Flo-Master will get my accolades and I'll look for their brand next time I need something they make.
CamisGrami
GARBAGE plastic handle
I run a small lawn care (10 accts). I have used sprayers for the past 15 years. THIS $5 sprayer is GARBAGE. The tank is great. The handle that works as the pump is GARBAGE. There are 2 pieces of plastic that are used to remove the pump/handle as well as to lock the screw part of the handle into place. These tabs break VERY EASILY. I actually bought 3 of these, figuring I could use 1 and have the other 2 as backup. I have only owned then for 2 months and all 3 are now broken in the EXACT same place. That being said, I have used RL Flo-Master sprayers for the majority of my work experience and use them on a weekly basis (in FL weeds grow year round). I have NEVER had these issues with other FloMaster sprayers. As the saying goes - you GET what you PAY for. BEWARE - unless you are spraying VERY infrequently, stay away from THIS particular sprayer. For the cost of 3, I could have gotten a better FloMaster sprayer. The pics below SHOW the place on the handle where the plastic tabs SHOULD be. As u can tell, they are broken off on BOTH sides.