North States 6 Panel Superyard Portable Indoor Outdoor Playard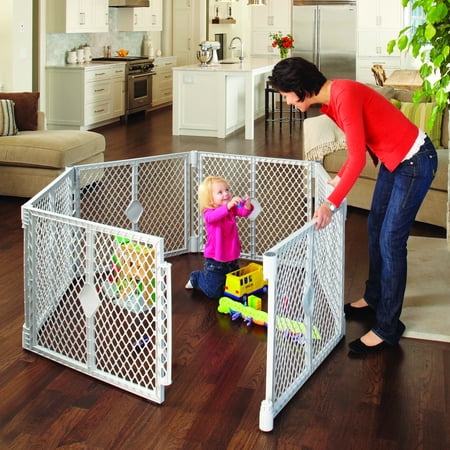 MSRP :

$66.95





Sale :

$54

Sold & shipped by Walmart
Product Description

Additional Information

Reviews
Product Description
Create a safe environment for children and pets with the North States Superyard XT Portable Playard. It is made of weather-resistant materials making it ideal for both indoor and outdoor use. Set it up in the living room, kitchen, patio, beach, park and more. It gives children and animals a sufficient amount of space to feel comfortable, while giving you peace of mind. The North States portable playard opens easily and folds flat for compact storage. It includes a carry handle that makes transporting from the car to your desired location effortless.
Additional Information

North States 6-Panel Superyard Portable Indoor Outdoor Playard:
Width: 6 panels of 30" each
Height: 26"
Mounting options: free-standing
Optional extension sold separately: NS8662 (includes 2 panels)
This North States baby playard is extra tall and can also be used as a safe, portable play area for pets
Convenient and versatile
Sets up quickly
Washable and easy to clean
Panels interlock and can enclose an area of about 18.5 sq ft
Includes a carrying strap for easier portability
Space between each panel is about 2.25" wide
Diamond holes measure 1.25" wide and 1.5" high
4 panels can be used if desired, for a smaller 6.89 sq ft area
Available panel color: gray
Reviews
NatJac
Gate does it job!
I use this item in my living room for my 8 month old son. It allows me to be able to leave some toys for him and works so the dogs nor my 13 year old can break them! Once my youngest son starts being mobile it will allow me some ease because we have stairs and this won't allow him to get near them... we will be moving soon to and its making the baby proofing a lot easier, so I don't have to do 2 homes! I worried about getting an extension, I did purchase one but took it back, it has plenty of room for up to 2 kids easily!
blazeswife
ONE OF MY BESTIES!
I love this product! so much in fact that I bought 2! It is nice and sturdy for my new crawler who is almost ready to walk. She can easily pull herself up and hang on the sides without fear of it falling. It is spacious enough that she can cruise around to a lot of toys and have plenty of room to play.When we added the second set to it it became big enough for other babies to play with her. I am even able to climb inside with her at times too. (you can't say that about playpens) We were even able to put her activity table in it! When you need it for a smaller area it easily comes apart. It works great outside as well. We lay down a tablecloth and she really enjoys being out in the sun when her brothers are on the playground. This was a great investment! The only thing that I would change is for it to have a gate so that I don't have to climb over to get in with her. It currently opens when needed but with some difficulty, so we tend to just leave ours closed.
BiologyBrain
Great buy!
I LOVE this contraption. I agree that it is difficult to get undone, but bending & picking up your child from it is no different than picking them up off the floor and/or play-pen/pack'n'play. I use toy rings to hang various toys from the sides to keep my little one entertained. It works very well even for my 2 1/2 year old niece. When she was learning to sleep in a big girl bed her daddy made a 'cage' w/ this around her bed so she couldn't fall out and/or get out of her room & wander in the night. Its very easy to move from place to place - including outside. It also takes pulling up to stand & tugging from my chunky monkey (8 months & over 25 lbs) inside and/or outside. My mom has one, I have one, & my brother & SIL have one. I am recommending them to everyone w/ babies. This site is the best price for them too! LOVE IT!
Happymommaonceagain
LOVE IT!
We have been wanting to get this Superyard since my 3 1/2 year old was younger. He has autism so he is the type that won't stay still. He loves to run back and forth and is also a climber. We never got to order one until now because we now have an almost 10 month old who is just learning how to crawl and also wanting to be on the move. We need to be extra careful with her big brother. He is 45 lbs and pretty tall for his age, she is just about 18 lbs, tiny little thing. We worry about her crawling or playing on the floor with her big brother running around all the time. With this Superyard, my little girl now has her own space. She is loving it. She has even started to stand and cruise around in it. It gives us a piece of mind knowing they both now have their own space without worrying about my little guy running or falling on her. We Love it!
myaussieellie
SuperYard
I crate train my puppy/dogs and I especially love this when they are a little bit bigger...they have a place to play, sleep and get a little exercise without running loose throughout the house or having to stay in a crate for a long period of time. I love this portable yard for my puppy! I can move it to the kitchen where there is tile. I can move it into another room so the puppy is not lonely and I can keep an eye on her! I can take it outside and keep her from the pool area or landscaping when I can't be outside playing with her! It also allows a great deal of flexibility. The only thing I wish is that it had a door that latches.