Ziploc Pinch and Seal Zip'n Steam Microwave Cooking Bags, Medium, 10 Ct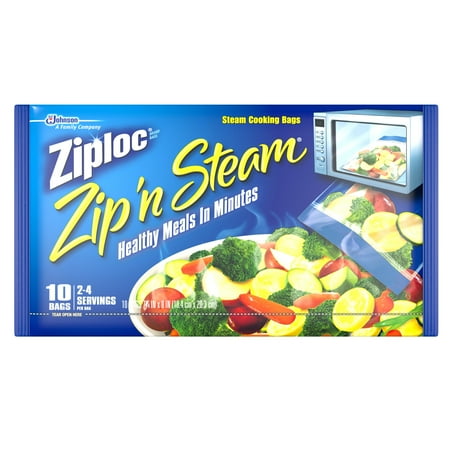 MSRP :

$3.49





Sale :

$3.18

Sold & shipped by Walmart
Product Description

Additional Information

Reviews
Product Description
Ziploc Zip'N Steam Food Storage Bag
Additional Information
Get more out of it! Ziploc brand Zip'n Steam Microwave Cooking Bags combine the taste and nutritional benefits of steam cooking with all the convenience of your microwave. Each bag has patented vents that allow food to be steamed under pressure so that it is cooked thoroughly and evenly for quick, healthy, delicious meals.
2-4 Servings Per Bag
Easy cooking and cleanup
Microwaveable
Each bag is printed with useful guidelines for cooking times.
Reviews
ILoveJesus83
TO ALL NON-COOKS OMG! THEY COOK FRZN/RAW MEAT TOO!
SO LETS JUST SAY....THE KITCHEN AND MYSELF AREN'T THE BEST OF FRIENDS....BUT WHEN I WAS INTRODUCED TO THESE BAGS...THEY WERE A GOD SENT.....THEY COOK RAW OR FROZEN MEAT....IN THE MICROWAVE....I SWEAR IT....I HAD MY DOUBTS TOO....BUT FOR THOSE WITH NO TIME IN THERE SCHEDULE....LIKE ME....WHO WANT TO EAT A LITTLE HEALTHIER....THESE BAGS ARE FOR YOU.... WHEN YOU WANT TO COOK A FEW CHICKEN BREASTS....SIMPLY SEASON THEM.....FROZEN OR RAW....AND POP THEM IN THE MICROWAVE FOR 6-7 MINS.....AND VIOLA!....COOK THOROUGHLY .... YOU CAN COOK 2 BREASTS AT A TIME....I'VE ALSO COOKED FISH AS WELL....ITS THE SIMPLEST THING IN THE WORLD.....THE BAGS THEMSELVES HAVE COOKING INSTRUCTIONS FOR ALL KINDS OF MEAT....& THE BAGS LET YOU KNOW....WHICH SIDE TO COOK ON...(LIKE A POP CORN BAG....THIS SIDE UP)....I'VE MADE MEALS IN A MATTER OF 10 MINS....CHICKEN CAESAR SALADS....CHICKEN SANDWICHES....W/VEGGIES ON THE SIDE....ALL KINDS OF FISH.....ITS ENDLESS.....IF YOUR A PERSON...WHO NEEDS TO SAVE TIME IN THE KITCHEN......AND CAN DO WITH A FEW LESS DISHES IN THE SINK......THESE BAGS ARE FOR YOU!
TheBracha
Buy these, you won't blanch on a stove again
I first started using the then larger size over ten years ago. Put corn, broccoli, carrots, most anything in the bag, zip it shut, into the microwave and in a couple minutes you have perfect hot food. My partner is a gourmet cook and she insisted on teaching me how to blanch broccoli the "right" way. I gave her some bags to use and she resisted, she knew the "right" way. Well last week she told me how great the bags were, she had cooked a bunch of steaks and broccoli, put them in the bags and into the frige. "One minute in the microwave and they came out perfectly moist and hot. These are great bags." The only complaint I have about them is I liked the bigger bag that is no longer made. AND, don't use them and throw them out. I've used the same bag for months and it is as good the first time as it is the 50th time.
luv2cookinMI
Best Product
I am absolutely amazed at how well this product works. My wife and I cut two ears of corn and place it in one medium bag. In 4 minutes we have the most perfectly cooked corn ever! Can't wait to try it on many other veggies!
Catlady63
Best Product
Love these steam bags. Use them everyday for everything. Please never discontinue them.
squeaky71
Love it.
I have to order these online becuase I can no longer find them in the walmart stores. i guess they sell out so quick. I have not found them at all in the Shoppers food grocery store, Giants or Food Lion. It is so quick and easy to cook in these bags. I use it for my fish ( lemon and herb "McCormicks seasonig"). my chicken and turkey (McCormicks seasonigs) OMG. they tast fantastic. I only put one or two pieces of meat in each bag, depending on the size of the meat. Done in no time. I Only suggest buying them and keeping them in stock in your home. You will truly be amazed at how tender the meat is after cooking.