Ziploc Slider Bags Storage Quart - 42 CT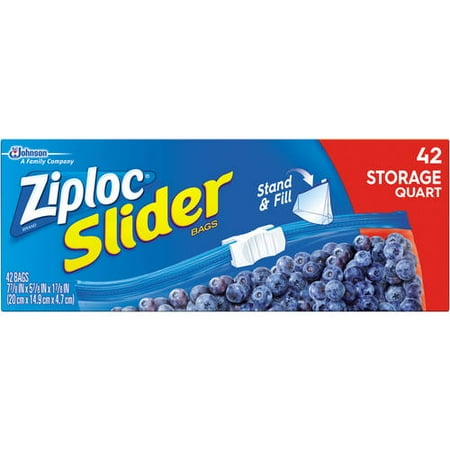 Sale :

$4.78

Sold & shipped by Walmart
Product Description

Additional Information

Reviews
Product Description
The Ziploc Slider All Purpose Storage Bags help keep leftovers and other foods fresh. Use them to bring cookies, candies or other snack treats with you while traveling. Each quart-size bag features a sliding zipper to make them easy to open and keep them securely sealed. The expandable bottom helps the bag stand upright while filling. These all-purpose zipper bags are also wonderful for holding a variety of small non-food items like office supplies, puzzle pieces and more. They come in a value pack box of 42.
Additional Information
Slider closure makes these bags easy to close, easy to open
Expandable bottom makes the bag easier to stand and fill
Filled bags stand side by side in most refrigerators, freezers and pantries
Features our Smart Zip seal
Reviews
Sabourah
Not just for Food anymore )
To be honest I didn't expect to receive a bag that had the ability to expand at the bottom. I'm into arts and crafts, and getting pieces together is very trying if you are not organized. These bags are not only good for food storage, they're also good for holding your little nick knacks around the house in place. I dont care for the older model, where you have to struggle to place the closed lines in place in order for the bag to close. I prefer the ones with the lock on the top. I definitely plan to purchase more in the future. .
Dragonwing
Ziploc Stand and Fill is a third helping hand!
Ziploc® bags are EXCELLENT. I prefer them to Glad bags, especially because of the zipper closure and the quality of the bag. I have never had a defective Ziploc®; however, I have had defective "non-zipper bags". I prefer the zipper because I KNOW the bag is closed. I had never used the stand and fill Ziploc(R) bags before, and I really like them. It makes transferring fruit, for example, so easy. The bag stands by itself so my hands are free to rinse blueberries or put strawberries in the bag! The uses for Ziploc®bags are multiple. I keep my thumb drives in a Ziploc® bag when travelling to make sure that shampoo or toothpaste or other objects don't ruin my data. I also use Ziploc® bags for keeping items that could potentially leak in a suit case from leaking on my clothes. I have tried to use the bags that you press and close, but I have had more times when the bag did not seal completely and something got ruined so the Zipper Ziploc® bag is my go-to bag. The stand and fill bags are an extra bonus. It makes tasks that require 3 hands possible!
FlintN
Ziploc Sliders
These Ziploc Slider bags are truly remarkable in comparison with any other bag I have ever used. The slider really does zip the bag shut and the bag stays shut, no more popping open and losing contents. I really like the way the bottom of the bag splays out. With this feature the bag can stand on the counter top while fruit, vegetables, left overs or anything else is spooned inside. Using the bags ability to stand gives you both hands to hold a pan or bowl and spoon for filling the bag. These Ziploc bags are not only for use in the kitchen, they also work great for storing craft materials, just stand the bag beside your current project and work away without everything falling out of the bag making a mess. I have also used these Ziploc bags while working on the truck and tractor, again they will stand while you work and drop nuts, bolts, washers etc. into the bag then label it, as you start reassembly you know when you are finished with that particular section. This is more benefit of the Ziploc slider and stand up features. I will be buying more Ziploc Slider bags for other uses other than just food. I only wish they had been introduced sooner as I have not had any negative issues with Ziploc Sliders.
lousd
Easy to Fill
I like these although they seemed thinner than the other type. They did not leak and kept my food great.. Sat them on island and filled a little and they sat up by them selves, Great!! Large so you can place a roll or something in and it will not squash the item. I froze cherries in some of the bags so easy too unzip and take one or two and pop in your mouth. I put all kinds of meat in the bags and all works great. Easy to use and store.
Wrchurch
Great Storage Bag
Great Storage Bag! I have never been disappointed with Ziploc bags. I have used them to help me stay organized and successful in projects that I need to complete. I have found the Ziploc Slider bags with the Stand and Fill Expandable Bottom to be especially helpful this summer. As usual I enjoy all of the fruits and vegetables available to me during each season and try to stock up on them whenever I find a sale or can make it to the Farmer's Market. The Ziploc Slider bags with the Stand and Fill Expandable Bottom are easy for me to use by myself without any help. I especially like the quart size for holding so much more than a regular size quart bag. The bag measures 7 7/8 x 5 7/8 x 1 7/8 inches. The bottom of the bag fans out and allows you to put more in than the regular bag. They are very sturdy too. You can use the bag in the microwave and it is suggested to leave the zipper open about one inch to vent when defrosting and reheating food. It is also suggested that you put the bag in microwave safe dish. As my pantry can get cluttered at times I like that the Ziploc slider bags come in a container for the that has a convenient hole in the top to remove the bags. This family pack of 76 bags has been a lifesaver and I would recommend it to anyone who is in need of a bag that makes your life less hectic.