Ziploc Slider Freezer Bags, Gallon, 24 Ct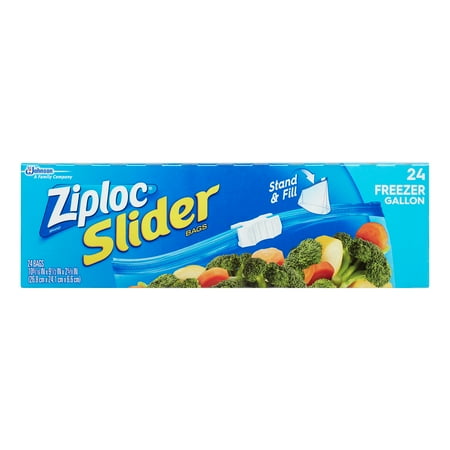 Sale :

$4.78

Sold & shipped by Walmart
Product Description

Additional Information

Reviews
Product Description
Ziploc Slider Bags Value Pack, 24ct with the expandable bottom make it quick and easy to store foods. The patented wider bottom makes it easier for food to stand upright, which means certain foods may be less likely to fall over or spill. These Ziploc Gallon freezer bags are great for portioning out bulk meats and for storing bulky items such as large fruits or vegetables. Ziploc freezer bags help protect your foods against freezer burn. The Value Pack, 24ct Ziploc Slider Bags keep your food fresh, seal tightly and are sturdily constructed to hold even heavy meats and other foods. Ziploc Gallon Freezer Bags are also great for storing non-food items to keep them fresh and prevent spills. Keep your foods fresher longer with Ziploc Freezer Bags.
Additional Information
Forget freezer burn! Now featuring our Easy Open Tabs. Protect your food with Ziploc brand Freezer Bags. Each bag locks out freezer burn while keeping food fresh and full of taste. Less freezer burn means less wasted food and money. Plus, these tough, durable bags feature our Smart Zip Plus seal - lets you feel, hear and see the bag close from edge-to-edge, so you can feel confident your food is protected from freezer burn. Each bag features a slider closure and an expandable bottom that opens into a flat base, helping the bag stay upright so its easy to fill.
Reviews
Sambaby
Great Product
I try to use as few plastic "throw-away" items as possible. I also try to re-use the bags whenever possible. I like these bags.
NYArtGal
Top zipper bags
These aren't the cheapest, but they are the best value given how many times they can be reused. Never have trouble with the zipper, a frequent problem with the cheap bags. Always come back to these for reliable use.
Granma
Not the Best Design
We freeze beans and also tomato/bell pepper/onion salsa from our garden. We use Ziplock storage bags and wanted to try the gallon-size stand up slide freezer bags for our garden vegetables. The bags were OK, but not great. The bags were easier to fill but the small, clear slider that closes the bag came off on several of the bags of beans. We were able to put a few sliders back on, but I will check on them in the freezer to make sure the bag doesn't open. I think I will go back to the other choice of Ziplock freezer bags.
therez
Great for reusing
We use these a lot for leftovers, marinades, and - well - freezing just about anything. I always make sure to buy the freezer bags because they're slightly thicker than the standard ones, which is good for preventing leaks, holes in just about any situation. For us, though, the main draw of the thicker freezer bags is the fact that they can be reused more than the thinner ones. We wash our Ziploc bags and reuse until they tear or get something on them (e.g., stinky cheese) that leaves a smell/residue. The slider top on these also makes it easier to turn inside-out for washing without tearing. Buy sturdier bags like this one, and consider reusing! I received this product for free in return for my unbiased review.
djio
Leak horribly
I just spent over an hour cleaning up raw chicken juices out of my refrigerator (and had to throw out a lot of things) because the bag leaked. This seems to be a problem with these new Stand and Fill bags. I made sure to put the bag upright because the slide loc bags tend to leak from the slider, but these bags are leaking from the bottom. I rarely have this problem with the regular freezer bags but have had it with almost all the bags I've used from this box. I will not be buying these again.