Scrubbing Bubbles Auto Shower Cleaner Refill, 34 Fl Oz, (Pack of 2)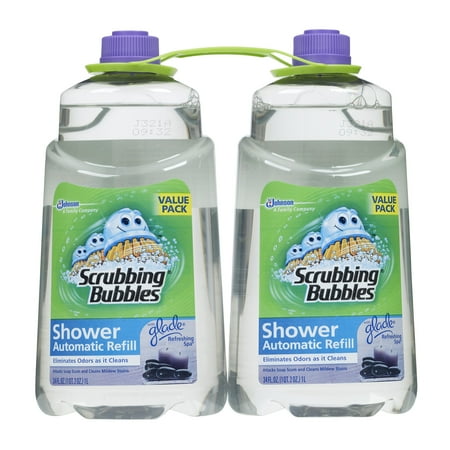 Sale :

$8.19

Sold & shipped by Walmart
Product Description

Additional Information

Reviews
Product Description
Get more out of your shower cleaning solution with the Scrubbing Bubbles Auto Shower Cleaner Refill pack. Designed to keep your shower and bathtub clean and sparkling, this cleaner also helps eliminate odors. This Scrubbing Bubbles refill pack features a refreshing spa scent that will fill the room with a clean odor. It can also be used to clean sinks for added convenience.
Additional Information
Scrubbing Bubbles Auto Shower Cleaner Refill, Twin Pack, 34 Fl Oz
Reviews
AZLinda
Great product
This product automatically keeps your shower fresh after each shower. Push the button on the application unit & it will spray the shower down without any effort from you. The unit runs on 4 AA batteries.
Annonymous
Great product
The auto-shower cleaner and the shower spray work fabulously! I have a back issue and two new hips so ease of cleaning the shower is essential. Walmart is the ONLY PLACE I can find the shower refills. I don't understand why Scrubbing Bubbles isn't supporting their own product. I even have two new dispensers on hand! My only negative is the packaging. This is the second time I have ordered refills from Walmart--both 20 bottles each time. The box wasn't double taped and was falling apart. Packing something that heavy for shipment should have been much better. I'm just glad the shipping company managed to get it to me in one piece.
Danny
Great product!!!!!
Easiest, best and most economic way to keep your shower clean. Just wish they would keep in stock at our local WalMart.
Simon
Great product!!!!!
I've used this for years and enjoy the way my shower looks and smells so clean. Recently I'm very disappointed to not find the shower cleaner in stores but glad I can now order the cleaner.
RayinNEPA
Great product!
Bought the automatc cleaner about 5 weeks ago and love it. With daily use and occasional minor scrubbing, my shower door is almost completely clean after years of trying all sorts of remedies. This stuff really works. I'll probably cut back to every other day and retire my scrubbing sponge.