Beautyrest 3 inch Reversible Memory Foam Topper in Multiple Sizes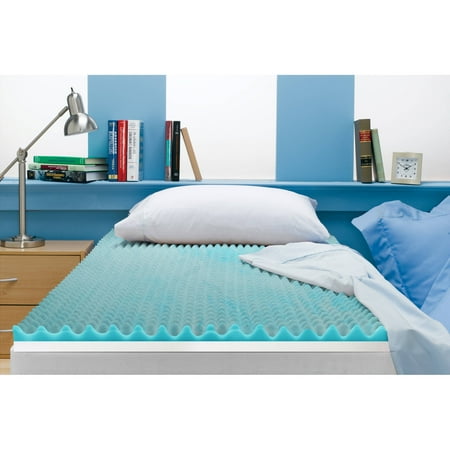 MSRP :

$59.23





Sale :

$47.99

Sold & shipped by Walmart
Product Description

Additional Information

Reviews
Product Description
Enjoy exceptional comfort and support on the Beautyrest 3" Reversible Memory Foam Mattress Topper. Features include 1.5-inch of sculpted memory foam over 1.5-inch of supportive foam contour to help relieve pressure points for less tossing and turning. The SupraCell structure allows for breathability and the Crystalline odor neutralizer allows for everyday freshness. This memory foam topper features a reversible design customized to meet your sleep needs so you can enjoy a great night's sleep and wake fully rested.
Additional Information
Beautyrest 3 inch Reversible Memory Foam Topper in Multiple Sizes:
Adds 3 inches of comfort and support to your existing mattress with this resilient polyurethane foam
Features 1.5 inch of sculpted memory foam over 1.5 inch supportive foam contour
SupraCell structure for breathability to help circulate your body heat away to keep you cooler
Relieves stress, tension and pressure points while you sleep, in addition reduces tossing and turning
Quick-recovery foam keeps its shape over time
This topper is reversible and can be used on either side depending on your sleep preference
These toppers are made to be smaller than your actual mattress, so they will not overhang and allow your sheets and mattress pad to fit properly
Please allow your foam topper to lay flat for 48 hours to recover naturally before first use
Spot clean only with damp cloth
Twin size measures: 37 inches x 73 inches
Full size measures: 52 inches x 73 inches
Queen size measures: 58 inches x 78 inches
King size measures: 74 inches x 78 inches
Reviews
BEATYREST
Comfort
Well I just opened it and was surprised how easy the plastic rap came off not sticky at all went slowly to unraveling it. I placed it on the bed very comfortable to my surprise. My king is wide it was short by 5 inches I should look for a California king. I used to have a sleep number bed. Bought a replacement mattress which caused me extreme pain this mattress topper definitely makes a difference and the mattress bearable. Going to buy another one to make it thicker.
Steve
pics are misleading. product is not good
I bought this because I wanted to replace the cheap Mainstays one I had on my bed and the price was right. I was like everyone else, I seen a picture and did not notice the measurements. This topper is 3", only 1.5 of it is memory foam. The other half is cheap foam like the topper i had. By itself i could live with that issue. But here is the reason i am returning this. When you by it the topper is very tightly wrapped in plastic. To secure the plastic to the topper they use an adhesive. This adhesive is stronger than i guess they thought because what happens is the plastic rips off parts of the memory foam. Yes, you read right, it rip apart the main reason you are buying this. And if it doesn't rip it apart ot leaves behind a very sticky adhesive which is honestly disgusting. I'm sure over time various threads, fuzzballs, and hairs will eliminate that stickiness but that's just disgusting. Overall, an awful product. Zero out of 5. Go with the mainstays and actually get what you're paying for.
VaHokie
What I expected at $30
I got this topper in a queen size on clearance/Cyber Monday for $30 in my local store. I have a nice Beautyrest mattress, but my boyfriend has a hard time sleeping on it, so I figured I'd give this a try since it wouldn't be a huge investment. Initially after taking it out of the packaging it was a few inches too narrow on the sides for my mattress, but I'm guessing it's just from being rolled up and compressed in the packaging. I carefully stretched it out and now it fits just fine (I would suggest getting two people to do this - one on each side and carefully pulling to stretch it out). We've been sleeping on it for a few days now and we both really like it. I don't know what all the bad reviews are about. I'm not sure if they were expecting a Tempurpedic-like competitor for under $50. The packaging describes it as it is. If you have realistic expectations and work with stretching it carefully, then it's a great buy, even at full price. I recommend it!
Amanda
You get what you pay for.
Okay so I got this simply because it was just $30. When I open it at first I notice the plastic it's wrapped in is stuck to it. When I pulled it off some places pulled off the blue side and left sticky the rest of the way. As I unroll it I noticed it's stuck together really bad close to the end. I got a full size and I'm seriously considering just trimming it to fit a twin and giving it to my son. I wish I could show you guys how bad it looks. It's not even shaped like a mattress topper. I've tried stretching it as much as possible and it still won't form right so only a little over half of my bed is covered. I'm hoping it will eventually take form. I give it 2 stars only because my 5 year old thinks it's comfy lol also it stinks! I guess it's the combination of foam and plastic sealed up no telling how long that made it stink but hopefully that goes away soon too.
HusbandWife
Queen
We purchased the King size online because they didn't have a queen and they showed that the local stores didn't have any. The very same day we went to our local Walmart and found a whole basket of them and most of them were queens. We let it sit out for 3 days because it hadn't fully expanded after 2. Ours basically fully expanded it was only a little smaller than what the package said. The package said 1.5" foam and 1.5" memory foam (which is actually egg memory foam), it expanded to about 2.75". The product does work my husband and I slept pretty well on it for a week. We both have bad backs and he also has insomnia. However he still wakes up throughout the night and on the days that my back is in knots it doesn't really help. It is a good product for the price I mean $30 bucks for almost 3" of foam padding. Other products we looked at were $75 or more for 3". My only complaint is that I wish it wasn't egg shapes foam. I wish it was a full 1.5" of memory foam. After laying on it most of the day and through the night because of my back, all of the foam is compressed and needs a break from me to re-expand.