Beautyrest 233TC Luxury Dreamessence Pillow in Multiple Sizes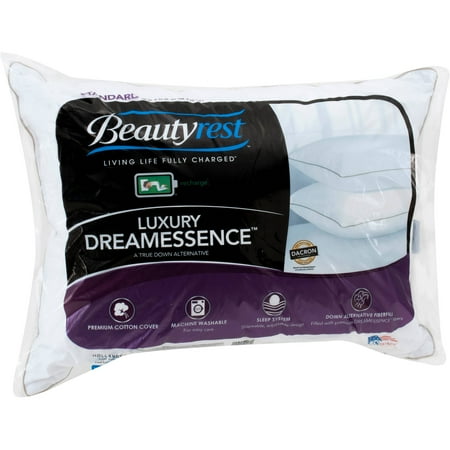 MSRP :

$44.96





Sale :

$15.96

Sold & shipped by Walmart
Product Description

Additional Information

Reviews
Product Description
Experience a true down alternative pillow with Dreamessence fiber from Beautyrest. The hypoallergenic, 100 percent virgin Dreamessence fiber provides superior comfort and support, allowing you to sleep comfortably all night and wake feeling rested.
Additional Information

Beautyrest Luxury Dreamessence Pillow, Multiple Sizes:
Premium cotton cover
Dreamessence down alternative fiber
Shapeable, adjustable design
Designed for all sleep positions
Machine washable for easy care
100 percent filled and finished
Standard size: 26"L x 20"W x 5"H
Queen size: 30"L x 20"W x 5"H
Standard/Queen size: 28"
L x 20"
W x 5"
H
King size: 36"L x 20"W x 5"H
Reviews
WallE2
Very Good Pillow
It was time to replace pillows, so decided to buy 2 different types. Both were great. I am a small-framed person and a side and back sleeper. This pillow does have a very down-like feel to it, and it is very comfortable. It is soft and has a wonderful springy feel. This was not at all hard on my ears. You can mold the pillow whatever way you want with ease. I found it to be slightly more comfortable for side sleeping than back because when I lay on my back my head starts to sink a bit farther toward the mattress as I tend to stay in that position for a longer period of time. It's fine, though. I would be ranting about this pillow if it had just a bit more fill (just a couple of ounces) to make it slightly fluffier. Even so, this is a really good pillow for anyone that doesn't like supreme loft (although it has loft and you can get it to have a lot of loft where you want it). It is more comfortable than other pillows I've bought at a much higher price point. Recommended!
PickyVirgo
Soft but springy
It can be grueling to shop for pillows online -- there are hundreds of options, you never know what will work, and most are a disappointment anyway. After trying dozens of pillows, this is the best one I've found so far for the price. I'd never tried a down alternative pillow before, but this really is almost like down: you can shape it and bunch it into different configurations to support your neck in different positions. Even better than a down pillow, this one has a springy softness that doesn't flatten and require fluffing (at least not yet in the 2 weeks I've slept on it). When you lay on it, your head sinks into it and is cushioned by it, rather than flattening all the way to the bed (like a down or feather pillow can) or stiffly retaining its exact shape (like other "firm" pillows can). Basically, this pillow is nearly perfect. The softness and puffiness is great for both back and side sleeping (though a bit too lofty for stomach sleeping). If you are picky about pillows, desperate for that perfect pillow, and are longing for the comfort of down/feather but not the outrageous price, I highly recommend this pillow!
kevazzp
Perfect for me! Side sleeper.
I can't help it but I like the pillows from way back with 'pieces' of foam. I can't handle all the firmness and loft of the new pollyfill that you can't move your head around in. Even the medium firmness still has that solid feel. I usually have to wean myself to a new pillow but this one I didn't. I'd even bought 35.00 pillows and 85,00 feather pillows that just would not work. This is one of those pillows that you can move around to fit your need. I'd love to know what the inside looks like but I'll wait until it's worn out to see. I did buy two and I'm so glad I did. This pillow is what I would call a soft-medium firmness, but again you can 'smoosh' it all to one end if you want to. I'm happy!
shoppingequalshappy
Love this pillow!
I'm a back sleeper and like my head to be cradled by my pillow. When the description said this was 'shapeable' like a down pillow, I decided to try it. It's awesome! Most polyfil type pillows do not allow your head to sink into them like this one does, and yet it is full enough to give great neck support. It is just what I was looking for!
GrandmaSueR
Best pillows I've ever bought
I hate getting new pillows because it usually takes a little while to break a pillow in. Not these - they were perfect from the first night! Love them!