Mainstays HUGE Pillow 20" x 28" in Blue and White Stripe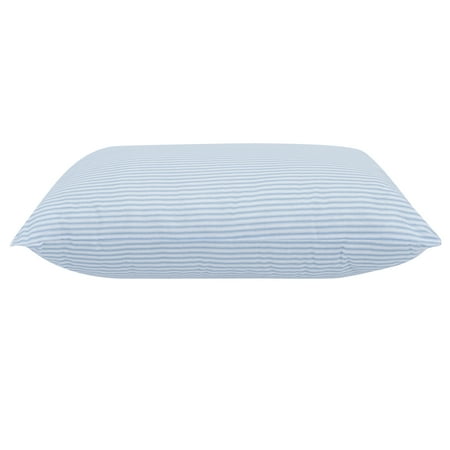 MSRP :

$4.76





Sale :

$3.97

Sold & shipped by Walmart
Product Description

Additional Information

Reviews
Product Description
Get a comfortable, good night's sleep with the Mainstays Huge Pillow. The cover is made of 50 percent cotton and 50 percent polyester, and this product is ideal for side sleeping positions. The hypoallergenic pillow's interior is made of machine-washable polyester fiberfill, which makes it durable and comfortable. It is designed to fit both standard and queen sizes. Plus, because of this material, even the most sensitive sleepers can enjoy a sound rest using one. With the right environment and accessories in your bedroom, you can be assured of that. Freshen up your bedding and help ensure better sleep with the Mainstays pillow.
Additional Information
Mainstays HUGE Pillow 20" x 28" in Blue and White Stripe:
With a simple blue and white striped pattern, this pillow will freshen up your room
This 130 thread count pillow has a 52% polyester 48% cotton fabric cover
Filled with supportive 100% hypoallergenic polyester fiberfill for extra comfort
The blue and white polyester/cotton blend is easy to care for and very durable along with very affordable
These pillows make great sleeping pillows or even to fill those decorative pillow shams
Will fit in a standard/queen or queen size pillowcase
Also if you are someone that likes to buy 2 pillows at a time, you can also purchase the 2 pack set on Walmart.com only
These pillows are covered with a 3 year warranty
Looking for convenience, this pillow is suited to be machine washed on cold water and tumble dry on low heat for easy care
Jumbo size pillow measures 20 inches x 28 inches with 18 oz of polyester fiberfill
Reviews
BuziDebBee
Good Pillows
These pillows are described as HUGE but are basically a fluffy standard 20 x 28 pillow. They fit well in to my standard shams and gave them good volume. One thing you may want to be aware of is if your shams are of a light material the stripes on the pillows will show through quite plainly. We won't be using them for sleeping so I can't be of help there. EXCELLENT price! The two pics refect how they filled my shams and the stripes showing through the fabric.
Babs
Jumbo pillow perfect!
The size is perfect for a sham! It keeps its shape and looks great❤️
MommyLicious3
Even a rock gets a dent
Even a rock gets a dent if you sit in it long enough.... In my experience it doesn't matter how much you paid for your pillows if you sleep on them eventually they would go flat. All you need to do is wash them for them to get thick again. Even on the description says it that you can machine wash your pillows, in the past I had never even considered washing a pillow until one day my son had a nose bleed. I sprayed the stain with stain remover and washed it in one of those big washer machines and then put it in the dryer and the pillow came out like new.... Plumpy and all. These pillows are awesome for those who have children that don't know the difference from an $80 pillow to a 2 for $5 pillows, for people like me that just love having lots of pillows in their bed or just to have them handy for when you have guests and like me you don't like sharing your pillows. Whatever the reason you can think of for this price is a steal and if your pillows have gone flat wash and dry them and you will see the difference, unless they are so used and old that would come apart in the washer.
penwright1029
Total Disappointment
I was so excited, after reading all the positive reviews about these pillows, I bought 4 of them. Ok. I figured, from some of them, there would be the fact they get flat after awhile, but the 1st. night? That's ridiculous! Anyway, this is why I bought 4 so I would have a new one to replace the one that went flat. Then I tried two and thought they felt pretty good together. I woke up with a kink in the back of my neck like someone put a vise on it. I don't know how anyone can say these pillows are supportive or comfortable. I also don't like the material. It's scratchier than to beat the band. But I put a case on the one I slept on by itself and used it for the top pillow when I slept on both. After searching for months, I was so happy to be finally able to get to Walmart to buy them-one of the worst purchases I've made in a long time. Now I have to find a way there again to return them. I wish I had bought them online, then I could have shipped them back.
DeeTee
Doesn't last - gets misshapen
It arrived nice and puffy - but like all cheap microfiber pillows, after a couple months, it's misshapen and frankly embarrassing to give to guests. Also, the striped pattern shows through my pillow cases.