God's Not Dead 2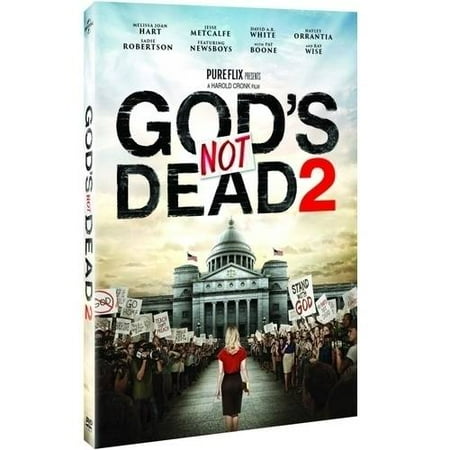 MSRP :

$49.97





Sale :

$9.96

Sold & shipped by Walmart
Product Description

Additional Information

Reviews
Product Description
ATTENTION: REQUIRES REGION COMPATIBLE PLAYERGod's Not Dead 2 (DVD NEW)Label: Universal StudiosFormat: DVD-STANDARDRelease Date: 16 Aug 2016No. of Discs: 1UPC: 025192351020
Additional Information
God's Not Dead 2, Christian Family Movie, DVD Movie Release contains:
DVD movie that inspires faith
Motivational Christian based movie for all ages
Great Christian movie with serious real-life drama
A Christian movie that examines struggles with hope and faith
Christian movie with bonus material and exclusive never seen before footage
God's Not Dead 2 is a Christian family movie that is the sequel to the 2014 top Christian movie, God's Not Dead. Welcome back to Hope Springs! The home not only of Hadleigh University, but also Martin Luther King Jr. High School, where beloved teacher Grace Wesley (Melissa Joan Hart) helps students understand and enjoy history. Her love of teaching, her love for her students, and her love of life all come from the same place: her love of Christ. This DVD will have you cheering to keep faith alive in this all-confusing world.
When Brooke reaches out to her teacher Grace, after the loss of Brooke's brother, their coffee-shop conversation naturally leads to Grace sharing the hope she finds in Christ. This Christian movie for teens displays how we all can become stronger in our faith in Christ.
When Brooke later asks a question about Jesus in the classroom, Grace's response lands her in trouble. Grace's school does not allow her to discuss her Christian beliefs with students. With pressure from a civil liberties group, the principal and superintendent move forward in a court case that could cost Grace her career.
This Christian movie is a great addition to any household or church. It is a Christian movie the entire family will enjoy! It is one of few motivational movies showcasing the challenges Christians can face in a secular world, while offering real-life drama with an uplifting message of hope, faith and thoughtful human engagement.
Purchase the DVD which includes bonus material and exclusive footage from this Christian movie today!
Bonus Materials:
Deleted Scenes
Man, Myth, Messiah with Rice Broocks
Between Heaven and Hollywood with David A.R. White
Visual Effects of God's Not Dead 2
Filming in Arkansas
First Liberty
Trailers
Why not make it a double-feature movie night with your church family and friends? Purchase God's Not Dead and God's Not Dead 2 today!
Reviews
Odie
God's Not Dead 2
We really injoy the movie..
Pirette
God's Not Dead 2
It sends and amazing message to trust in God and good people do win. And don't judge others
Gina
God's Not Dead 2
God's Not Dead 2 picks up where God's Not Dead left off; however, the college student is not in this movie. However, the woman reporter and pastors are in this sequel. If you haven't seen the first move, that's okay; you can start with the sequel, but both movies are very good.
RBEGSR
AWEDOME MOVIE
This movie is all about standing up for CHRIST!!! Something that not enough Christians do these days! Hopefully this movie will help to convert the heart of more Americans who are slowly drifting away from God.
Cid5
Enlightenment
This was such a thought provoking film. Watched with friends & it brought us all to tears. God is NOT Dead!!