The Huntsman: Winter's War (Blu-ray + DVD + Digital Copy)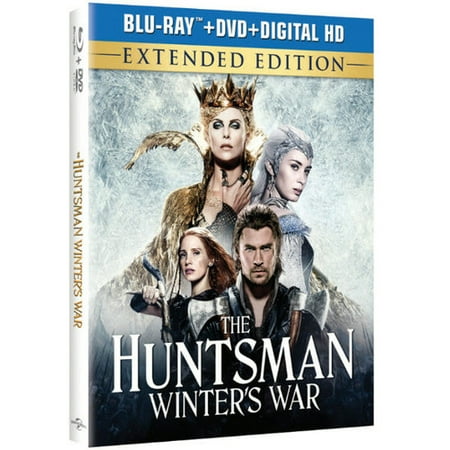 MSRP :

$14.98





Sale :

$9.99

Sold & shipped by Walmart
Product Description

Additional Information

Reviews
Product Description
The fantastical world of Snow White and the Huntsman expands to reveal how the fates of The Huntsman Eric and Queen Ravenna are deeply and dangerously intertwined. Chris Hemsworth and Oscar® winner Charlize Theron return to their roles in The Huntsman Winter's War, an epic action-adventure in which they are joined by Emily Blunt and Jessica Chastain, as well as director Cedric Nicolas-Troyan. Producer Joe Roth (Maleficent, Alice in Wonderland) once again leads the team in a breathtaking new tale nested in the legendary saga. Long before the evil Queen Ravenna (Theron) was thought vanquished by Snow White's blade, she watched silently as her sister, Freya (Blunt), suffered a heartbreaking betrayal and fled their kingdom. With Freya's ability to freeze any enemy, the young ice queen has spent decades in a remote wintry palace raising a legion of deadly huntsmen—including Eric (Hemsworth) and warrior Sara (Chastain)—only to find that her prized two defied her one demand: Forever harden your hearts to love. When Freya learns of her sister's demise, she summons her remaining soldiers to bring the Magic Mirror home to the only sorceress left who can harness its power. But once she discovers Ravenna can be resurrected from its golden depths, the wicked sisters threaten this enchanted land with twice the darkest force it's ever seen. Now, their amassing army shall prove undefeatable…unless the banished huntsmen who broke their queen's cardinal rule can fight their way back to one another.
Additional Information
Reviews
James
Extra 30 Minutes? ?
I bought The Huntsman today at Walmart (BlueRay, DVD, Digital HD). It had a sticker on it that said The Walmart Edition had an additional 30 minutes. It looks the same as the DVD sold in Target and Best Buy. Can anyone tell me what the extra 30 minutes are? Confused..... Thank You Jim
walmartshopper194
Extra 30 Minutes? ?
Prequel to snow white and the huntsman
Kaytray
Great movie!
Great movie!
Victory
Entertaining with a message of love
The movie sets up a situation where love is lost due to misunderstanding of each person's perception of what happened. The lesson culminates with a powerful statement of what lifelong commitment without waiver from even one can sustain a marriage. Kids will find it fun, adults will pause to reflect - all good!
Brittn8730
Fast shipping to store excellent price
Great deal fast shipping to store arrived sooner them expected excellent price for a bluray and awesome movie would shop with walmart.com again .