Fifty Shades of Grey (DVD)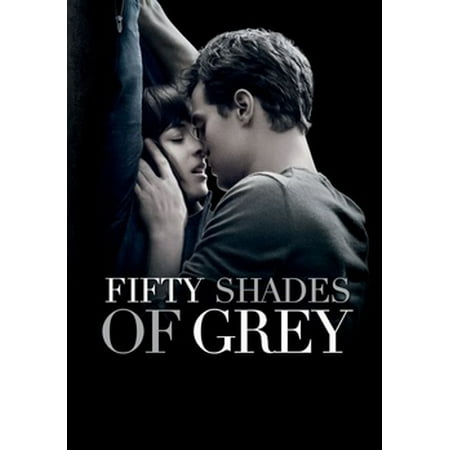 MSRP :

$14.98





Sale :

$12.99

Sold & shipped by Walmart
Product Description

Additional Information

Reviews
Product Description
FIFTY SHADES OF GREY is the hotly anticipated film adaptation of the bestselling book that has become a global phenomenon. Since its release, the ''Fifty Shades'' trilogy has been translated in 52 languages worldwide and sold more than 90 million copies in e-book and print—making it one of the biggest and fastest-selling book series ever.
Additional Information
Reviews
teambella
A+ (x10)
I love this movie!!!!! It caught the story line perfectly. Like how they change each other, she changes him from a man that doesn't smile and shows no emotion, to a man that smiles and is confused by the emotions she brings out of him. He changes her from a naive young lady to a strong intelligent woman. I love it. I can't wait till it comes out on DVD in May.
Mel0512
A New Favorite
When I first seen this movie, I hadn't read the books yet. After seeing the movie, it made me crave more. I rushed to buy the entire trilogy. The books are amazing. The movie is amazing. I believe they picked the perfect cast for this movie. Jamie Dornan did a phenomenal job playing Christian Grey, and Dakota Johnson did the same with Anastasia Steele. I couldn't picture anyone else playing the characters. I can't wait for Fifty Shades Darker and Fifty Shades Freed to hit theaters. I just wish we didn't have to wait till 2017. Overall though, excellent movie. Highly recommended!
Crystal
indescribable!
Fifty shades are going to be a great movie series!! The fifty shades of grey is a awesome movie that keeps you wanting more!! I love love this movie!! I can not wait till it comes out on DVD!
BreannaY
CAN'T WAIT TO OWN IT!!!!
I loved this movie and have been waiting to preorder it! Bummer it doesn't come out until November that's really disappointing I might have to go see it in the theaters again I can't wait that long! It is so beautiful the best movie I have seen in years. It is a must see!
WImommaof2girls
Not what I expected..
I have read the books a lot since they came out and I fully expected there to be some differences between the books and the movies because there always is, the movie was OK, I felt like a LOT of the important stuff was left out and the story was pretty rushed, I liked it but if given the choice again I would wait for it to hit redbox instead of buying it to own, I loved the books but the movie doesn't even come close.