Star Wars: The Original Trilogy - Episode IV- A New Hope / Episode V- The Empire Strikes Back / Episode VI- Return Of The Jedi (Blu-ray + DVD)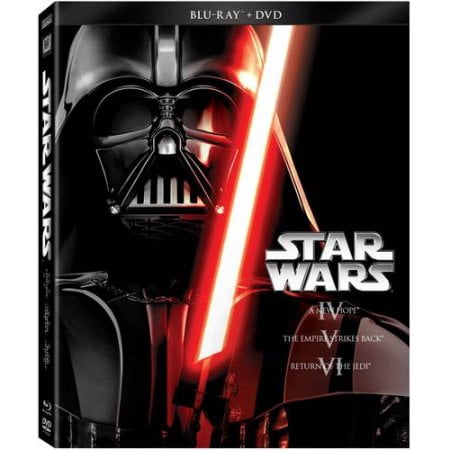 MSRP :

$59.99





Sale :

$34.96

Sold & shipped by Walmart
Product Description

Additional Information

Reviews
Product Description
The STAR WARS saga concludes with STAR WARS: EPISODE IV - A NEW HOPE, STAR WARS: EPISODE V - THE EMPIRE STRIKES BACK and STAR WARS: EPISODE VI - RETURN OF THE JEDI as Luke Skywalker and Princess Leia, aided by an unforgettable assortment of courageous characters, lead the Rebellion to bring balance back to the Force!
Additional Information
Audio Commentary for Each Movie with George Lucas, Cast and Crew



Audio Commentary for Each Movie from Archival Interviews with Cast and Crew

Reviews
ONURLFT
NOT the Original Trilogy
I wanted to by the triology, not the one they remade, adding all those scenes with Jaba meeting Han at the Falcon when they were leaving Anchorhead, or Guido shoting first. Then they add all that celebratory scenes when they blowup the Deathstar showing Jarjar dancing on a roof, and the new Anikin hanging with Ben and yoda at the Ewok celebration. I guess I was hoping I bought the original as the package said.
Carmijen
NOT the Original Trilogy
The exterior packaging looked like it went through a war, but the DVD video quality was good - Haven't tried the blu-ray yet.
Luv2SaveAtWallyWorld
Good price. Didn't like the new versions as well.
Great price. However, I prefer the original versions. I didn't care for the added/edited/changed scenes.
BetoOS
Not the theatrical version!!
I bought this BR/DVD set thinking it was the theatrical version because it's advertised as the "original trilogy". I was disappointed to find out it is not the theatrical version. Don't buy this if that's what you're looking for. The quality of the BR was good overall.
jdmac44
"Original" NEVER put on Blu-Ray.
I'm writing this to wake people up who buy this expecting the version that was screened in theaters, George Lucas refused to put it on Blu-Ray. The last time it was put on a home format video was the 4:3 ratio DVD. So if you want the "original" in widescreen I suggest petitioning Disney to ask them to put it on Blu-Ray, since the Star Wars franchise belongs to them, not Lucas, now. But I agree, I hate the digital edits and added scenes made since 1977-1983.