Persil ProClean 2in1 StainFighter Liquid Laundry Detergent, 150 Fluid Ounces, 75 Loads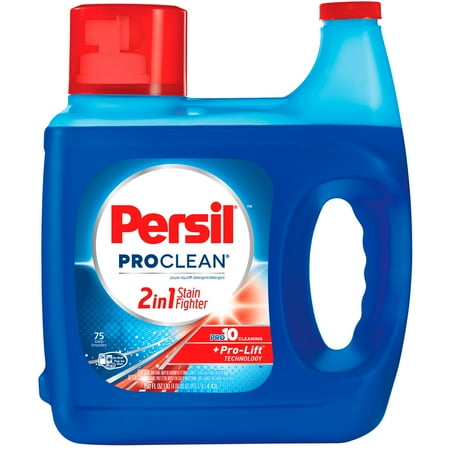 MSRP :

$17.97





Sale :

$15.97

Sold & shipped by Walmart
Product Description

Additional Information

Reviews
Product Description
Get your clothes spotless and smelling fresh using the Persil ProClean Power-Liquid 2-in-1 Liquid Laundry Detergent. It is formulated to lift tough grime out of your garments with ease. This phosphate-free laundry detergent contains Pro-Lift Technology for stain-fighting performance. It is ideal to use on whites, darks and light colored garments to get them bright. This detergent is in an easy to carry container with an included measuring cup for quick and accurate dispensing. It can be used on up to 75 loads, giving you enough to complete your entire family's laundry for weeks. This concentrated detergent is also safe for septic systems, so it won't cause problems with your plumbing. The Persil ProClean clothing cleanser is made for all washing machines, including high efficiency models.

Additional Information
Combines Persil detergent plus Pro-Lift Technology
Power-boosted formula to help fight tough stains
Also available in Power-Caps
Power-Liquid detergents have been optimized for great performance in all machine types, including HE.
This package contains one 150 ounce bottle, enough for 75 loads.
Reviews
SugarsMom56
fantastic product
This is the best ever. I purchased a new washer & dryer. I hated it because it had no agitator and used very little water. My clothes had spots & whites were not coming out white. I purchased this because of the coupon. It's the 2-in-1. It's better than the other Persil types...I have tried them.. It cleans better than any thing I have ever tried and smells very good. Believe the television commercial! Better than All, Gain, Tide...name it...it's a better cleaner. I also use beads & liquid fabric softener for smell that lasts & lasts. I will always purchase this product; it has earned 5 stars!
TCGray
Very Affordable, Smells Great, & Cleans Great
I was a long time user of Tide with Downy. Mainly because it cleaned the clothes llit was suppose to and our clothes always smelled Great. But my husband and I are both disabled and Tide was getting way to expensive. I tried lots of other cheap detergents and that's exactly what they were cheap. I have a 7 year old son and let's face it they're rough on clothes. The first time I tried Persil I only bought a small bottle because it was cheap less then $5.00 . Well needless to say I buy the big bottle 70 loads for $15.00. Tide was costing me $40.00 easily a month. Persil cleans the clothes just as good if not better. I clothes look clean and better yet smell great. If you're looking for an affordable detergents that does everything it's suppose and more Persil is the Best choice. Try it once I garantee you won't be disappointed I'm definitely not.
Anna717
The Best!!
After seeing TV commercials about this laundry detergent a year ago, I tried a small bottle of the regular Persil and was very pleased with the results. Then when the 2 in 1 became available I tried it and was amazed at how well it removes grime, grease, dirt, and stain. I've been using it ever since and have recommended it to several people. I think it is the best laundry detergent on the market. The best price is at Wal-Mart. The large size is available at Wal Mart, many stores don't carry this size. I use it as a stain remover for the tough stuff. Just apply it straight to the stain and let it sit overnight. It works great!!
oldnbroken
The Best!!
Smelly, which is tough on a sensitive person. I have only used it a load or two but so far so good. I guess I read where it was supposed to be cheaper but actually it is higher than tide.
Sandy
The Best!!
I like everything about this product. It cleans my clothes and leaves them smelling great. I like it so much I buy it as a Christmas gift for my grandsons and their families.