Purex Crystals In-Wash Fragrance Booster, Aromatherapy Well Being, 18 Ounce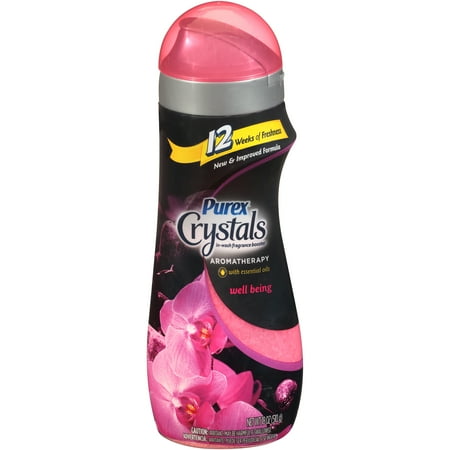 MSRP :

$3.47





Sale :

$2.47

Sold & shipped by Walmart
Product Description

Additional Information

Reviews
Product Description
Purex Crystals infuses your clothes with an extraordinary freshness that puts the finishing touch on your laundry and makes everyday a little more rewarding. With the exciting variety of fragrances Purex Crystals offers, it's easy to find a fragrance to match every laundry occasion. Whether it's a relaxing freshness for your sheets or a more stimulating scent for you and your family's activewear, Purex Crystals has you covered. Have fun and try them all!
Additional Information
Purex Crystals is an in-wash fragrance booster, which provides freshness that lasts for weeks. Use a little or a lot, directly in the laundry!Add Purex Crystals to the start of the wash cycle with detergent. It spends more time with your laundry injecting it with a fresh scent that lasts for weeks, not days.Safe for all loads including towels, activewear & children's sleepwearWell Being - Infuse and refresh your laundry with soothing notes of aromatic citrus and florals blended with essential oils to put a little bliss in your day.Includes one 18 ounce bottle of in-wash frangrance booster
Reviews
Alyee
Unique in-wash Scent Boosters
I started using aromatherapy oils a little more than a year and half ago, and it has been great for my anxiety and to reduce my stress. I think scents in our lives have a big role on how we can feel at any moment, which is why I am excited to try the Purex Crystals Aromatherapy. I picked out the Serenity variety that provides soothing scents of watery florals and a calming tranquility. It really is a unique product, unlike anything else on the market. I absolutely loved the scent right from the bottle, and even more so after using it in my wash. I believe the fresh scent lasts for quite some time and fills up your dresser drawers with freshness. These are great to use with any load, but I love washing my bedding with these because my bedroom ends up smelling so great! These also help to improve your mood when you have lots of laundry to fold but they all smell so wonderful. I received a free product for the purpose of my review. Opinions are 100% my own.
Momof3
Love Well Being!
This is my favorite Purex Crystal Scent! It makes your clothes smell wonderful! The only problem is that I can never find it in Walmart stores anymore. Our Walmart has even removed the tag on the shelf for it. Does anyone know what other stores carry the Well Being Scent?
Babe
Two Issues
Tried the Crystals Tahitian Breeze - for express purpose of washing comforters and having them smell great for several weeks - did guest bedroom queen one first - did not think it had very much scent; then went on to do master bedroom white comforter only to discover it stained (not thoroughly dissolved) in several places when dried the aqua color of crystals - have to rewash it - and again not much scent.
Mary L
Scent is not that great
Really didn't like the smell. Most aroma therapy scents are good but this one is not a favorite of mine
missy
Purex Crystals
My husband works in an auto repair shop, I have always been plagued by the lingering "garage smell" in his work clothes even though they were washed separately & larger than needed amounts of water. These crystals have been the answer to my prayers----they neutralize the odor & leave his clothes smelling fresh!