Creative Options Double Sided Multi Craft Organizer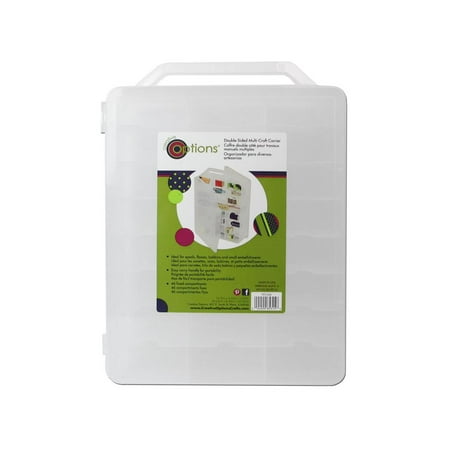 MSRP :

$16.86





Sale :

$13.98

Sold & shipped by Walmart
Product Description

Additional Information

Reviews
Product Description
Keep all your thread neat and organized with the Creative Options Thread Organizer. This container is designed for storing spools, floss, bobbins and small embellishments. All of your sewing needs will be in one convenient place. This double sided thread organizer has two hinged doors so it can be conveniently accessed from either side. There are 46 storage compartments located on both the top and the bottom of the container, giving you plenty of space to store each item separately. The convenient carrying handle on the Creative Options organizer makes it easy to transport everything. The storage container is molded from a transparent durable plastic so you can see what you are looking for from the outside of the box. This makes a useful addition to a sewing room for a crafting or needlework enthusiast. Give it as a gift or purchase it for yourself and get organized.
Additional Information
Brand: Creative Options

Includes an organizer with 46 compartments

Dimensions: 10.13 x 0.25 x 14.25 inches

Content: Plastic

Reviews
NicoleMM
Thread? No no... Hot wheels organizer
This is the same product that was labelled a hot wheels organizer 15+ years ago. I have one from way back then and love it. I wanted another one just like it and was disappointed to find out that they didn't make these anymore… However they do only labeled as a thread organizer. I attached a picture of both the old and the new style and they're pretty much exactly the same with the exception that the door hinges are now different… There are two instead of three but the new ones seem a little bit beefier so I guess that's okay. The model numbers on the inside of the plastic are exactly the same… Model number 5315 made by Plano. I absolutely love these cases and I'm so glad I found this… Plus it's cheaper than buying a different model display case sold by hot wheels that can be more expensive. You can display your models proudly with the clear design. Another reviewer mentioned that the model cars can roll over… This is true if you drop the case on its side but oh well that's a minor inconvenience. I love this case!!
plumrose
Perfect
I found one at a thrift store full of hot wheels! So excited. I looked for another one in stores, and on line, but it was always a different size. Finally found this here and in stock, so I got 2. They are perfect for hot wheels collection.
Maria
Perfect organizer!
Absolutely love this! Holds all my spools of thread and more!
a6m5
Hot Wheels Storage
I'm told that this case used to sell as a hot wheels diecast car storage case. I collect those little cars, and I got couple of these cases for loose cars I have in my collection. They. Work. Great. I'll be ordering a couple more. Cars will still move around inside, but at least they'll be protected from chipped paint.
hardworker8867154
This is the Plano Manufacturing Hot Wheels Caddy
For whatever reason Plano and Walmart re-purposed this, but it's precisely the same item that was sold with the blue diecast toy storage artwork stick-on label for years in the toy section. And it's exactly the same thing that scalpers will order from Walmart and re-sell on ebay for $12 to $25 each because they're not found in with the toys any more and people can't find them. Buy 'em here, by the caseload of six units each!