Plano 5 Shelf 36in x 18in x 73.75in Storage Shelving Organizer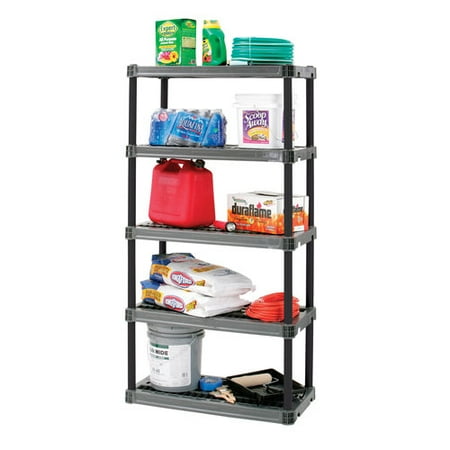 MSRP :

$39





Sale :

$38.76

Sold & shipped by Walmart
Product Description

Additional Information

Reviews
Product Description
The Grey Plano 5-Tier Shelving Unit 18" x 36" helps you keep your things neat and organized in any room of your house. It features four interlocking shelves and a top open space for added room. It is ideal for cleaning products, grill accessories, tools and other items. This storage shelving unit is ventilated and has a durable construction. The capacity is 150 pounds per shelf.
Additional Information
Plano 5-Tier 18" Ventilated Shelving Unit:
Vent, Plano shelving unit with interlocking 18" x 36" shelves
Open top for added room
Capacity: 150 pounds per shelf
Ideal for cleaning products, grill accessories, tools and other items
Durable construction
Dimensions: 36" long x 18" deep x 73.75" high

Reviews
Alcyone6
Huge drawbacks made this a no-go
I've used several of these types of shelves in varying sizes throughout my house. Love them. I figured I would also love this Plano 5-tier 18" shelf for my garage. Nope. It has to go back to Walmart unfortunately. This shelf would have been great if it wasn't for a couple things: 1-) The shelves are ventilated as mentioned in the description. Those holes don't bother me, but the shelves also have 2 rows of deep "pockets". If dust and dirt get on the shelves, if liquid gets spilled, if something leaks, if small screws or parts roll into the pockets, etc.- good luck getting these shelves cleaned out. Huge design flaw in my opinion. They should have at least made holes in the bottom of the pockets or made the top of the shelf solid and made the pockets open to the underside of the shelf. (SEE PHOTO) 2-) This shelf is NOT 36" wide. The shelf itself is, but once you add the interlocking piece that sticks out on the side of each shelf it's more like 37 1/2". Probably not a deal breaker for most, but I was trying to fit this shelf into the space between my stairs and the garage wall and that space is exactly 36 1/2". I would have to break the interlocking piece off the bottom shelf in order to get them to fit. I might have just done that if it wasn't for #1 and #3. All the problems together make it not worth the effort to me. It would have been nice to know the actual dimensions before I bought it. 3-) I also had a couple broken parts. Pieces of the underside of a couple shelves were broken. I really don't think this would prevent me from using the shelves or really affect how much they can hold, but it definitely makes me worry about the quality of the shelf. The spot isn't anywhere where it would break if it was dropped or bent. It's just... broken. Very strange. (SEE PHOTO) So, these have to go back to the store for me. 3 strikes and it's out. If none of these problems concern you, then these shelves will probably work fine for you.
MommyHarwellx3
Perfect for just about anything!
I initially went to the store for a different unit but they were out. I saw this one and it was almost identical to what I wanted, just a little bit cheaper. We brought it home and had it together in about 5 minutes. I'm using it in the house for smaller items so we cut the box it came in and used the sides as liners on the shelves. I LOVE it!! We are going back tonight to get a second one. : )
Frank
Owner
Great product too bad it was cracked on three shelves ends.
glendaleguy99
The shelves are great "IF PICKED UP AT THE STORE"
I have a large warehouse filled with pallet racking and shelves. I have a ton of these shelves and love them because they are strong and easy to transport. Over the past few years, I've bought out these shelves from every Walmart in my area, so I decided to start ordering them online. With the cheap shipping, you really can't beat the deal. On my first order of shelves a couple of months ago, I opened the boxes and found that the shelves were damaged very badly around the connectors on the side of the shelves. I kept them, knowing that they were still usable, but not quite as strong because of the damage. I also figured that was a one time fluke. On my last order, I ordered 3 of these shelving units and decided to open them up and check them while Fedex was still at my warehouse. Lucky I did because all of the shelves were horribly cracked and damaged from the shipment. So I refused them and was just re-credited by Walmart for the refused shelves. It appears that these shelves are packaged well enough to be transferred on a truck to the Walmart stores, but aren't packaged well enough to handle a Fedex delivery to my warehouse. I will have to purchase them at the store from now on.
1DJRick
Plastic, so you have to check for breakage
Ordered 2 of these, and they arrived on time. Unfortunately, the first one that I opened revealed it was broken, and the box was closed. Opened the second one and it appeared to be OK. These are wrapped in heavy duty plastic, so you only see the outside of the unit. The online return was painless, and returned to store. While at the store, I bought another one. After I opened the second one, it showed one of the shelves was broken. It did not affect the overall effectiveness of the unit so I kept it. I also bought two 4 shelf units, and one of them was broken. Returned the same time as the five shelf unit, and bought another one at store. You just have to check carefully if you buy at store. I would buy again.