Plano 4-Tier Heavy-Duty Plastic Shelves, White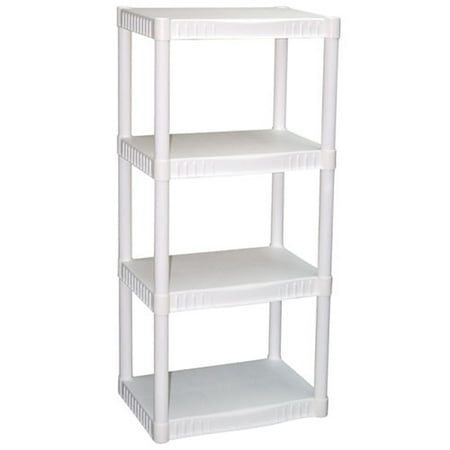 MSRP :

$55.99





Sale :

$14.97

Sold & shipped by Walmart
Product Description

Additional Information

Reviews
Product Description
Store your favorite knick-knacks and other personal items with the Plano 4-Tier Heavy-Duty White Plastic Shelves. This unit is made of durable, impact- and rust-resistant plastic that can be used to store just about anything. You can use it to hold your kid's art supplies or your gardening tools. You can also use it to place your grill outdoors. Assembling these Plano plastic shelves takes only a few minutes with no tools required. Once assembled, the unit gives you a great way to de-clutter your basement, attic, closet or garage. Available in neutral white, these 4-tier shelves blend in well with most decors. The unit's compact design lends itself well to easy corner installations. This lightweight module can be moved easily from one place to another, depending on where you wish to put the shelves. You can also modularize the shelving on this unit to fit your storage needs.
Additional Information
Ideal for home or office use, indoors or outdoors, these Plano plastic shelves offer a handy storage solution.

Plano 4-Tier Heavy-Duty Plastic Shelves:
Free-standing unit with four shelves
Impact- and rust-resistant, heavy-duty Plano plastic shelves
Snap-lock assembly requires no tools
De-clutter your basement, attic, closet or garage
Model: 9177
Reviews
jma1582
So Versatile! And EASY!
Really, really great shelves! I bought 4 to use as part of my jewelry displays at a trade show, and I could not have been more happy with how simple and easy these shelves were to use. Assembly is ridiculously simple, and once all together, the piece is surprisingly sturdy. The only downfall: storage, once disassembled, is somewhat cumbersome. The box it comes in is useless after it's opened, so you will need a large bag to carry all pieces and transport. I am sure most who buy this shelf won't be tearing it down, so crisis averted there! Even with that small frustration, I still am very happy with the shelves. Price is great, too!
Paluckilove
Great Lightweight Shelf
I bought two of these shelves to put in my closet to organize my art & craft supplies. They worked out really great!
Jane
Push down corners with all your might
The only tough part was pushing down the corners hard enough so the unit isn't crooked and doesn't wobble. The end result is perfect. It is very lightweight so I was skeptical if it can take heavy items but surprisingly each shelf holds 60 lb. as stated on the box. I put a bunch of cans and other heavy pantry items and it is sturdy. And it actually looks really nice. I'm happy. For the price you can't beat it.
Mainerisms
EXCELLENT for $15, READ description!
I read most of the 1 & 2 star reviews to see what the major complaints were with this product. Many said "wasn't worth it", "smaller than I thought", "doesn't hold much", and "arrived broken" (I believe that folks who had comments of it arriving broken may have the shipping company/method to blame and not the product itself). For a mere $15 investment, AND the ability to return it without difficulty, I decided to forge ahead with it. The above complaints mentioned are addressed, in BIG print, on the box; it gives EXACT dimensions & EXACT weight limits (including that the weight needs to be evenly distributed). I found this shelving unit to be just as described/expected. It's simple to assemble, sturdy if you work within its weight/size limitations, and the biggest plus for me: Made in the USA...YAY! I use it in my pantry closet to maximize space. Overall, my impression is that I cannot BELIEVE what people expect for $15!
MHarper42
Plastic shelves have broken corners
I bought these to construct shelves of different heights to use in a closet under the stairway. Was not sure how many would fit, so I got 4 sets. They were packaged in heavy plastic wrapping to hold all the pieces (shelves and legs) together. Unfortunately, it looked like they had been roughly handled after being wrapped up. Every set had at least one shelf that had a broken corner. I assembled unbroken parts to make up most of the shelves that will fit in my odd space. I may have room for one more, so perhaps I'll find out if the broken corners will still hold together. As you can see, the broken corners are visible right through the plastic wrap, but were not noticed until I started unwrapping the packs. Had I paid more than $13 (I think) for each pack, I might have returned them all. As it is, I've been able to use most of the contents of all 4 packs.