Chevron Delo 400 SDE SAE 15W-40, 1 GALLON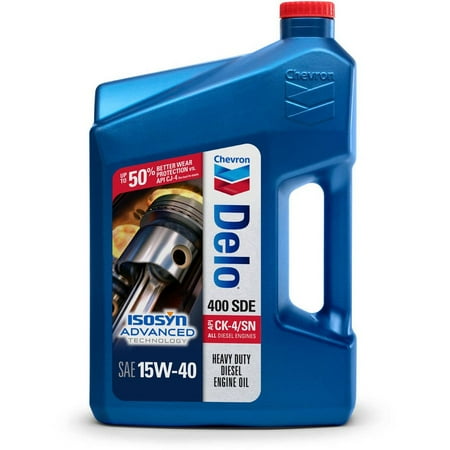 Sale :

$13.38

Sold & shipped by Walmart
Product Description

Additional Information

Reviews
Product Description
Keep your engine's emissions in check with Chevron Delo 400 CJ4 15W40 Engine Oil. Formulated with ISOSYN technology, this Chevron engine oil meets or exceeds warranty requirements for almost all gasoline, diesel and turbocharged engines. It works to maximize engine, oil filter and DPF performance. The Chevron Delo oil is also approved against the latest OEM specification for pre- and post-2007 engines. This Chevron 15W40 engine oil comes in a 1 gal bottle.
Additional Information
Chevron Delo 400 SDE SAE 15W-40, 1 GALLON:

Minimized Operating Costs— Exceptional soot dispersancy and wear control. Cylinders, pistons, rings, and valve train components are well protected against wear and corrosion, providing optimum service life and minimal maintenance. Contributes to maximum vehicle utilization and minimal downtime.
Excellent Emission Control System Life — Provides optimum Diesel Particulate Filter (DPF) life for minimal downtime and cleaning, thus managing your maintenance costs.
Managed Inventory Costs — Backward compatible with previous API Oil Service Categories and engine models. Suitable for use in four-stroke gasoline and naturally aspirated, turbocharged and modern electronically controlled/low emission diesel engines calling for an SAE 15W-40 heavy duty motor oil. Allows users with a wide mix of engine brands to enjoy simplified inventory and dispensing systems that may contribute to saving money, space and handling time.
Reviews
koomey
high detergent motor oil
i have been using delo 15-40 engine oil in all my v-8 and i-6 gas engines motors for over 35 years. it gets dirty very quickly due to its exceptional cleaning ability. it also does not brake down under severe stop go and high heat conditions like other oils. this engine oil is for gas engines not just diesels. see the chevron delo 14-40 ISOSYN movie on their web site for more info on why this is an excellent superior engine oil. chevron also sells-mfg a delo 05 W 40 Synthetic .....henderson nv
ShellMan80
Almost 600,000 Miles!
My friend has a 1995 Chevy Sliverado K2500 with the 6.5L Turbo Diesel and he's been running this oil sense new and the truck almost has 600,000 miles on it and he don't use a drop of oil. Good stuff.
silvermist350
1985 Mustang and 1991 Grand Marquis
When i bought my 85 Mustang it had 54'000 miles on it it now has 471'000 miles on it - the odometer has rolled over 4 times and Chevron Delo 400 15 w 40 is all i have used in it - people tell me i am a fool for using it in my little 2.3 4 cyl. but i have been a fool for almost 430'000 miles and i will keep being a fool and i now have most of the family using this so i strongly recommend this product. it is for diesels but think a truck the most abused of all and most of them use this
Dak27
Great Oil at a Great Price!
I switched from Mobil Delvac 1300 to Chevron Delo 400 last year in my Big Rig, because I can find Delo 400 at every Walmart across the Country, and because Walmart also stocks Delo 400 10W30 XLE, which I use in my truck during the coldest months of the Winter, for easier startups. Chevron Delo 400 is very highly regarded in the Trucking Industry, and has always given solid results in diesel engines. My Detroit Diesel motor shows zero consumption between PM services. Walmart's Everyday Price is considerably lower than buying Chevron Delo 400 from my Local Chevron Distributor, so it's a no brainer.
SpringerPop
Half A Century
Been using dino Delo in my vehicles, gas and diesel alike, for over fifty years without a lubrication-related problem. Think I'll keep on.