Chevron Delo 400 SDE 15W40 CK-4, 2.5 Gallon Jug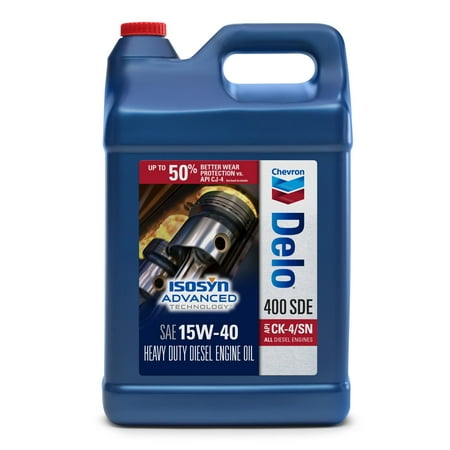 Sale :

$31.86

Sold & shipped by Walmart
Product Description

Additional Information

Reviews
Product Description
Trust the health of your car to this reliable brand. Chevron Motor Oil will keep your car up and running smooth.
Additional Information
Chevron Delo 400 LE 15W40 Motor Oil, 2.5-gallon:
2.5-gallon
15W40 heavy duty motor oil
Delo 400 LE
Reviews
DRACO
1985 911 Break In OIL
Yes, that is correct, I used three 2.5 gallons (10 Quarts ) to break in my recent 964 Cam Shaft update to my 3.2. Highly recommended by several 911 engine rebuilders. First Break In Cycle, 20 Minutes at 2000 RPMs, very little metal particles but filthy on the drain magnet. ( Only needed 10 quarts, because front oil cooler kept 2 qts of old oil up front ) 2nd Cycle, 50 Miles, with engine braking up to 4000RPMs, NO metal particle and clearer drain. Currently 30 miles into the last and final Cycle of the 1000 mile hard use up to redline 6850 RPMs. Car is super quick and engine is very quiet due probably due to the lighter weight oil 15W40 vs my Valvoline VR1 20W50 Conventional Racing Oil. Curious to see how VR1 compares on Oil Dump but it will take 2-3 changes to get all the Delo out. it is 1 14 quart system that always keeps 2 quarts of old oil in the front cooler.
Ron
Leaky oil
Oil is excellent. One container leaked and caused a big mess. Got all over other containers.
Ken
Unmatched protection
Since having the Caterpillar engine in my Semi overhauled this is the only engine oil I have used, I fully expect to exceed One Million miles on a Cat Platinum overhaul, something that many mechanics say is nearly impossible..
zelatore
unbeatable price
Delo 400 is the standard for marine HD oils; I've been running it in boat diesels for years and never had a failure. It's also very common at west coast fuel docks so people can pick up a little extra when they are out if they find themselves low. I won't step foot in a wallmart other than to buy this oil from them a couple times a year. When you buy 20 gallons plus at a time, you have to pay attention to the price and wallmart beats everybody else by at least 50 cents a gallon. I only wish they carried the 5 gallon buckets.
jhonnyfivee
great price
The one gallon are a good buy, you get a better deal by buying the 2 1/2 gallon container.