Earth's Best Organic Infant Cereal, Whole Grain Rice, 8 Ounce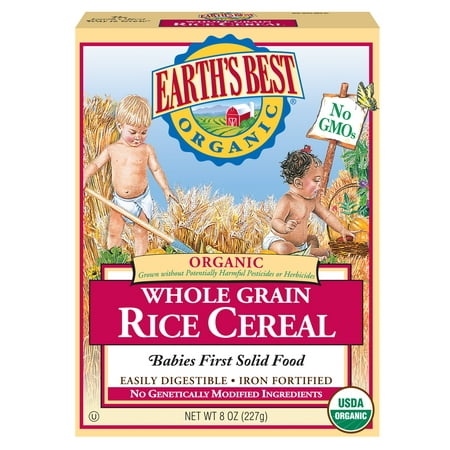 MSRP :

$86.85





Sale :

$2.98

Sold & shipped by Walmart
Product Description

Additional Information

Reviews
Product Description
Earth's Best Organic Brown Rice Infant Cereal is a perfect first food for your little one as they transition to solids. Made from whole grain brown rice, this delicious iron fortified cereal contains no genetically engineered ingredients. Earthâs Best Organic Whole Grain Infant Cereals have 35-45% Daily Value of Iron for infants are flavorful and contain vitamins, minerals and dietary fiber. Made with and organically grown whole grains and no salt, refined sugar or preservatives, Earthâs Best Organic infant cereal are available in several varieties to satisfy the taste and texture preferences of babies ready to enjoy their first solid foods. Finding inspiration in natureâs essentials, we prepare innovative, wholesome recipes with the same care and concern that you would take in preparing a nourishing meal for your family.
Additional Information
USDA ORGANIC CERTIFIED – A trusted option for your happy, healthy babyWHOLESOME INGREDIENTS - Made from Whole Grains and non-GMO ingredients from our family of organic farmers and certified KosherIRON FORTIFIED FOR INFANT GROWTH & DEVELOPMENT - Easily Digestible for babies ready transition to eating solid foodsNO artificial flavors or colors, and grown without potentially harmful pesticides or herbicidesEarth's Best is proud to be supported by pediatricians, nutritionists and other healthcare professionals nationwide
Reviews
MarchMom15
Great first food for baby
When we started talking about introducing solids to our daughter we were completely lost since she was our first child. I did a lot of research and decided to try this brand of cereal because it was organic, no GMO's and it was brown rice cereal. I wanted the best for my baby! She has loved it from the very beginning. I mix the cereal with breastmilk and it works great. As she's gotten older I started mixing the cereal with her fruits and veggies and she seems to eat them better. I've looked at other cheaper cereals but I always go back to this one. I do immediately transfer the cereal out of the box and into a plastic container so that it doesn't get everywhere when I pour it.
Back2Nature
Great so far.
I have been giving this to my baby for about 2 weeks now. She is almost 5 months old. So far, it has not been at all constipating, as white rice cereals are. I have tasted it myself, and it is not bad at all. I am glad to be starting my daughter off on a food that is organic and whole grain, so that she will learn to love them and not have a preference toward the taste of enriched products. I have not been able to find this at the other stores where I live, so thanks Walmart for carrying it!
hunnycat
Baby loves it!
I recently started my son on cereal as his first food. He did not like it at all and I was very discouraged. I, on a whim, bought some Earth's Best. He absolutely loves this cereal! I even snuck and put a little in his bottle when he was feeling a little sick and had no appetite. He finished the whole bottle! Organic is better!
GratefulGlider
Raving about Rice
Earth's brand is a quality product that I feed my children with confidence. I wish it came in a wider container that was scoop friendly. I would certainly recommend it to other picky moms.
chris71483
MY baby loves it!
Not only is this tasty for my little one but it is ORGANIC which i very much would like my baby to eat. No chemicals or preservatives!!Walmart needs to sell more ORganic Natural products since alot of people are reading the ingredients already. We know what is safe to eat nowadays.