Combat Roach Killing Bait Stations for Small & Large Roaches, 12 Count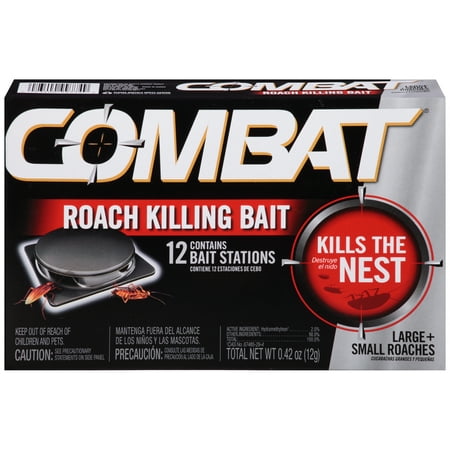 MSRP :

$117.45





Sale :

$5.94

Sold & shipped by Walmart
Product Description

Additional Information

Reviews
Product Description
Combat for Small and Large Roaches is formulated with food that attracts both small and large roaches. Best used in areas like under sinks, behind toilets, and behind appliances, Combat for Small and Large Roaches kills roaches in a Domino-Effect, and eliminates at the source of the infestation. This package includes 12 roach killing baits.
Additional Information
Kills small and large roaches at their sourceRoaches enter the bait station and eat the baitRoaches take the bait back to the nestRoaches share the bait, killing other roaches and destroying the nestThis package contains 12 roach killing bait stations
Reviews
skeeter
Combat Roach Killing Bait Stations
I have had a serious roach problem FOREVER...this is due to circumstance and is so embarrassing....after my friend moved in with me and brought all her roaches too omg....they just exploded...this summer they were really bad....so I bought some combat about 2 weeks ago, just follow the directions...after I put them out...the next morning there were dead bugs everywhere...I couldn't believe it,..seriously. Now I don't see any big ones, only little ones and not very many of them...this is awesome!! thank you, thank you, thank you!! I would recommend this to anybody, because trust me I have tried everything...all the natural remedies...everything...whoo hoo!!! on the road to being bug free finally!!!
aradia
Combat Roach Killing Bait Stations
I moved into an infested house and I have bombed and boraxed and bombed and bombed some more. my mom got these for me I set these baby's up everywhere attack noticeable nests with raid. they have been making more of a difference in 1 month than all the borax and bombing with hotshot has done in a year. I highly recommend these.
HappyHappy
COMBAT really works and will save you money!
We never had any problems with roaches until recently. The problem got worse as time passed by and we were using the the roach spray killers and about all the other products around the stores have to offer. One day I came across the COMBAT ad and decided to try it out and long story short this product worked. Don't go skimpy with this product and buy 3 to 4 boxes and put them all over the house. Go in strong it is really worth it and better than paying over $100 for an exterminator who will have to to be coming back a few times. COMBAT is suppose to work for 3 months but here it is 6 months later and not a single roach. This product really works!
NAVYMOMCVN71
Best thing ever
My daughters house had been infested. She tried a company 3 times but they couldn't get them under control. I bought a case of these and the gel and we put them everywhere. Within days we were finding dead roaches. Twice a day she had to vacuum to clean them up, yes, there were that many just dying off. Now she changes the baits every 3 months and still puts the gel around. Good news, no roaches have been seen for 6 months. Great product that really works.
tabby
Excellent
Moved into my apartment unaware of the roach problem. Tried EVERYTHING! Home remedies, sprays, exterminator, etc. Nothing worked! My mom told me to buy this product because it worked for her when she saw a couple roaches at her house. I made the mistake of buying the generic bait and saw no results. I bought the BRAND NAME shortly after......OMG! Not a roach in sight. I could hug whoever invented this product!!!!!