Combat Max Roach Killing Gel, 1 Syringe, 2.1 Ounces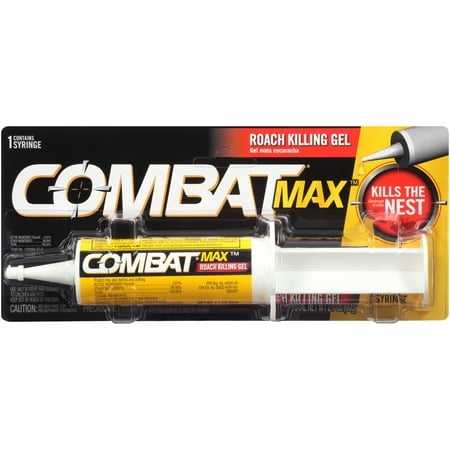 MSRP :

$9.72





Sale :

$7.93

Sold & shipped by Walmart
Product Description

Additional Information

Reviews
Product Description
Get rid of pests in your home with Combat Max Roach Killing Gel Bait. This bait will eliminate roaches quickly and at the source. Simply depress the plunger to disperse a line of bait wherever you see roaches traveling. The roach gel bait contains a powerful attractant that draws roaches to it. Once they take the bait, they will carry it back to the nest and poison the others. This unit contains a 1-count 60g syringe of Combat roach bait.
Additional Information
Starts working in hours.
Fast control of even large roaches.
For hard-to-reach places such as cracks and crevices.
Long residual action.
This package contains 1 syringe of 2.1 ounces of Combat Max Ant Killing Gel.
Reviews
Joaroachkiller
Killed them pretty fast !!
I was infested with roaches two weeks ago and now they are all gone haven't seen not even one ever since i went crazy with this product :) So, i bought this product plus two boxes of combat bait stations plus a huge home defense spray and put this bait everywhere in my cabinets around my kitchen counter, where the ceiling meets my cabinets, sprayed home defense everywhere behind my stove, behind the fridge and mostly under my kitchen sink to make barriers and put the stations under the stove, under the fridge, inside the cabinets, under my bathroom vanity literally everywhereeee lol plus i also put all my food in bins including the salt and sugar so there wasn't any food and no water around and also threw away my dishes dryer rack too because that holds water and roaches love water ! I now wash all my dishes and dry them right after :) I saw many roaches eating this bait in my cabinets and i just let them eat it and let them walk away back to their nest and in two weeks now ZERO roaches not even one upside down like i saw the first week. Thanked goodness --happy camper here :)
Mom2AshandEmy
Quick Killer!
When I seen this product I thought to myself, "Yeah, right fast acting." I bought it based on reviews from other people. I must say I am throughly pleased. The product attracted the bugs very quickly and started killing within 24 hours! I used an entire tube on a 2 bedroom 1 bath mobile home. The bugs LOVE this stuff. While cooking, the bugs like to come out, so when they start we place some of this product where most of them are at and they flock to it like sheep to grass.
Dakabish
BUY THIS BEFORE CONTACTING A SPECIALIST
Our apartment complex recently got infested with German cockroaches. Every one of my neighbors had to call infestation specialists to try to eliminate the problem. But guess what... these 'experts' did zero help to kill these pests. So I'd thought I take matters into my own hands because I did not want Orkin to come in for the fourth time. I came across this product and with extremely positive reviews, I gave it a try. Within the first night, there was an immediate result of less roaches and even waking up to dead roaches on the ground. Within a week I have had zero roaches around my apartment. I told everyone in the complex about this product and everyone also purchased these items with instantaneous results. Look, I'm not the type of person to write reviews but if it stopped a huge infestation from 8 of my neighbors homes, you bet I'm going to leave a positive review. Please use this product before contacting and wasting your money with 'specialists'.
LordDesoul
You have no idea how great it is.
We had roaches brought into our house that hitch hiked in a parcel. For 15 years or so, we tried everything. Fogging the house, straying chemicals, going through 2-3 cans of raid a week. No good. On December 1st of 2011 I ordered some of this stuff and told my grandma 'If this works like the package says, I'll have the roaches out of your house by Christmas.' 15 years we've been fighting a dug-in trench war with these bugs and this killed 99% of them before christmas. Its 6 months later and the most you will ever see anywhere is 1, and its usually walking around in a circle before falling dead. Cockroaches eat their dead, and this poison stays active inside the corpses of the dead bugs. So even if they arent feeding from the poison you put out (they go crazy for it and eat it like candy) then they will pick it up from eating other dead cockroaches. I swear, if you have cockroaches, this is the best thing you can use. Over a decade of dealing with these disgusting things and the were gone, just like that.
Genivision
Kills them dead
I have been using this product for 3 years and it works every time. After using it you will notice that the roaches getting smaller and smaller and roughly in a month your roach problem is history, and you dont see them any more. This is with one application. I do it every 6 months. The key is NOT to use any other roach killing products as they will keep the roaches from eating the combat. Combat works by attracting the roaches to it, the roaches eat it and take it back to thier hideout, where it dies and the other roaches eat the dead roach and die from the combat in its system. The poision is also passed on to the eggs. My landlord asked me what I used for my roach problem I told him combat and he now recomends this product to his renters who have a roach problem. My building has 10 units and all are roach free now. You must give this product atleast 2 weeks when you will notice lesser and smaller roaches until they dissappear completly in a month.