Combat® Roach Killing Bait Strips 10 ct Pouch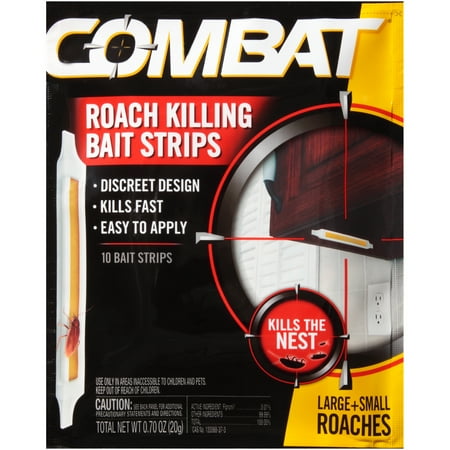 MSRP :

$185.22





Sale :

$11.9

Sold & shipped by ProMax Commerce
Product Description

Additional Information

Reviews
Product Description
Kill roaches quickly and easily with Combat Roach Bait Strips. Roaches find the bait strips and eat the bait. Then they carry the cockroach-killing bait, 0.68 oz, back to the nest where other roaches in the nest are exposed to the insecticide and the entire nest is destroyed. This easy-to-apply bait features a discreet design and is the smart choice for anyone with a roach problem. These bait strips can be used in cabinets, closets, under sinks and more.
Additional Information
Combat Large + Small Roaches Roach Killing Bait Strips:
Easy to apply
No mess
Discreet design
Nothing to activate
Works in hours
Reviews
NaggieMae
Excellent product
I live in an apartment complex where roaches can travel easily. Never had a problem in 12 years til this Spring. Had an infestation of baby roaches that crawled all over cabinets and counter tops at night (sometimes day). I sprayed the entire apartment with Spectracide...no results. I bought the Combat Bait Strips and after about two weeks, NO MORE ROACHES! I can see where the bait is being eaten away. The complaints I've read about the sticky strip not adhering to surfaces was not a problem. I just placed them in cabinets, drawers and surfaces where I had seen the roaches before. They did not need to stick, as I moved them if they did not have any action after several days. I am very happy with this product and intend to buy more to have on hand. Already recommended to neighbors.
wolfpat
Good, but with problems
The other reviews are correct about the adhesive being inadequate, but I solved that with a bit of Elmer's glue. I put these up two days ago, and I'm cleaning dead roaches off my countertops today. So the killer part of it is working.
eharkey
Great product that does what it says it will do!
Great product that does what it says it will do. It works!
Kyko127
Might need doubled sided tape.
They work great and helping to get rid of the pesky bugs. The adhesive is not so great though, but that wasn't something a little double sided tape couldn't fix!
maddog1819
they work great
I have all luck with them