Equate Miconazole Vaginal Antifungal 3-Day Treatment, 200 mg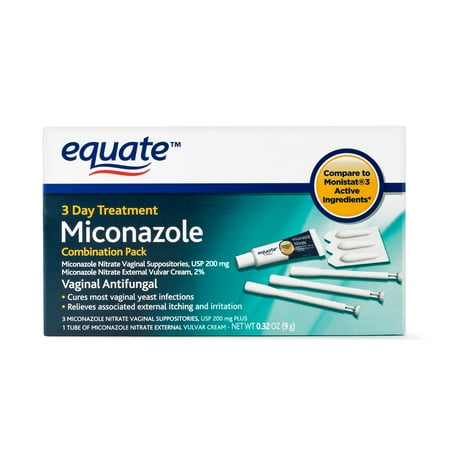 MSRP :

$11.97





Sale :

$5.97

Sold & shipped by Walmart
Product Description

Additional Information

Reviews
Product Description
Deal with itchy skin problems fast with Equate Miconazole cream. This product is specially formulated to treat most yeast infections in three days. This Miconazole cream contains 200mg per treatment to get rid of discomfort and itchiness fast. It is made to effectively cure most vaginal yeast infections, while providing immediate relief of symptoms. The Equate three-day treatment Miconazole pack contains three suppositories and one tube of 200mg external vulvar cream for easy application and quick results. It compares to Monistat 3. This product is suited for adults and children 12 years of age and over. To use, insert one suppository at bedtime for three nights in a row. Throw the applicator away after use.
Additional Information
Equate Miconazole 3-Day Treatment:Vaginal anti-fungal cream effectively treats most yeast infections1 pack contains 3-day treatment Miconazole of 200mg external vulvar cream3 suppositories provide easy applicationMiconazole cream gets rid of discomfort and itchiness fastCompares to Monistat 3 active ingredientsFor adults and children 12 years of age and olderTreats vaginal yeast infections; relieves external itching and irritationStop using if symptoms do not get better in 3 days or if symptoms last more than 7 daysInsert 1 suppository into the vagina at bedtime for 3 nights in a row; throw applicator away after useUse a small amount of cream to apply on the itchy and irritated skin outside
Reviews
hotinla
Great if you're at home, not so much for on the go
As a few other reviewers may have mentioned, the main con with this product is the fact that it melts. You must keep it in a cool place until use. The first one I used, melted and it was heck getting it out of the package. The second one, I keep in cooler temperature and when I was in the shower, I dropped it in a cup of water to keep it cooler than the bathroom temperature. It worked fine. The third one appeared to be fine, but, when I put it in the injector it stuck inside of there and I had to dig it out and insert it with my finger. Overall, it is a lot cleaner and you don't have to deal with excessive leakage. Once I got the little suppository in, it was non existence. I wish they included more cream with it. I would recommend this product to a friend.
Clearingthingsup
Ladies Read This Review !
Let me just start by saying..... It's crazy how many people will write bad reviews without reading the instructions to a product. How do you think it's go to have a positive effect if you don't follow the instructions.....? For those who put in their review that they would not recommend this for day time use because it keeps falling out no matter what, the INSTRUCTIONS clearly state for it to be used at BEDTIME. Most yeast creams are meant to be used at bedtime anyway. It makes sense. If your active all day long or sitting all day long of course it's slowly going to come out, wasting the product and not getting the full effect. While using it at bedtime "like recommended" If you would feel more comfortable, I would recommend using a pad so it doesn't get in your under wear. ( I did not have this issue. I actually slept with NO under wear and none came out!) If I had to use the bathroom at night I did roll up some toilet paper and hold it over the opening. Reaching around from the back because it will come out after it has melted inside , like it is supposed to. If you got to go, you got to go but you want to keep the meds in there. Some reviews stated that the suppository melted so bad that they could not use them in the applicator. Where do you live...? By the sun lol ....? Your probably not storing the product correctly if this is happening. Here I had no issues. BTW I found that the best way to insert the suppository is actually by washing your hands and inserting the suppository with your fingers. The applicator is uncomfortable and the suppository really doesn't have to be put way up there. (It's going to move around when it's in there anyway). You do NOT have to stick your fingers way in there! Some reviews complained that the external cream was too small of a tube when actually it's the largest amount I have ever recieved compared to others. You only need a little bit and it does say only TWICE a day. I decided to go with the equate brand instead of a name brand because I am very sensitive in this area and I read that this 3 day equate along with 7 day treatment is great for that. Also it's WAY cheaper. I had been taking 500mg of antibiotics 4 times daily for seven days and on the first day of taking them I was already burning which by day seven I had already started a yeast infection and had been irritated for several days and I can say that these suppositories did NOT burn me at all. Unfortunatly It did not clear my infection completly by day 3. Even though I was feeling better. I waited a full day after finishing these and started the equate 7 day treatment which I probably should have done in the first place because I already had symptoms for a whole week. If I had started this at the first sign of infection it probably would have cleared it all the way. The seven day is probably the way to go though. It's a whole week to deal with it but it probably insures a full recovery because it clears it slowly for 7 days, instead of quickly in 3 days. Sorry this is long but I wanted to clear things up the best I could. Result: Did NOT burn, Started to feel better but did not completly clear the infection.
ANA
Ladies Read This Review !
ONE OF THE BEST PRODUCTS. I HAD WENT TO THE DOCTOR TO GET A PRESCRIPTION FOR MY YEAST INFECTION THAT KEEP COMING BACK AS SOON i WILL TAKE THE ONE PILL. IT WORK FOR ONE WEEK AND IT WILL COME BACK AGAIN THE FOLLOWING WEEK. i WILL HAVE THE YEAST INFECTION. WELL I TRIED THIS PRODUCT 3 WEEKS AGO SO FAR AM YEAST INFECTION FREE. THANKS TO THIS BRAND. ONE OF THE BEST!!!
KeepingUpWithSyd
Ladies Read This Review !
I'm convinced some of you don't know how to read instructions. It literally says used best during night time right before you go to BED. You can't be moving around during daytime and not expect it to fall out. With that being said this worked amazing for me. I took a shower at night, then lay on the bed and placed the egg in my vagina it's umcomfortable but it WORKS. I also rubbed the cream around my labia. In the morning you might see some clumps from the egg but don't worry it's working. Repeat this for the next 2 days and voila the yeast infection is gone. Some people complain about burning but i think it felt good it makes me feel like it's working. You might have some swelling but that means it's working.
Jessipark
Go-to Treatment
The miconazole 3 day pack works very well for me! I would definitely recommend that you save a bit of money and skip the name brand, as this works just as well. I also suggest taking the 3 day as opposed to the 1 day, which caused SEVERE pain and burning. The 3 day has never caused any discomfort for me personally, and I will continue to use it in the future.