Pedigree Homestyle Meals Prime Rib And Roasted Chicken, Rice & Vegetable Flavor Variety Pack Wet Dog Food, 13.2 Oz, Case Of 12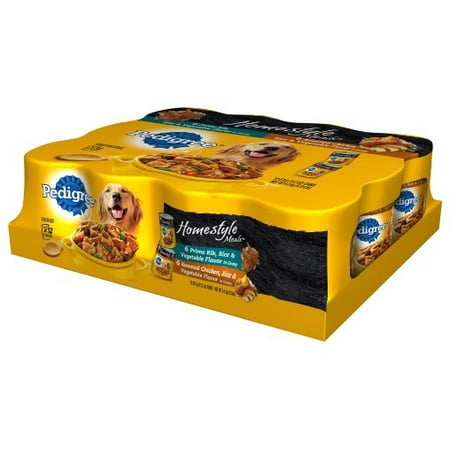 Sale :

$8.98

Sold & shipped by Walmart
Product Description

Additional Information

Reviews
Product Description
This variety pack of Pedigree Homestyle Meals includes 12 cans! Six of the cans featured are the Prime Rib, Rice and Vegetable Flavor. The other six cans are the Roasted Chicken, Rice and Vegetable Flavor.
Additional Information
Pedigree Homestyle Meals Prime Rib & Roasted Chicken, Rice and Vegetable Flavor Variety Pack Wet Dog Food, 13.2 Oz, 12 Ct
Reviews
DoNotBuyOnline
9 out of 12 cans were thrown out due to damage
This is a 12 pack, as shown above, but ONLY 3 of the cans were not dented. Even the cans in the middle of the pack were so dented and damaged that I threw them out. This is the not the first time it happened. I stopped purchasing this from Walmart before for the same reason. I ordered other products at Walmart this time and threw in the dog food to see if things improved, but it is actually worse. I am going back to Chewy
debj
Pedigree Homestyle Meals is Wonderful!
My dog loves this Pedigree Homestyle Meals Prime Rib and Roasted Chicken, Rice & Vegetable Flavor Variety Pack Wet Dog Food! She loves the gravy especially! Occasionally I mix it with her dry food, for some excitement! She eats the food so fast you can just tell she is loving every bite!
ChiefNerd
I love my dogs and they like this
I have two small dogs one is a Chihuahua about 16 years old NIC and the other is a Miniature Pinscher Terrier mix Penny she turned 6 in September 2016 I am careful on what and how I feed them, we had a Shetland Sheepdog who lived to be over 18 and this is mainly how I extend their life in closely watching what I feed them and I feed them this product as part of their diet, as much as I love them I know human food can be VERY harmful. Both of them love it. Having said that I keep very close watch on recalls and examine the source of manufacture for all brands and types of food I feed my dogs. Table scraps can be deadly with out you knowledge (visit this veterinarian site for example on items you may not know will kill your dog http://www.preventivevet.com/xylitol-products-toxic-for-dogs )
sumoody
Red Dye Makes My Dog Sick
My dog loves the chicken and rice, unfortunately cases are sold with a mix of the chicken with beef. The beef contains red dye and my dog becomes ill every time she eats it. I would definitely rate it higher if cases were sold with only the chicken and lamb.
Babedog
Red Dye Makes My Dog Sick
This is very handy for me. I like having it delivered to my house because I don't have to get out to the store! My dog loves this food!