OGX Thick & Full + Biotin & Collagen Conditioner, 13 FL OZ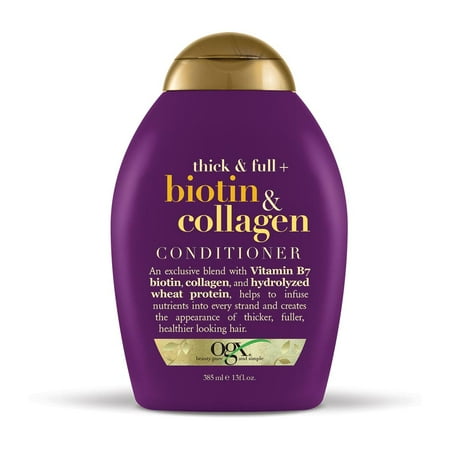 Sale :

$5.74

Sold & shipped by Walmart
Product Description

Additional Information

Reviews
Product Description
Additional Information
OGX Thick & Full Biotin & Collagen Conditioner, 13 Oz
Reviews
Goo
I am enjoying my fuller and thicker hair.
This product is wonderful when you have dull, thin and lifeless hair. It truly helps you get that thicker and fuller look to your hair.
Jacob625
My hair has lots body & volume
This shampoo and conditioner made my hair look exquisite, body, shine, strength and softness. Everything I want in hair care.
diddledee
Stops breakage on overprosessed hair.
I started out just using the conditioner and the lotion. I found it immediately stopped breakage which was good because I had already lost half of my hair from it breaking off about 3 in. From the root. I had fuller looking and feeling hair. I added in the shampoo a week later and boy was I impressed it made my hair so soft. Then I ran out of conditioner because the only 2 stores in my town ran out for a week. My hair is horrible again breaking off and looks dull and dry even using a high end conditioner. I'm going to the store now as they have it in stock this morning. I'm going to try the other root spray as well and will leave a review.
MLBROWN1830
Addicted...
I bought both conditioner and shampoo. Love them both! I'm totally addicted to them. I like the scent and the texture of the product. It lasts a long time because you only need a little. It's really great and I do recommend it.
1776penny
It works for me.
Stopped hair loss immediately. No hair in drain and little to no hair in brush or comb. Have used for one year plus.