OGX Thick & Full Biotin & Collagen Shampoo, 13 FL OZ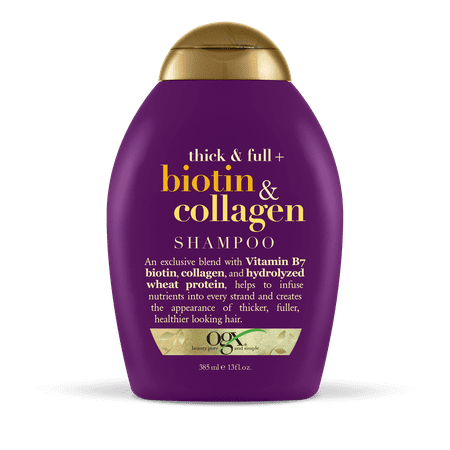 MSRP :

$7.98





Sale :

$5.48

Sold & shipped by Walmart
Product Description

Additional Information

Reviews
Product Description
Additional Information
OGX Full Biotin & Thick & Collagen Shampoo 13 fl. oz. Squeeze Bottle:
Formulated with vitamin B7 biotin, wheat protein and collagen
Infuses nutrients into every strand
Bottle is eco-friendly, manufactured with materials containing recycled post-consumer resin
Ideal for any hair type
Strands feel thicker and fuller
Creates thickness, volume and texture
Helps to thicken and texturize any hair type
Squeeze bottle with flip top lid
After just one application of OGX shampoo with the companion OGX Thick & Full Biotin & Collagen Conditioner, hair feels thicker, look fuller and more abundant
Gentle formula is not tested on animals
OGX Thick & Full Biotin & Collagen Conditioner and other OGX products are sold separately
Reviews
Court
YAAAYYYY!
So my hair is very curly, I am mixed race. My parents are black and white. My hair is long, a little over half way down my back, and again I stress very curly but very soft. I have been using Herbal Essence for a couple months now but I've noticed my hair gets dirty after one day, as in oily. It was stringy (more than usual since my hair does get frizzy) and my curls weren't very defined at all. I read reviews and looked at curly hair blogs and finally found a shampoo-conditioner combo that really works for the my preferred price range! I've used it once and my hair smells clean. It is soft. My curls are defined and it's not stringy OR oily. YAY for a great shampoo and conditioner with no sulfates and still very affordable! This is my first time using OGX products and I can comfortably say I'm hooked already.
Alessandra
Best shampoo ever
This shampoo gives me thicker, healthier looking hair. It also reduces the amount of hair I lose in the shower by half.
Katie
Love it!
I am on chemo meds that make my hair fall out on top of it running in my family I have been noticing my hair become thinner and thinner everyday. I started taking Biotin 5,000 mcg twice a day which has helped but I wanted to use shampoo to help as well. I could tell the difference in literally one day as far is it putting tons of volume in my hair it smells very good as well. I don't use the conditioner because I have an oily scalp and conditioner makes it worse but I def recommend this its very very good and a very good price! I am NOT being paid to write this review either!
IHaveFrigginModelHair
Gave my "Corpse Bride" hair LIFE
I have fine hair but a lot of it, and it gets very oily. This means that the fine strands are weighed down by the density of hair I have and the oil that won't go away, so my locks have always looked lank, greasy, and lifeless. I have tried several different drugstore and fancy salon brands, and finally decided to try this one about four months ago. It has absolutely TRANSFORMED my hair into thick, dense, lustrous hair that I get compliments on all the time!! And it smells amazing to boot! I love running my fingers through it ❤️ I even got an unexpected bonus benefit; my hair was always stick straight, and now all of a sudden it has a natural texture — almost wave — that adds so much to the whole appearance of my hair!!
opalhorseshoe
Changed my life, never EVER switching
Alright, first, i must say, i never write reviews until I've used a product for more than a month or two. This product is AMAZING! I've been using it for a month and a half now (it lasts a long time, which really surprised me because of the "small size it looked") and the first day of using it, the difference wasn't much. but after a week of daily use, when my little sister (13 yr old) was braiding my hair, she asked me if my hair got thicker. And I've tried so many shampoos, but this one for once actually made my hair thicker. I suffer from thin hair and trich, so I was in desperate need for a good shampoo that makes your hair much fuller. This one is the best, and its a great relief because I've tried so many. Usually after I get a new shampoo, the first day i use it im like oh my god this is the best, I'm never switching! but then I end up switching shampoos. But this, I've been using it for a month and a half, and I'm buying it again tomorrow. I'm really picky about my shampoos, and this is the best! I can't emphasize how better my hair looks since I started using it! And it smells so good. well, the first time i got it, i couldn't really smell anything, and i was just trying it out. But when I'm in the shower and put it all over my head, it has this really nice scent! And you can def smell it. I'm not sure how to explain it, but it smells like... vanilla-ish, well, that and something else. maybe coconutty? I'm not sure how to explain it. But, great product, worked really well. I'm very impressed. I also use the organix thick and full biotin conditioner if that helps too, and I noticed major results after a little under a week. like 4-5 days of using it. :) Best product ever! buying more!