OGX Thick & Full Biotin & Collagen Shampoo, 13 FL OZ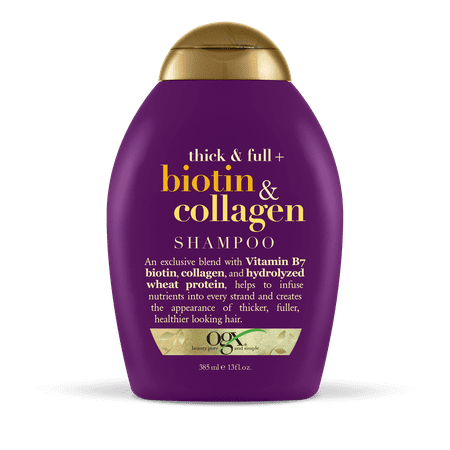 MSRP :

$7.98





Sale :

$5.48

Sold & shipped by Walmart
Product Description

Additional Information

Reviews
Product Description
Additional Information
OGX Full Biotin & Thick & Collagen Shampoo 13 fl. oz. Squeeze Bottle:
Formulated with vitamin B7 biotin, wheat protein and collagen
Infuses nutrients into every strand
Bottle is eco-friendly, manufactured with materials containing recycled post-consumer resin
Ideal for any hair type
Strands feel thicker and fuller
Creates thickness, volume and texture
Helps to thicken and texturize any hair type
Squeeze bottle with flip top lid
After just one application of OGX shampoo with the companion OGX Thick & Full Biotin & Collagen Conditioner, hair feels thicker, look fuller and more abundant
Gentle formula is not tested on animals
OGX Thick & Full Biotin & Collagen Conditioner and other OGX products are sold separately
Reviews
Court
YAAAYYYY!
So my hair is very curly, I am mixed race. My parents are black and white. My hair is long, a little over half way down my back, and again I stress very curly but very soft. I have been using Herbal Essence for a couple months now but I've noticed my hair gets dirty after one day, as in oily. It was stringy (more than usual since my hair does get frizzy) and my curls weren't very defined at all. I read reviews and looked at curly hair blogs and finally found a shampoo-conditioner combo that really works for the my preferred price range! I've used it once and my hair smells clean. It is soft. My curls are defined and it's not stringy OR oily. YAY for a great shampoo and conditioner with no sulfates and still very affordable! This is my first time using OGX products and I can comfortably say I'm hooked already.
Meg12
Stay Away!
I have long thin hair. Only blow dry and NOW straighten the ends (since using this drying product) once a month. I wash my hair once or twice a week, and after a month of using this mucous-like textured concoction, my hair started to fall out at a concerning rate! What would be clogging the shower drain/filling my hair brush after a month is what I would see in a week. Sure! My hair seemed fuller! Also dry as the desert and tangled. Pictured is only SOME of what I've tossed from the shower drain and not what was flushed from my hair brush after three weeks. I used TRESemme today after almost two months of using this horrible product and I'm devastated as to how much hair I can now see and feel I've lost. At least my few long strands feel amazing and not like a tumble weed. Using this product may fluff your hair but you'll only lose it down the drain!
Kathleenc
It helped after just one use!
Ok so I used to have thick curly hair but I never liked it, when I was a teenager I started relaxing it until I learned what was in the chemicals then I stopped. Then I had a child in my twenties and my hair changed now it's thinner. Ever since puberty my hair has been falling out in clumps but I used this shampoo yesterday I didn't love the scent but I did like the way it lathered up. A little goes a long way. And I had like no hair fall out! I can't speak about volume because I always put my hair up and I no longer put my hair through heat damage. I'm disappointed that the shampoo didn't make my hair softer. My regular shampoo makes my hair very soft but also makes my hair fall out. But my hair did feel healthier after just one use! I'm impressed and hoping to get the conditioner.
Gabbbbby27
Amazing!
I've been using it for 4 months now and it is incredible, I was loosing a lot of hair due to bleach and hair coloring and now I use the shampoo and conditioner and there is a big difference in my hair, it has grown so much yiu can tell in my roots how much my hair is growing back. Plus it smells soooo good and leaves my hair feeling so nice.
Katie
Love it!
I am on chemo meds that make my hair fall out on top of it running in my family I have been noticing my hair become thinner and thinner everyday. I started taking Biotin 5,000 mcg twice a day which has helped but I wanted to use shampoo to help as well. I could tell the difference in literally one day as far is it putting tons of volume in my hair it smells very good as well. I don't use the conditioner because I have an oily scalp and conditioner makes it worse but I def recommend this its very very good and a very good price! I am NOT being paid to write this review either!