Totes Classic Canopy Clear Bubble Umbrella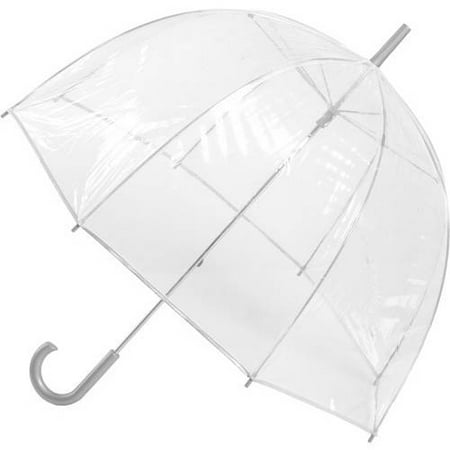 Sale :

$14

Sold & shipped by Walmart
Product Description

Additional Information

Reviews
Product Description
The Totes Bubble Umbrella is a fun item for adults and kids alike. It is the stylish answer to keeping your head, hair and the rest of you dry when the weather's at its worst. The umbrella does not turn over even in the worst of winds. The clear, birdcage canopy of this head umbrella protects you down to your shoulders for the ultimate in protection. It is made from 100 percent polyester for easy care. The clear canopy is like a windshield that you can see right through so you don't miss a thing. You can go for the plain Totes umbrella or choose one that has fun poppies printed on it. This can be used by the whole family, including the kids, to stay dry on the next rainy day. The curved handle makes it easy to hold and store when not in use.
Additional Information
Totes Bubble Umbrella:
'Birdcage' canopy protects you down to your shoulders
Canopy is clear so you can see everything
Windproof and rainproof
Lightweight construction
Material: 100 percent polyester
Available in multiple prints
Leave open to dry. Wipe clean with a damp cloth.

Reviews
Frs1
Enjoying the umbrellas!
I bought two of these bubble umbrellas. One for my friend and one for myself. We walk everyday even when the weather is rainy or snowing. With our old umbrellas, we would always get wet since it didn't have the coverage. Also on windy days, the wind would blow underneath them and they would flip up getting us all wet. With these Totes bubble umbrellas, our hair doesn't go flying around so we stay dry and it's like we're in a protective bubble as we walk. It does a good job at keeping us dry for the most part. If the rain is coming down straight, it's ok but if there are high winds and rain, then the bottom half of you will get wet but that would be with any type of umbrella. I would recommend this umbrella to anyone. It is made pretty sturdy and I haven't encountered any problem using it so far. Hope to get at least 15 years out of it.
hollystu
BEST umbrella EVER
I live in NYC and the rain and wind are so strong that every single umbrella I've ever bought- even those I've spent good money on- have turned inside out during monsoon season. I bought this in a Wal-Mart in SLC while I was visiting family and this is BY FAR the best umbrella I've ever used. It does not even get tempted to turn inside out and the fact that you can see through it is a huge plus. I accidentally left it on the subway a few weeks ago and after cursing myself out for doing something so stupid, I promptly ordered a replacement online.
MsGary
Love love love
The umbrella is sturdy and looks great. I've had it 3 months and no problems yet. Sure beats the traditional umbrella!
flcountrygirl66
Super cute!!!
This is a super cute umbrella. I got the one with the flowers on it and I just love it!! I like how the sides come down so it keeps the rain from blowing in on you. It is a heavy duty umbrella, not cheaply made. It is very sturdy and could be used as a cane as well. What I really love is the opening and closing part as when you close this one it does not pinch your fingers. It has a special way of closing that is pain free and super easy to do. It is a big umbrella. It is just all around a great, well made umbrella to have with you in your car at all times. I just love it and I think you will as well!!!
MomofAjAJ
Super cute!!!
Love this umbrella! Great coverage for wind and rain.