Gold's Gym Folding Upper & Lower Body Cycle with Monitor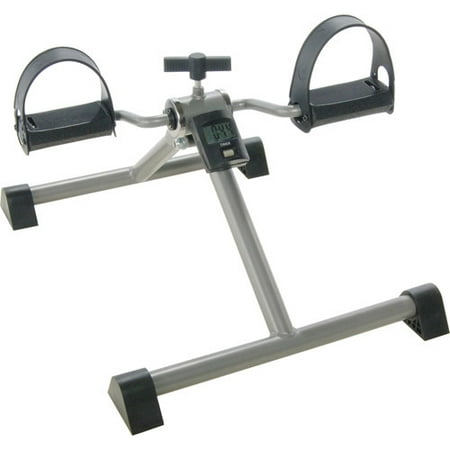 MSRP :

$35





Sale :

$23.97

Sold & shipped by Walmart
Product Description

Additional Information

Reviews
Product Description
Improve your strength, coordination and circulation with the Gold's Gym Upper and Lower Body Cycle with Monitor. It offers a simple, low-impact cardio workout, while an electronic meter tracks your total workout time. This Gold's Gym Upper and Lower Body Cycle provides a solid workout for the upper and lower areas of the body. It requires movements that are designed to strengthen your legs and tone your arms, shoulders and back without leaving your chair. The exercise cycle comes in a compact, portable design with pedal straps that give a firm grip to your feet. Additionally, you can feel secure riding on a quality machine. Manufactured from a durable steel frame, it can be used on the floor to work out your legs or on a table for a winning upper torso workout. When you are finished, the Gold's Gym Upper and Lower Body Cycle with Monitor conveniently folds up for simple storage and transportation.
Additional Information
Gold's Gym Folding Upper and Lower Body Cycle:
Adjustable tension
Compact design
Quiet
Non-slip feet
Pedal straps hold feet in place
Durable steel frame
Folds for storage
Exercise cycle includes electronic meter with workout timer
Battery included
Easy assembly
No tools required
Reviews
Raven21809
I lost 21lbs!
I got this item in the middle of July. I have used it every day since then 30 minutes in the morning and 30 at night before I go to bed. I am pregnant with our 4th child so I wanted to stay in shape while being pregnant and for all the woman out there you know ho hard it is! I am about 5'4 and sit in my computer chair while I work out. I have me some weights for each leg, that I switch over to my arms when I go do them. It is totally worth it to me, It is small I can put it in my closet when I am not using which I love. Over all the whole product is great. I would recommend it to anyone, My mother is actually buying herself one after she seen the weight I am losing in my legs and arm! At this price and if you use it right to fit your needs you can really beat it. (; Hope this reviews help. I know I am loving it.
13Therapist
Good for older adults
I am a home health physical therapist and I recommend this device to almost all of my patients. If you are young and fit then this is not the piece of exercise equipment for you but for my elderly, unconditioned patients and those recovering from a knee replacement this is a great, economical piece of equipment we use daily. Similar bikes sell for over $50 at the medical supply companies. I just wish the Wal-Mart in my area would keep a better supply of them on hand.
klemom
Best exercise contraption I've EVER owned!
I've tried all sorts of workout machines and such--exercise bikes, treadmills, and the like. This is the first one that's actually worked for me. Primary reason: it's light and extremely portable. I'm not confined to going to wherever the exercise machine is stationed in my house (basement, bedroom, workout room, etc.), no, I can take this workout machine wherever I happen to be. I'm a mother of two who tries to fit a workout in whenever I happen to find time in my busy schedule. I can get a good workout with this while watching TV, sitting at a desk doing work, on the computer, hanging out with my kids, the list goes on and on. I just pick it up and transfer it effortlessly to whatever room I happen to have to be in at any time. And it really works! I've been using it just whenever I find the time (no set schedule) and I'm finally shedding my post-baby weight successfully. I HIGHLY recommend this to everyone who wants to lose weight and/or stay fit, healthy, and in shape!
vectormg
Great Peddler!
This peddler is very sturdy, i really recommend it, the only reason i didn't gave it 5 stars its because its very noisy some times, specially if you peddle with the knob tightened up for more resistance power, the problem is that it sounds like a tortilleria, the place where they make "tortillas" you know? for tacos? - The resistance its very good, and very easy to adjust. - It sits and stays very stable on carpet. I haven't tried on another surface. - Very easy to assemble! really! it just takes like 5 minutes, no tools necessary.
NaaJcL
Exercising After Knee Surgery
I had knee surgery. I cannot go everyday to therapy. I decided to buy this cycle which is better than being on a bike. I use it 3 times a day for 30 mins and it works. The monitor is great just to know the time while being used but it cannot be set for the time you want and turn off on its own. You have to make sure to turn off the monitor after every use, if not, it stays on. And, it fits great under my bed. Do not use a chair with wheels like I have in the picture. Use a regular chair. This cycle is only good for legs and arms physical therapy.