Nair Hair Remover Lotion Softening Baby Oil Comforting Scent, 9.0 Oz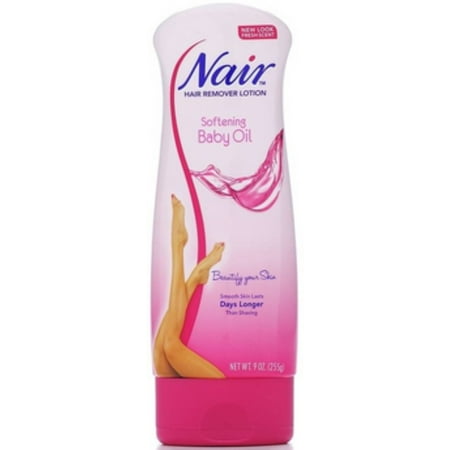 MSRP :

$7.57





Sale :

$4.94

Sold & shipped by Walmart
Product Description

Additional Information

Reviews
Product Description
Get naturally smooth legs in as little as three minutes with this Nair Hair Removal Lotion. It has a thick, rich formula that removes hair while leaving your skin feeling soft. Add in a fresh cucumber fragrance and you have an ideal solution for smooth natural legs that last days longer than shaving. This hair removal cream for women has a fresh scent and is formulated with softening baby oil. It's dermatologist tested and can also be used for the underarms and bikini area.
Additional Information
Nair Hair Remover Lotion Softening Baby Oil Comforting Scent, 9.0 oz:Hair remover lotion with softening baby oilFresh scentBeautify your skinSmooth skin lasts days longer than shavingNumber 1 hair removal brandFor legs, arms, underarms and bikini areaDermatologist testedNot for use on faceWorks in as little as 3 minutesSmooth on a thick, even layer to cover hair, gently wipe off the lotion and hair with a damp washcloth, once all hair has been removed, rinse skin thoroughly with lukewarm water in the showerBottle contains 9 oz of body hair removal lotion
Reviews
JabberJaw68
OMG It works!!!
I was a skeptic as I am with most products that advertise hair removal, but this stuff works! The smell is not bad at all compared to the "old" verisons of Nair. I left it on for a full 10 minutes (product says do not leave on OVER 10 minutes). I used a dry wash cloth to wipe away hair in the shower. I showered off my legs while rubbing them with my hand. Most all of the hair was gone. There were a couple of little hairs here and there...but most was gone. What was left, I rubbed it with a wash cloth again and it came right off. I didn't give it a 5-star rating because it is a chemical and I personally feel I need to wash my legs again with soap after use. But..all of this takes less time than shaving since you can multi-task while you use it :) For those of you with bumps left - I put a touch of Vitamin E oil on my legs after use. It moisturizes and calms the skin quickly. Hope this is useful.
Tabby
OMG It works!!!
Good for removing hair, but if you have sensitive skin then it might irritate a little bit.
ChocFULLONutz
It really works!!
Unlike oh so many products we find, either on the net or at any store, how many times do you come home, use the product and discover it just wasn't as expected, as promised or even what you heard about it. For me, I can't even count that high. I was skeptical about this product, especially after reading the reviews (I always read them in the order of lowest rating to highest). I lathered from my ankles to the very tops of my leg; I even did under my arms and the bikini area. I did wait 15 minutes instead of the recommended 10. I got into the shower with a terry facecloth and began to wipe away. I was amazed! I didn't have to rub hard; I didn't have to rub twice. This product took all the hair away and I never got that talked about after-shaving-rash. All areas were completely smooth. That was a week ago. I just may have to repeat the process tomorrow. I am impressed!
Taylor
Surprisingly Impressed!
So I have tried Nair on and off for the past few years (wax, hair removal shower gel etc) & it never worked for me plus is smelled horrible! Well I am 8 months pregnant and I haven't been able to see "down there" since I was about 6 months and I refuse to get a wax because I heard it hurts worse when you are pregnant soo... I was like well I'll pay $6 and try it again (last time I tried any Nair product was over a year ago) and it worked! The instructions say let sit for 3 minutes but no longer than 10 and since I never had luck in the past I decided to put it on 10 minutes before I got in the shower & when I got in the shower I rubbed the area and hair was coming off in handfuls! I was like WOW! Lol. It still smells gross but the smell isn't as strong as it use to be. I rinsed the area with cold water once I was about to get out and patted dry. I would definitely recommend!
idontdomanyreviews
Works great
I used this product on my bikini line and left it on for 10 minutes and the hair wiped right away. It worked great! Smooth skin and no red bumps. I do use Monistat Chafing Relieft Powder-Gel (which is also sold at Walmart by all the other Monistat products) on my bikini line after shaving and now after using Nair, which I applied right after taking a shower and rinsed the lotion off really well. I love the chafing gel! Its so soft and leaves my skin feeling good. It helps tremendously with bumps and irritation. Just use as directed. All-in-all the Nair works great at removing the hair and the Monistat chafing gel works great at keeping your skin soft and unirritated, if you tend to get red bumps and irritation due to shaving! I definitely recommend this product!