Nair Hair Remover Cream for Face, 2 Oz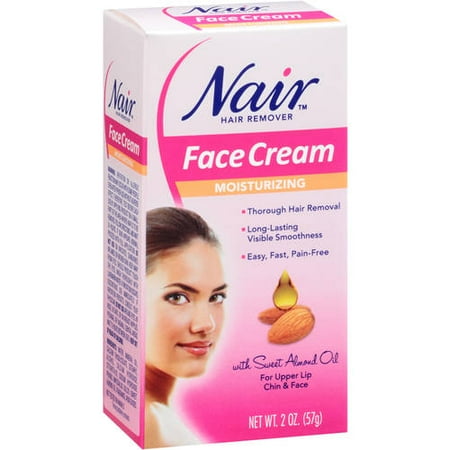 Sale :

$6.9

Sold & shipped by Pharmapacks
Product Description

Additional Information

Reviews
Product Description
Additional Information
#1 Hair Removal Brand*
For All Hair Types
Smooth, Radiant Skin; Thorough Hair Removal
Long-Lasting Visible Smoothness
Easy, Fast, Pain-Free
For Upper Lip, Chin & Face
Not Tested on Animals
Reviews
alisa
Buy it if you dream of huge zits
This product did a fair job removing facial hair. There were no signs of irritation after the first 2 or 3 uses except some redness, but I would consider it normal. However, a few months after I had started using this cream it made me break out like never before! I only used it 4 or 5 time overall. My skin is not sensitive, I had never had skin reactions for face products, neither I had ever had these huge zits on my face!!! I mean, there are so many great reviews about this product it's gotta work for someone. But you can't expect a product to be good and cost $3, I learned my lesson.
kihaun
What some ladies go thru after menopause
If you have thick hair and you're past menopause, you loose your hormones to testosterone - in some ways. Being part Greek was what gave me my life-long "mustache"... About 5 years after menopause was done, I noticed I was growing a spartial beard - I plucked them with the eyebrow tweezers. Then the whiskers came out in force! I tried Nair Facial Hair Removal and love it! It works great! This is actually the first time in my life I don't know of having my little "Greek mustache"!
giraffemomma
Amazing Product
I am very happy with this product! It removed all of the hair that was covered after only having it on for 7 minutes. I did have to tweeze a few hairs but only because I was worried about getting the cream too close to my lips so there were a few hairs i missed covering with the cream. I had minimal redness that went away after applying my own moisterizer. I could not be more happy to only pay $4 for results that would have cost upwards of $50 at a waxing salon. Not to mention I still have enough in the bottle for at least one more time. I can finally wear my hair in a ponytail confidently without worrying about hair on my jawline or unsightly sideburns. Not to mention my lip and chin are silky smooth!
Rosie
Works!!!
I was always embarrassed about having hair on my upper lip and didn't always have a whole lot to get it waxed and that honestly hurts!!! Yes pain for beauty but c'mon for $3 and it's so easy and pain free?!! I tried it for the first time today and left it on for 5min. Wiped it off with a wash cloth and I had no hair! I love this product for the price and how fast it works I will be buying this often from now on.
plkio
doesnt remove all hair
I have used this with some success for a while but now my upper lip is very sensitive to it, causes redness & rash. doesn't remove all hair on chin or upper lip and I leave it on for 7-8 minutes.