Proctor Silex 1.5 L Professional-Style Deep Fryer | Model# 35041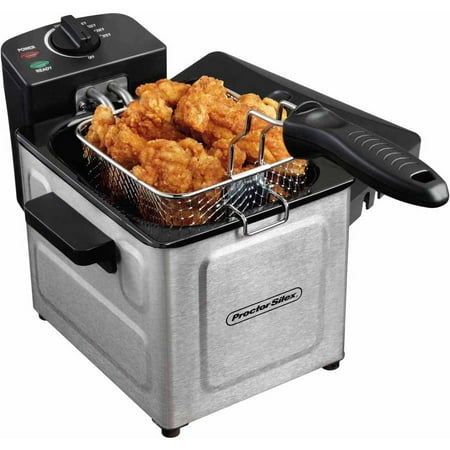 Sale :

$34.99

Sold & shipped by Walmart
Product Description

Additional Information

Reviews
Product Description
Make crisp and delicious fries, pickle chips or golden-brown chicken at home with the Proctor-Silex Deep Fryer. It is designed with the heating element in the pot, making it convenient for anytime use, even when you do not have a stove. This direct contact allows the oil to heat more quickly both prior to use and between batches for a higher-quality finished product. Since it is important for the oil to be at the appropriate temperature for use, this compact deep fryer features a built-in indicator light to help you attain mouth-watering results every time. The customizable temperature settings allow you to make adjustments so you can cater it to the foods you are cooking. Its compact design and lightweight build make it easy to own a deep fryer even if you are short on space. This 1.5L stainless steel deep fryer is great for single portions or cooking up to four servings. When you are finished, parts are easy to clean so they will be ready for next time.
Additional Information
Great for single-serve portions
1-4 servings
Space-saving size
Fast frying & heat-up
Adjustable temperature
Easy to clean
Performance-tested for durability and reliability
Power Light
Easy to assemble
Ready light
Basket hook for easy draining
Reviews
lorna444birds
Restaurant-Quality Fried Foods at Home
After trying this little fryer for more than a week, I think it's definitely a keeper! Not only does it make delicious fries, chicken wings, onion rings and okra, it is very compact and easy to store. I love the safety features: it has a magnetic plug on the element; a green light to let you know when it's the right temperature; a temperature dial; a vented cover; and a detailed instruction booklet. I gave it 4 out of 5 stars because when I used the lid that comes with it, steam did come out of the vents on top of the lid, but steam also came out of the front where there is a cutaway for the basket handle. That is it's only design flaw; it could use more vents on top. This is a perfect sized fryer for one or 2 people. If you are cooking for more, then you really need a bigger fryer. We cooked fries, wings, okra, onion rings and batter-dipped mushrooms. When cooking fries, you simply load the basket and lower it into the oil. With batter-dipped foods, you first lower the basket into the hot oil, and then carefully lower each batter-dipped piece into the oil. Homemade onion rings tend to sink and the batter gets embedded in the basket. It's best to use store-bought frozen onion rings in this fryer. Be sure to use good quality oil--peanut, canola and palm oils will not smoke up your home. Unplug when done. Please make sure the oil is completely cool before pouring into another container. Cleanup is very easy, making this fryer fun and easy to use. Bon appetit!
cactusbob
Nice Medium Size Fryer
Well made fryer. Good stainless steel outside, and the oil container is enamel ware. I used an infrared temperature gun to check the accuracy of the oil temperature, it was very accurate. The best feature about this is that it comes completely apart for easy cleaning and changing the oil. The basket is heavy stainless steel, cleans easy and will sit above the oil to load it and let the oil drain after frying. It holds exactly one bottle of oil from the store, which I thought was another plus. I made french fries, they came out perfect. I have cooked fried chicken in it twice. The first time I cooked with the lid on and the chicken came out moist and tender, perfect. Second time I left the lid off and the chicken still came out moist, but crispy on the outside, great color. This is a great fryer I just wish it was a little bit bigger.
HuntingFishingMother
Great little fryer
Proctor Silex Professional Style Deep Fryer, 1.5Liter. What a great little deep fryer. The only bad thing I can say is it is definitely made for one person and the only way to fill the basket is to put considerably more oil into the fryer. The line for the recommended amount of oil, when heated, only covers about half of the basket. I actually added about 2 cups more oil and was able to fill the basket to about ¾ full. This litter fryer comes in multiple pieces and is easy to put together as well as pull apart for cleaning. It heats up very fast and cooks perfectly. French fries are golden brown, in new oil, after the recommended cooking time. Hash brown squares should be cooked for a shorter amount of time. Everything that I have cooked in this little fryer has turned out perfect. When I am done using it, I allow the oil enough time to cool to place in another container. I am then able to fully break down the fryer to clean every inch of it. The dial is easy to read and use. The ready light turns on when the oil is at the temperature that you set it at. I loved the fryer so much that I purchased the larger size for when I am cooking for the whole family.
alabamabutterfly55
Let's have a fish fry!!
I live in the South where fried food is part of our daily diet. However, health problems have prevented me and my husband from eating too many fried foods. They are too greasy and even though you use healthier oils, it still cannot be good as a steady diet. I rarely fry anything. My husband loves to fish and recently brought home some fresh Bass. Luckily for us, the Proctor Silex 1.5L Professional-Style Deep Fryer in Stainless Steel showed up at my house at just the right time! We had a fish fry! I have had fryers in the past but never one like the Proctor Silex Deep Fryer so I was anxious to try it out. First of all, it is made of stainless steel so it will be much easier to keep clean and it looks professional for sure. I do like the compact design. I would have preferred a larger size. The small size does fry more than you think it would though. What makes the Proctor Silex Deep Fryer a winner to me is the Ready Light. It lets you know for sure when the temperature is right for frying. The right temperature keeps the food from absorbing too much oil so your food is much healthier! Did I mention the basket?! It makes frying a snap! You lift the basket and let it rest on the side so any excess oil will drip back into the fryer. I love it! As you may be able to tell from one of my pictures, the fish I fried in the Proctor Silex Deep Fryer was crispy on the outside and tender on the inside. Best of all, it was not greasy!
nanagranna
Excellent Proctor Silex Deep Fryer
Silex Professional Style Deep Fryer has a 1.5 liter oil capacity . It is 1 -4 serving space saving size. Fast frying and heat up. Adjustable temperatures settings from o degrees Fahrenheit to 325 degrees Fahrenheit to 350 degrees Fahrenheit to 375 degrees Fahrenheit. Easy to clean with take out oil pan .It has a power light and a ready light. Very easy to assemble. The fryer is silver with black handle. Removable basket for easy draining. Great to cook fish and chicken and especially french fries. I love this fryer and would recommend it to anyone who loves fried foods. Great quality. Great price for the fryer. I have no negative comments only positive ones. This fryer is made well too. Made in China. It is for someone with a small family.