Case-It King Sized Zip Tab 4-Inch D-Ring Zipper Binder, Black, D-186-BK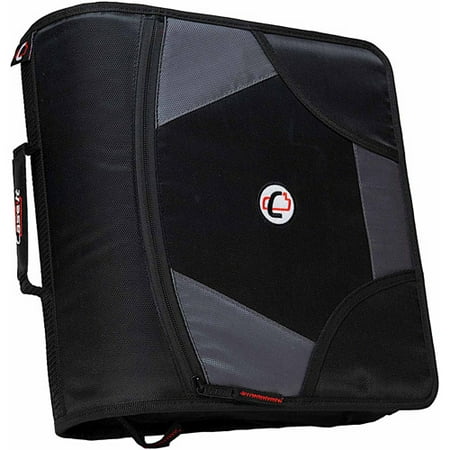 MSRP :

$19.33





Sale :

$30.29

Sold & shipped by School Specialty
Product Description

Additional Information

Reviews
Product Description
The Case-It D-186 Zipper Binder can hold it all! This neat, zippered binder has extra-large four-inch D-rings with a five-tab file folder for all your organizational needs. The interior expanding file folder allows you to protect and organize all of your documents. The file folder has a gusseted zipper that allows you to access the folder without opening the whole binder. The interior of the binder has a large zippered pocket that is perfect for storing pens, pencils and any other classroom essentials. This binder has a patented angled zipper that keeps the gusset out of the way when writing. The D-186 also comes with a handle and shoulder strap, enabling ease of transporting materials. Each binder gusset is made of Ripstop material, which prevents tearing. Each binder is constructed of sturdy Kraft Board, which is strong enough to last the school year and prevents warping. Case-It produces quality binders, offering unique organizational tools for school or home use.
Additional Information
• 3-Ring Binder, 4" Capacity • 5-Color Tabbed Expanding File for Important Papers and Documents • Inside Mesh Pockets Holds School and Professional Supplies • Zippered Binder Secures All Materials from Loss or Damage • Handle and Shoulder Strap for Easy Carrying • Ripstop Material's Square Pattern Traps Punctures to Prevent Tearing • Patented Angled Zipper Keeps Gusset Out of the Way When Writing
Reviews
Tinji
Nice Case, 3 Rings for Pages Offset to Outside.
Nice case and binder, but I noticed that the 3 rings for the Pages seems to be offset towards the outside of the Binder. Meaning that I am placing page protector sheets and dividers inside the binder and when trying to zip it shut the outside edges of the sheets are kind of sticking out and in the way of the zipper. i can make it work, cause it isn't by much. Like a 1/8" to 1/4" that I have to manually bring the zipper out some to be able to zip it up. Just wanted to note this issue for them.
Anna
Great
Has a lot of space, both of my sons use them for school. I love them for the price and durability.
Nanacom
Excellent
My grandaughter loves this...it is big enough to hold her thick spiral notebooks and does not seem to be as heavy as the 2-inch binder she has just like this one.
PANDA7589
great product very useful
My son is in middle school and they use a binder to keep everything together . I went through at least 6 regular 4 in binders . The regular binders would break, stuff would fall out it was a mess . I had a hard time finding a back pack to fit the binder. My son told me a classmate had one of these. So checked it out and tried one . It works great wish I knew about it before i wasted money on the other binders .The case it zips up Everything stays inside it also has a strap for over the shoulder. This is very much worth the price .
Babymuffin73
SO GREAT!
I have used the brand for the last 3 years and always got the 3 inch zipper binder. They hold up REALLY well. My daughter would fill it to max capacity every marking period and it would still hold it all! The strap makes carrying a binder SO much easier. We got a new one every year because she always wanted a different color, but she could used in for a second year if needed. We bought the 4 inch one this year and we hope it hope up to the same standards as the 3 Inch did. HIGHLY RECOMMENDED!