Case it The Mighty Zip Tab 3-Ring Zipper Binder D-156-B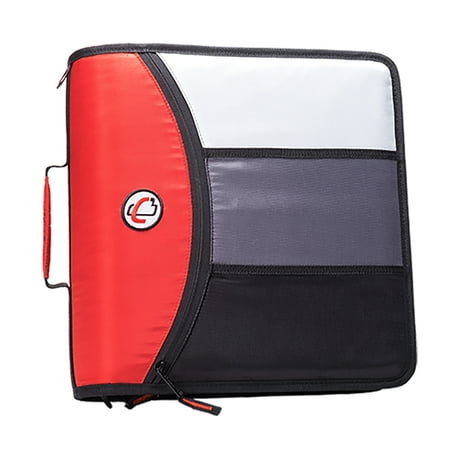 Sale :

$16.84

Sold & shipped by Walmart
Product Description

Additional Information

Reviews
Product Description
Case it's D-146 is a 3-ring zipper binder with round rings and three inches of capacity. It comes with a built-in five color-tabbed, six-pocket expanding file folder with its own zipper access. This binder has interior and exterior zippered pockets as well. Actual color may vary by store; contact your local store to determine availability.
Additional Information
Case it D-156-B 3-Ring Zipper Binder:

3" O-rings
5 color-tabbed, six-pocket expanding file folder
File folder binder has patented zipper gusset gives the ability to access file folder even when the binder is zipped shut
Interior mesh pockets
Exterior pocket
Rip-stop material's square pattern prevents tearing
Patented angled zipper keeps gusset out of the way when writing
Handle and shoulder strap
Reviews
Leah
Mismatch
The colors pictured aren't the same on the shipped item. It's purple, green, black and white.
Lisa
Mismatch
Correct Binder WRONG COLOR!!! I ordered the Red with white grey and black...I received Blue with white green and blue... someone is colored blind. I don't have time to return and get the correct one. Frustrating...
momsplaytoo
Portable Catch-all for Middle Schoolers
Great binder for the demands of middle school. Would rate it 5 stars if the interior folder section was a bit easier to slide things in & out. A bit deeper would be helpful too - so that a thin class folder could be put in. Otherwise more than serves the purpose of having all school materials in one easy to carry case. Son loves the shoulder strap.
BeachiLady
Folders are carried upside down
I thought this would be the perfect portfolio carrier with file pockets for inserting file folders I am currently working on, plus 3" rings to hold a ruled notebook in place, plus a shoulder strap to carry it. However when I reached my office and turned the binder upside down to open it up to remove a folder, it stayed flopped open. I had to find something to prop on each side to stow it on the floor under my desk while I worked. If it had a velcro fastener on the outside to clamp it shut in between zipperings, it might be more convenient. Also, if I open up the rings and remove the notebook, I cannot just stow the notebook in the carrier next to the rings to transport it--there's not room enough for the carrier to close. I have to open the rings and reinsert the notebook to allow room for the zipper to be able to close. Those rings are huge, and being round, take up most of the interior space. In hindsight, I really prefer portfolio cases that carry the files right-side up. One slip-up in not opening it or closing it correctly, the upside down file contents are spread everywhere!
DreamJ
Great binder!
My daughter loves this binder! We had gone through several binders in the past with no luck. 5 & 6 graders tend to be very hard on binders and notebooks. I ordered this binder without expecting too much from it as far as durability. I was pleasantly surprised! This binder survived an entire school year! Now that is not to say that it came out unscathed. The rings did become slightly misaligned with about 2 months of school left and the zipper for the side access to the built in folder section did come off track after about 4 months, but I was able to fix it with minimal effort. Also my daughter had two 5-star folders that were a little large in there and they began to wear away at the fabric in the corners of the binder. I remedied this by placing a couple strips of duct tape along the inside corners of the binder where the folders were rubbing. This I don't blame on the binder since the folders were a tad bit oversized and the duct tape worked like a charm. These are my only complaints about this binder and I am more than happy with my purchase. I did take off a star because I feel the zippers could be better made, especially the one for the folder section. That being said, this has to be one of the best binders I have ever purchased. My daughter loves it so much we are getting the 4 in one for next year when she goes to 7th grade. I would recommend this product to anyone needing a durable, roomy binder.