Pennington Select Black Oil Sunflower Seed Wild Bird Seed and Feed, 40 Lbs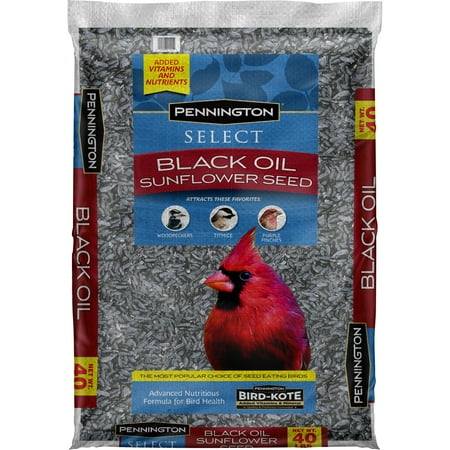 Sale :

$23.5

Sold & shipped by Walmart
Product Description

Additional Information

Reviews
Product Description
Pennington Black Oil Sunflower Seed is a source of high-quality protein and is the most popular choice of seed-eating birds. This black oil sunflower seed is a vitamin-enriched formula with Pennington Bird-Kote adding vitamins and minerals. Pennington Black Oil Sunflower Seed attracts woodpeckers, titmice, house finches, juncos, nuthatches and pine siskins. It is great to feed birds year-round and should be a staple item for bird lovers.
Additional Information
Pennington Select Black Oil Sunflower Seed, 40 lbs:
Most popular choice of seed-eating birds
Vitamin-enriched formula
The woodpecker seed includes Pennington Bird-Kote
Attracts woodpeckers, titmice, house finches, juncos, nuthatches and pine siskins
Use it to bring an array of birds to your yard
40 lbs to keep it on hand
Reviews
SirPappy
WOW CHOW for Birds!
I live in rural Vermont and feed solely Pennington with "Bird-Kote" Black Oil Sunflower seeds. This winter I have a flock of goldfinches about 100 strong. Other visitors include: cardinals, juncos, chickadees, sparrows, crows, bluejays, wild turkeys, nuthatches, squirrels, and chipmunks. Providing them with five feeding stations, it is necessary to refresh them mid-day as they consume everything within 5 hours. The joy I get from watching this parade of wildlife outside my windows beats back the winter blues. Only Pennington provides "Bird-Kote" developed within the Cornell University Ornithology Laboratory. Others try to substitute their own coats without the results of this awesome enhancing addition. This is what the wild critters want and they continue to return. This product is so superior and priced so competitively that it is definitely a five star item. My neighbors all have feeders, but I have all the birds!!
Rohit
Great Price and Excellent Product, Go for it
I would like to tell people this is great product , birds love this and attracts a lot varieties of birds . Currently 7 different types of birds enjoyee this when I feed them at my balcony . You can see photos that I attached . Just go for it because you cannot get much better price and product than this because 20lbs product of similar seed of different brand is getting sold for 17$ in the supermarket. In 18$ you are getting double the quantity which is 40lbs.
MathRules
Not up to usual quality
I have been buying this brand of Sunflower seed for years. The last bags I bought seemed to be old and had insects already in it., It was mixed with a bit of some other type of seed which the birds will not eat. I was buying Sunflower seed, not mixed bird seed. I will try it one more time before I change brands.
Niteprowl2
Not what it used to be
I have been feeding my birds Black Oil Sunflower Seed for a very long time. Over the years the quality of what you get has deteriorated. There is about 1-2 pounds of stems and chaf in every bag of commercial sunflower seed now. This has not always been so. In regular feeders with big openings, it does not really mater. However I use recycled 2 liter bottles with zinc screw on bottle feeder assemblies and the residue frequently clogs the feeder requiring me to shake the bottle to free up the seed.
sbm65pswf
When My Redbirds Are Happy I'm Happy
My little beautiful Redbirds love this product. I love to hear them squeaking to be fed and fighting over every little seed. I wish the price was lower, especially in winter when so many Redbirds show up at my back door. The sing for me all summer, so I feel responsible to feed them well all winter.