Pennington Select Black Oil Sunflower Seed Wild Bird Seed and Feed, 40 Lbs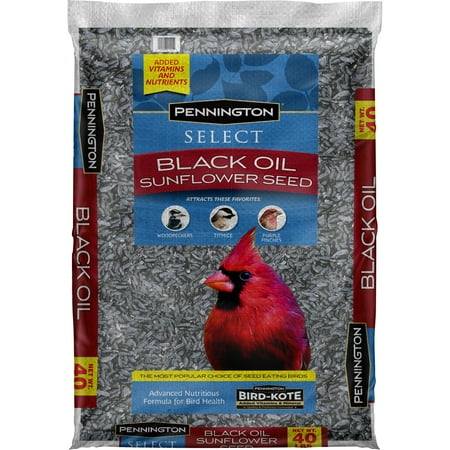 Sale :

$18.34

Sold & shipped by Walmart
Product Description

Additional Information

Reviews
Product Description
Pennington Black Oil Sunflower Seed is a source of high-quality protein and is the most popular choice of seed-eating birds. This black oil sunflower seed is a vitamin-enriched formula with Pennington Bird-Kote adding vitamins and minerals. Pennington Black Oil Sunflower Seed attracts woodpeckers, titmice, house finches, juncos, nuthatches and pine siskins. It is great to feed birds year-round and should be a staple item for bird lovers.
Additional Information
Pennington Select Black Oil Sunflower Seed, 40 lbs:
Most popular choice of seed-eating birds
Vitamin-enriched formula
The woodpecker seed includes Pennington Bird-Kote
Attracts woodpeckers, titmice, house finches, juncos, nuthatches and pine siskins
Use it to bring an array of birds to your yard
40 lbs to keep it on hand
Reviews
GoneGuy
Where's the beef?
Loaded with so much stems and bits of crap it clogs up the feeder outlets. Some stem up to 2' long. Raise the price instead of ripping us off with poor quality and fillers.
Kellbell
Attracts Them All
I buy 2 bags of this every week, the birds love it. It will deter House Sparrows (if you have Bluebirds you know you do not want House Sparrows). I have learned a lot about birds and only feed this seed the cheap wild bird food is full of millet and debris. I have noticed there is more debris in a bag then there used to be but not an alarming amount. Yes the seed size varies but it helps allow for easier or harder removal of mesh type feeders and it's bird food who cares, ....it all gets eaten by something. The smaller bags of same are a rip off it makes more sense to buy this big bag and it's cheaper online then in the store. This seed attracts, Rose Breasted Grosbeaks, Indigo Bunting, Cardinals, Bully Blue Jays, Tufted Titmouse, Chickadees, Nuthatch, Red Winged Blackbirds, Eastern Towhee, House and Purple Finches and many more. I've never had an issue with this seed and I buy often.
Rohit
Great Price and Excellent Product, Go for it
I would like to tell people this is great product , birds love this and attracts a lot varieties of birds . Currently 7 different types of birds enjoyee this when I feed them at my balcony . You can see photos that I attached . Just go for it because you cannot get much better price and product than this because 20lbs product of similar seed of different brand is getting sold for 17$ in the supermarket. In 18$ you are getting double the quantity which is 40lbs.
Booskitten
Needs to be BRANCHED OUT
I know Pennington is a huge name out there and I just recently started buying there black oil sunflower seed. but I'm going back to Tractor Supply to buy the Royal Wing. The stuff is loaded with debris and no consistency and size of seeds see attached photos. at least it Tractor Supply the Royal Wing brand has consistency not a lot of debris and not a lot of broken shells Cesar majority the same size
wyncrtr
BEST FEED FOR SOUTH EAST OHIO WINTER BIRDS
My bird friends can't get enough of the Black Oil Sunflower Seeds. My apartment is right next to a large forest. The predominant species of birds that come to my feeder are Cardinals, Tufted Titmouse, Black and White striped Warbler, Blue Jay, and many other indigenous winter birds for this part of Ohio.