Shell Rotella T4 15W-40 Heavy Duty Diesel Oil, 1-Gallon, (3 pack)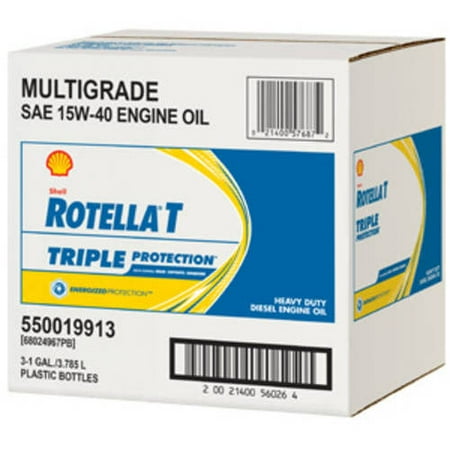 MSRP :

$56.2





Sale :

$40.97

Sold & shipped by Walmart
Product Description

Additional Information

Reviews
Product Description
Your diesel engine works hard every day to get people where they need to go and help improve the daily lives of hard-working people like yourself. You need a motor oil that will protect your engine so it can work to its maximum ability. With Rotellaâs T4 15W-40 Heavy Duty Diesel oil, it works as hard as you do so that you can keep going without worrying about breaking down and losing time or money. Rotella has spent hundreds of hours and driven millions of miles testing their diesel oil. Their proprietary formula, exclusive to Shell, is designed to protect your engine under the most severe road or weather conditions. Our heavy-duty oil is fit for both modern, low-emission and older, hard-working diesel engines with triple protection technology that other brands simply cannot match. Itâs important for your engine to stay cool when youâre workingâ high temperatures are among the largest contributors to engine wear. When your engine runs too hot, oil begins to break down due to high oxidation, its viscosity changing from thin to very thick. An overheated engine can also lead to numerous lubricant problems: varnish, sludge and sediment formation, additive depletion, base oil breakdown, filter clogging, acid number increase, rust formation, and corrosion. Rotella motor oil works to keep that from happening to your engines. This diesel oil resists oxidation up to 50 percent longer the previous generation of products so you wonât have to worry that thereâs rust destroying your truck or tractor from within or without. This is the most technically advanced Rotella formula ever. Itâs designed to effectively sustain emissions control system durability where diesel particulate filters and after-treatment systems are used. Basically, this new type of motor oil is formulated to be cleaner, stay cleaner, and keep your diesel engine running cleaner for a longer period of time. It provides enhanced protection against your oil getting too thin and failing to lubricate or cool your engine properly. Rotella oil even helps to make the environment cleaner by deeply reducing the amount of exhaust released into the air. Big, smoking engines of the past are being replaced by more environmentally-responsible technology today, and Rotella is at the forefront of that movement. This 15W-40 oil is suitable for a wide range of heavy-duty engine applications. Itâs approved by many of the worldâs leading engine makers, and an excellent choice for on-highway fleets, general haul, construction, agriculture, public-transport operators, and diesel pickup trucks. While Rotellaâs outer packaging may have changed, the diesel oil that youâve come to trust is still the best brand available for your diesel engine. You wouldnât trust your equipment to just anyone, why trust just any motor oil? You can be confident Shell Rotella diesel oil will keep it running clean and safe for years to come. About Rotella: The Shell Rotella portfolio of oils has been developed by the makers of the No. 1 selling diesel engine oil to meet the new API CK-4 and FA-4 performance categories for diesel engine oil which were first licensable by API on December 1, 2016. API CK-4 oils replaced API CJ-4 oils and are completely backwards compatible with all engines built before the 2017 model year. The API CK-4 oils are designed to provide improved high temperature oxidation resistance, shear stability and aeration control compared to previous API CJ-4.
Additional Information
Shell Rotella T 15W-40 Heavy Duty Diesel Oil, 1-gallon, (3-pack):
Designed for heavy duty diesel and mixed fleets in all types of over-the-road service
Protects against engine wear due to soot and extends engine life
Can be used in passenger cars, light trucks, farm equipment and fork lifts
Can be used in newer and older engines alike
Reviews
casper1
Best for diesel
This oil is all I use in my truck 174,000 miles and going
Serb
'12 KLR 650/ Awesome motorcycle oil
I've ordered Castrol Power RS 4T Synthetic from Amazon (pack of 6). At the time, seemed as nice deal ($40). Not even 5 miles after that oil change, I've noticed clutch slippage and how hard it is to switch gears especially into second gear, not to mention how jerky the bike behaved. After a bit of research online (KLR forum), I've noticed that people speak about this oil A LOT and everybody likes it. I was a bit skeptical. Heavy duty oil into motorcycle? I have gave it a try. This time with a HifloFiltro instead K&N and non synthetic oil. Why the heck I did not this earlier? I don't think I will EVER out any other oil than Rotella T into my bike. My Kawi loves it, my wallet loves it as well. Shifting is smooth, bike runs quietly, does not burn oil at all (like Castrol) even KLR's are quite known for that. It all get down to JASO MA1/MA2 standard and Rotella T goes beyond that. I go with this oil in summer, 5w-40 syn in fall/winter. Highly recommended oil.
delsol0128
FANTASTIC!!
I bought this oil to be run in a Kawasaki Ninja 250R since it carries the JASO MA rating that Kawasaki wants. Getting motorcycle specific oil is not a whole lot different or any different than Rotella T for a LOT less money. When I can spend about $25 a gallon for kawasaki's conventional oil or I can spend $12 for Shell's thats pretty much the exact same thing Im going to go with Shell. My Ninja runs the exact same and I havent noticed a bit of difference. Rotella T has a huge following in the motorcycle community so if you have a motorcycle do yourself a favor and give Rotella T a try. You wont regret it for a second and will keep coming back to Walmart for more.
Mantree
Good for bikes
I run this in all of my bikes including my vintage wet clutch cb750 with no problem. 2 galons dose a full oil change on both of my bikes with extra oil left over.
Ronw
Quality - Quality - Quality
I've used T4 in all my diesel construction for over 20 years. Never a failure to stand -up to the demands we put on it.