Scotch-Brite Non-Scratch Multi-Purpose Scrub Sponges Value Pack, 6 Ct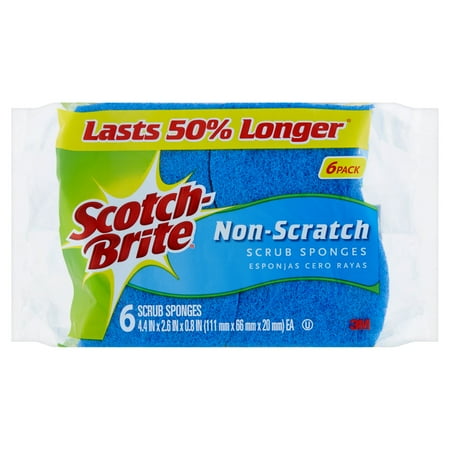 Sale :

$5.48

Sold & shipped by Walmart
Product Description

Additional Information

Reviews
Product Description
Keep your home cleaner with these Scotch-Brite Sponges. The sponges feature a no-scratch surface that won't damage dishes and other sensitive surfaces. You can even use them on Teflon, Silverstone and Calphalon non-stick cookware. These multi-purpose scrub sponges tackle tough food residue without leaving any scratches.
Additional Information
Scrub sponge
Multi purpose
Cleans tough messes without scratching
Shaped to fit comfortably in your hand
Reviews
unitid2001
Best Scrub Sponge Ever Made
I have been using these Scrub Sponges for longer that I can remember. People (like my sister) believe that a Scrub Sponge is just a Scrub Sponge and there is no difference...WRONG! We know we pay more for these Scrub Sponges, and there is a good reason why we do...they work great and they last for quite a while (depending on how much dishes you have to wash in your family). I have tried the other cheaper brands to compair how good they work and how long they last...THEY DON'T! I have scrubbed and Scrubbed with the cheap Scrub Sponge (Aldi Scrub Sponge is one example) and never got everything off the pans that were stuck on there, so I went to my old faithful ("a used one", and yes I do hold on to my used ones that are not completely worn out.) from Scotch, and in no time it was gone...a little hard scrubbing and it was clean, and that was from a used one yet! I will never buy anything else but a Scotch Scrub Sponge for doing all my dishes...They Can't Be Beat! Thank you Scotch for a really great product...
CleaningNSeattle78
Love this scrubber
I used the Scotch-Brite Non-Scratch Scrub Sponge to get grease and grime that was stuck at the bottom of a small pan i used. I was pleasantly surprised that the scrubber was strong enough and I didn't have to put too much elbow grease in scrubble it is a very durable and versatile scrub sponge I highly recommend buying a few for yourself. I received this product to try and give my honest feedback [This review was collected as part of a promotion.]
Dawn302
Sponge is now half the thickness!?
I've bought these sponges for years and they have always been fantastic. I can't describe my extreme disappointment when I opened a package I recently bought and was surprised to find my reliable thick sponge to be half of its thickness. Yet another company manipulating a great product so they can make a dime and no doubt the cost for the customer will stay the same!
kohlenblakesmom
Love the sponge. Non-scratch. Cleans well
Love this sponge. I have teflon coated pans and I can not stand for them to get scratched. Once they do, they begin to stick. I hand wash all of my dishes so I need a good sponge that is safe to use and will not do damage. The Scotch Brite Non-Scratch sponge is wonderful. I was able to get a great clean and no scratches. It holds the detergent very well also. Very satisfied with this product. Highly recommend. No complaints. *Received free for testing purposes. Opinions stated are 100% of my own. [This review was collected as part of a promotion.]
Daisymae142
A FIVE-STAR SCRUBBER!
The Scotch-Brite Non-Scratch Scrub Sponge is a "five-star award winner" in my kitchen! I use this sponge daily to wash my dishes--plates, glassware, silverware, pots, and pans. It cleans everything easily and holds up to sanitizing in the dishwasher or microwave. It is a great all-purpose sponge!