Scotch-Brite Non-Scratch Multi-Purpose Scrub Sponges Value Pack, 6 Ct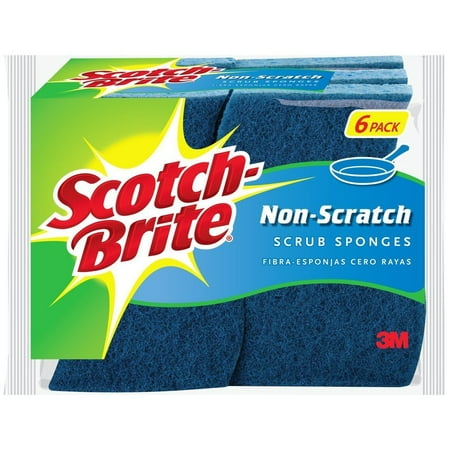 Sale :

$5.48

Sold & shipped by Walmart
Product Description

Additional Information

Reviews
Product Description
Keep your home cleaner with these Scotch-Brite Sponges. The sponges feature a no-scratch surface that won't damage dishes and other sensitive surfaces. You can even use them on Teflon, Silverstone and Calphalon non-stick cookware. These multi-purpose scrub sponges tackle tough food residue without leaving any scratches.
Additional Information
Scrub sponge
Multi purpose
Cleans tough messes without scratching
Shaped to fit comfortably in your hand
Reviews
MAJW
What happened? Now 10% smaller and less durable?
Scotch has downgraded this sponge, they are smaller than they were, thinner and shorter. The scrubbing material seems the same. The sponge separates from scrubber more easily than before. The sponge material is not the same and does not last as long.
lindal
Non-Scratch Sponges receive 5-stars from me!
These Scotch-Brite Non-Scratch Scrub Sponges get a 5-star rating from me! I use them daily and they never fail even when I've been using the same one for months! I have new, clean ones I use for dishes and tables, etc.; and I love them because they don't show dirt or stains on them after one single use (like the old yellow ones did). Then, I take the old used ones and re-use them on tubs, floors, outside patio furniture, and more because they're still good and they don't lose their ability to scrub! I love this product and I would never want to be without it! 5-Stars from your best consumer of this product and your green scrubbies, too!! Thank you for such a FANTASTIC Product!
lionqueen
Cheaply Made
The 4.8 star rating that 3M wants you to see is, in fact, untrue in light of their recent debasing of this once excellent product. The vast majority of the 4.5-5.0 star ratings are 2, 3, 4, even 5 years old! For approximately 20 years, even I had insisted on no substitutions. ScotchBrite was the best, until my most recent purchase at a warehouse club facility. As soon as I held the sponge I was horrified that this once-upon-a-time wonderful product would be so downgraded by 3M. In my husband's hand this puny, cheaply constructed sheet of sponge attached to a thin layer of "scrub" material is lost. It only stands to reason, being a conglomerate, that 3M has reduced the intrinsic value of this product BUT NOT THE COST. Producing a quality product is apparently not hardwired into 3M; making "money for nothing" is. This item is going back to the club store for a refund. I will never purchase it again & intend to advise them of the inferiority of what they are selling to their members.
butterflyrose1
Scrub Sponge
I have used and still continue to use the Non-Scratch Scrub Sponge. I love this product. The shape of this sponge makes it easy to hold in your hand. When I wash my dishes I never have to worry about it scratching my non-stick pots and pans, yet I still receive the benefit of it actually taking off all of my food without really trying. I also use this sponge on my counters and it never scratches them either but leaves them looking bright and white with no marks. I also use this on my stove which is porcelain and I worry about scratch that but this sponge does the trick there too. No harsh scrubbing just spray and wipe with the sponge. the scrub part does all the work and the soft part wipes it away looking beautiful and bright. Believe it or not I have one more place I use this sponge. I use it for soap scum in my bathroom. It works wonders. I can clean my whole house with this sponge and not feel like it is a chore. Cause this sponge does all the work for me. Just dont tell my husband that.
Dcarter4
Favorite sponges
I bought the non-scratch scrub sponges a week ago. I enough using these sponges cause they don't scratch the bottom of my pans.