Kraft Original Flavor Macaroni & Cheese Dinner 4-2 oz. Microcups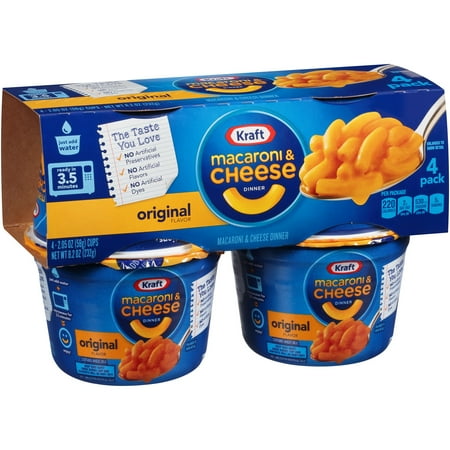 Sale :

$3.98

Sold & shipped by Walmart
Product Description

Additional Information

Reviews
Product Description
Enjoy a hot meal on the go with Kraft Easy Mac Macaroni & Cheese Dinners. These microwavable macaroni and cheese meals come in portable cups and are easy to prepare. Just add water and microwave for delicious hot comfort food. They use Kraft's traditional macaroni and cheese sauce mix for rich, cheesy flavor. Pack them in your bag for a quick meal at work or school. This package contains four individual servings.
Additional Information

Kraft Macaroni & Cheese Dinner Cups, Original Flavor, 4-pack, 2.05 oz:
4 cups of cheesy Kraft mac & cheese cups made easy
Makes a quick and easy side dish or meal
Made with enriched macaroni, rich in calcium and iron
Easy mac and cheese is ready in 3.5 minutes
Convenient 4-pack
Reviews
Nikeballahoop
SO CONVENIENT!!!
I LOVE these mac and cheese packs! These are so convenient, whether you're scarfing down food during a work break, or you don't feel like dirtying dishes and cooking on the stove. I had mac and cheese constantly as a kid...if only my babysitters could've had access to these decades ago! I like to bring these packs to work and they're a major hit with my coworkers. I personally like to slightly alter the directions. Rather than filling the container to the line before putting it in the microwave, I like to just barely cover all of the noodles with water (usually filling to a centimeter or two below the line), then microwave, then pour cold water up to the line. This speeds up the cooling down process, allowing me to consume the mac and cheese within five minutes.
TJazz
Easy and cheesy
Using this as part of my meals while Overseas. Surprisingly easy to make. Taste is similar to stove-cooked mac & cheese.
Sarah
My 15 months old love it
I have read other reviews online and was iffy about buying this product but I have no regrets. I bought it in store and my toddler loves it. I doesn't taste different from the ones you make on the stovetop. I added milk and water and I microwave it for 6 minutes. 3 and a half minutes didn't work for me. And it came out creamy and nice, I also added slices of sausage and serve it to my son
JillioK
Mobile Mac n' Cheese
Need I say more; these Easy Mac cups rock. From shelf to table in three minutes.
Selectiveshopping
Very convenient and fast to prepare
Just add some water, microwave for 3.5 mins and mix in the pack of cheese. You have the same mac n cheese from the box in less than 5 minutes, and in individual portions. I use it to feed my toddler since it saves me time, and a whole box would go to waste.